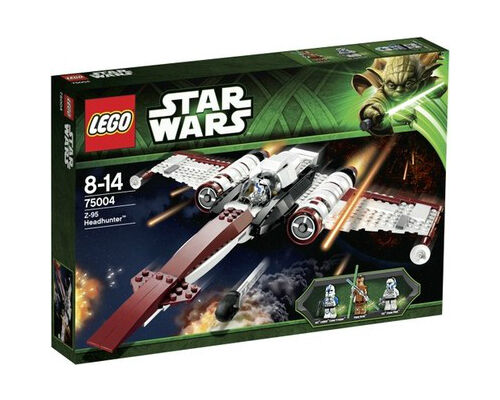 The Star Wars Lego range features some of the most popular and collectable products on the toy market today, combining the respected manufacturing reputation of the Lego brand with the thrilling fantasy of George Lucas' Star Wars universe that has captured imaginations for generations. Star Wars was the first theme to be acquired by Lego back in 1998, and there are now hundreds of products and accessories available to purchase, many of which can be found on eBay at competitive prices. For new collectors and long-term fans alike, the wide variety of options can sometimes be a little overwhelming. This guide explains which Star Wars Lego products are available and looks at the best ways to go about purchasing them.
Star Wars Lego Products
There are two main categories of Star Wars Lego products: sets and minifigures. Additionally, there are a few other spin-off items that have appeared thanks to the popularity of the Star Wars Lego brand.
Star Wars Lego Sets
The most popular Lego Star Wars items are sets – these are boxes containing Lego pieces, figures, and an instruction manual.
Lego has released dozens of these sets in recent years, allowing collectors to construct major objects and events from the Star Wars saga. Some sets contain spaceships of some kind, from X-Wings to TIE Fighters, while others let the collector create large creatures, like the Rancor from Episode VI, or robots, like the AT-AT. Larger sets may comprise entire scenarios, environments, or buildings, such as the Hoth Echo Base or the scene of Palpatine's arrest in Episode III. A vast selection of Star Wars Lego sets can be found on eBay, in both used and brand new condition.
Advantage of Sets
The advantage of Lego sets is that they are sturdy and well designed; once constructed, they do not come apart easily. The designs often even have moving parts that allow for more realistic play and reconstruction of scenes from the films, and many sets come with additional associated minifigures and models. For example, the AT-RT set comes not only with three minifigures, but also with a Sniper Droid, and both these robots can walk and/or swivel. Like many of the other robot and spaceship sets, this set also comes with small plastic missiles that can be fired from the appropriate lasers or cannons.
Range of Sets
There is a wide range in the complexity and value of Star Wars Lego sets:
Small sets may contain 50 - 100 pieces and typically cost £10 - £15.
A medium-sized spaceship like a Republic Striker-class Starfighter may have 200 - 500 pieces and can cost around £25 - £75.
Larger sets, such as a workable Death Star or a large R2-D2 model, can contain several thousand pieces and may cost hundreds of pounds. They take longer to construct, but can be a very satisfying centrepiece for any collection.
Keen Lego collectors may be interested in sets from the Ultimate Collectors Series (UCS). These are mostly out of production and are very rare. They are typically very expensive – a brand new UCS set could easily cost over £1,000. A prized UCS set is the famous Millennium Falcon, which, with more than 5,000 pieces, is one of the largest Lego models ever manufactured.
Minifigures
While sets are a great option for constructing bigger models, the individual Star Wars Lego minifigures remain iconic. These little plastic representations of more or less all the good and evil characters from the films are often much more collectable than the sets, and rare ones can be much coveted by collectors. Search on eBay to find a great selection of minifigure listings.
Most sets contain one or more minifigures alongside the main model, though individual figurines can be purchased separately. Often, however, it is a good idea is to collect the figures and sets simultaneously in a single purchase.
Minifigures usually come with special accessories for the character to use or wear. These include weapons (such as lightsabers or guns), tools, helmets, capes and more. These accessories can themselves become collectable, and minifigures are more valuable if they include all the extras. When buying minifigures on eBay, be sure to ask the seller whether accessories are included, if it is not already stated in the product description.
Novelty Minifigures
Lego has released a range of novelty Star Wars minifigures as keychains and fridge magnets. These figures are less adaptable (they don't come in multiple pieces that can be separated) and are not typically collected.
Other Star Wars Lego Products
There are many spin-off Star Wars Lego items, which build on the success of the sets and minifigures.
Lego Watches
Watches are especially popular with children, as they feature pictures of Star Wars characters on the watch face, and are customisable or rebuildable with additional plastic pieces for the strap and face. They are sold with an accompanying minifigure and can be found eBay.
Lego Planets
Lego planets are a series of medium-sized globes representing each of the most famous planets and moons in the Star Wars franchise, like Alderaan and Endor. These are not constructed with pieces but can be mounted on plaques or suspended from the ceiling to create a whole galaxy. They also come with a minifigure and a small spaceship.
Games
There is also a variety of official Star Wars Lego board and video games. These are not really collectable but they can be a fun way to expand the hobby.
Buying Lego Star Wars
As there are so many products available, it is easy to get confused when shopping for Star Wars Lego items, so it is a good idea to research the market thoroughly before diving in. Newcomers should try to get a sense of the kind of items that might be worth collecting – which models look good together or can be used to recreate favourite scenes, and so on. While deciding, monitor the market to see which products are likely to fall within specific price ranges. As with any commodity, prices fluctuate according to supply and demand, so try to pinpoint the times when the market is most advantageous to buyers.
Availability
Normally, a key factor in a Star Wars Lego product's price is how readily available it is. Items that are still manufactured and stocked by Lego are typically fairly affordable, while those that are out of stock, especially products that were rare and collectable to start with, are often much more valuable, selling for many times their original retail price.
Cost vs. Quality
There are two main reasons for buying Star Wars Lego: model-building and collecting. Those who are just looking to enjoy the Lego experience as a model-building hobby may simply wish to find items at the lowest cost. In this case, the condition of the items or the completeness of sets may not be an issue.
Other consumers, however, may be looking to build a collection. Collectors need to prioritise the quality of the items that they buy; a collection will be far more satisfying and valuable if it is complete and in excellent condition. Collectors can select from a number of brand new and mint condition Star Wars Lego sets on eBay, at very competitive prices.
Key Considerations When Buying Star Wars Lego
Look Out For
Minifigures
If you are buying sets, make sure all the original minifigures are included. If they are not, then the set is worth a lot less. If you are looking to buy the minifigures themselves, then be wary of models that are sold individually. These can occasionally be good options, but more often they are overpriced. But remember, if the minifigure has magnets on it or is attached to a keychain, you cannot separate it into its constituent components, and consequently it will be considerably less valuable.
Instructions
The manuals that come with a set are of course crucial for construction, so anyone looking to build a set should make sure that it comes with the original booklet.
Bulk lots
Sometimes a seller on eBay will offer a large batch of Star Wars Lego products for purchase in one single listing. This can be an excellent way to acquire many items at a discounted rate (especially minifigures), but extra care is needed to work out exactly what is included. Many sets sold this way are not complete.
Brand new
Look out for acronyms such as BNIB (brand new in box) and MISB (mint in sealed box). They both mean that the product is in mint condition – this is the most desirable for collectors. eBay usually has a selection of BNIB and MISB sets in its range of Star Wars Lego listings.
Be Wary of
Empty boxes: Sometimes boxes are available for purchase for those who need a box for their set. It's important not to confuse these for the actual set. For anyone that's unsure, it's always possible to ask the seller a question on eBay.
Custom sets and figures: When it comes to Star Wars Lego products, the word "custom" indicates that the product is not official. Custom products may have been modified in certain ways, with different pieces or parts added. Many custom sets are actually just deficient and these are almost always worth less than the official versions.
How to Buy Star Wars Lego on eBay
Star Wars Lego items are common on eBay, and are available in all kinds of different listings. Thanks to the vast selection of sets, minifigures and bulk lots, from sellers who offer free shipping and competitive prices, finding the right Star Wars Lego products is quick and easy on eBay.
When you've thought about which items you'd like, navigate to eBay and go to Toys and Games before selecting Lego under Construction Toys & Kits.. Then filter the results using the left bar menu options, through which you can select Star Wars under 'Theme' to view only Star Wars Lego kits.
You can narrow down your search further by entering keywords in the search bar. Alternatively, search for your keywords on the eBay home page. For tips on how to search with keywords, take a look at eBay's Search tips page.
Finally, try visiting eBay Stores if you can't find what you're after in the auctions.
Conclusion
Star Wars Lego can be a great hobby for keen model-builders and collectors alike. Both the casual user and the experienced collector can find products to interest them in Lego's range of sets, minifigures and other spin-off items. A wide variety of Star Wars Lego products for every taste and every part of the saga can be found for sale at competitive prices oneBay.