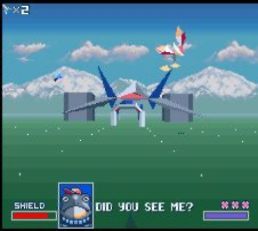 Starwing Review
The first time I saw this game, I knew I wanted to play it and then own it. I walked into the Leisure World in Belfast (where all games first started being sold in Belfast in the 80's and 90's - before GAME came along). Seeing the game, I was amazed at the 3D graphics, the playability and the polygonal perspective.
I had to have this game. But I was only 11 years old but I was with my older brother who too had noticed the game and was looking at it intensely. We had a go on the game and it didn't take long before my brother was parting with a £20 pound note (could have been £25 - not sure) for the game.
I couldn't wait to get on the bus and get home to have a go - of course I would have to wait my turn as my elder brother would have first dabs at it since he bought it.
When my turn came, the game blew me away - it was like nothing I had seen before - I was used to platform games and whilst I had played Super Thunder Blade on the Sega Mega Drive - this was by far and away light years ahead of that.
This game was the first console game to really show off the power of polygonal 3D graphics, it was also a superb example of how to take a high end genre - the 3D space shooter - and make it work for mainstream gamers. At the time the flat shaded 3D visual seemed awesome, while the interplay between Fox and his animal sidekicks gave the game a distinctive Nintendo appeal. Fox's adventures have had their ups and downs on the N64, Gamecube and DS formats, but his appearance in Super Smash Bros. Brawl shows that Nintendo might still have work for him yet. Sadly Starwing (Starfox in the US) is unavailable on the Wii....