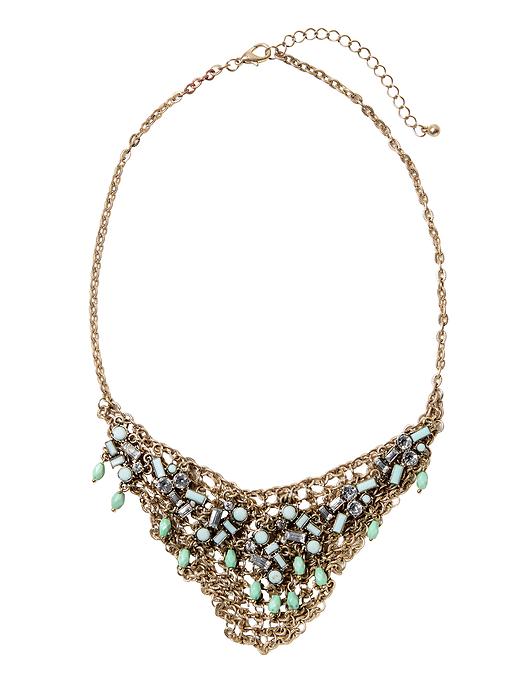 A woman's outfit is not complete until she has chosen the accessories to go along with it. These accessories may consist of belts, shoes, and purses, but it is the jewellery in particular that can tie all of the different elements of an outfit together. The jewellery can also be the focal point in an outfit. One piece of jewellery that can certainly accomplish both of these tasks is the statement necklace. Some women find this large, oversized necklace to be intimidating, but a statement necklace actually adds a unique and sophisticated look to casual and formal outfits alike. Unlike other simpler pieces of jewellery, statement necklaces must be chosen with care. Pairing the wrong necklace with the wrong outfit could result in a huge fashion mistake. When it comes to buying a statement necklace, a shopper must take the time to understand the fashion dos and don'ts of this piece of jewellery, consider all of the options available, and select one that goes along best with the outfit or the occasion. When looking for statement necklaces, shoppers don't have to look any farther than eBay.
What Is a Statement Necklace?
A statement necklace is a big and bold necklace that women wear when they want to make a fashion statement. This type of necklace is substantial, and serves to draw focus. Statement necklaces can be made of faux gemstones, crystals, metals, or just about any other material. Though statement necklaces are often seen in bright and flashy designs, a woman can actually put together an elegant outfit centered around one of these pieces.
How to Wear a Statement Necklace
There are some definite dos and don'ts when it comes to wearing a statement necklace. Because these pieces of jewellery are so big, bright, and bold, it is important that the wearer does not choose an outfit that clashes with the design of the necklace. Instead, the outfit should be toned down so as not to take any attention away from the necklace itself. Following a few simple rules when choosing to wear a statement necklace ensures that a wearer makes wise fashion choices rather than huge fashion mistakes.
Statement Necklace Dos
When wearing a statement necklace, a woman may opt for a top or dress that exposes the neck. Additionally, they can wear their hair up. This prevents the hair or the top from competing with the necklace and draws the attention toward the necklace itself. Another way to keep the outfit from clashing or drawing attention away from the necklace is to choose a necklace to match the colour that the woman is wearing. Wearing the same colours ties the entire outfit together. This means that the two different elements of the outfit don't have to compete with each other. Finally, a woman should not be afraid to wear brightly-coloured statement necklaces. When wearing a simple black dress, a bright statement necklace can make the outfit pop.
Statement Necklace Don'ts
Perhaps the biggest mistake a woman can make when wearing a statement necklace is pairing it with a dress that is also making a statement. Women should avoid dresses with daring designs and instead opt for simpler fashions. Otherwise a woman may end up looking like she is dressed in a costume. Additionally, women should avoid wearing tops and dresses that are large and frilly around the shoulders. Keeping this area of the body looking as pared back as possible is essential for allowing the statement necklace to be to focus of the ensemble.
Choosing a Statement Necklace
Based on the dos and don'ts of wearing a statement necklace, a shopper needs to take extra care when it comes to choosing a statement necklace. Carefully choosing a statement necklace ensures that it matches the outfit, brings out the wearer's best features, and gives the wearer a unique sense of style. When looking for the perfect statement necklace, a shopper should consider the material the necklace is made from, its theme or design, the colour, and its size.
Materials
Statement necklaces are usually considered costume jewellery. They can be made from precious metals and fine jewels, but more often than not, they are made from metal alloys and rhinestones, crystals, and other gemstones. While they may be made from cloth, leather, and beads, statement necklaces usually consist of stones attached to a metal chain. Because of the wide range of materials that can be used to make statement necklaces, the prices vary considerably.
Style and Theme
When it comes to style and theme, shoppers have a lot to choose from. Some of the most popular styles available are the bib, the pendant, and the chunky statement necklace. A big necklace is largest on the front. It fans out and covers a large part of the chest, much like a bib. The back part of the necklace usually consists of a small chain with a clasp. Necklaces with large, oversized pendants also fall under the category of statement necklaces. Chunky necklaces are large all the way around the neck. While the biggest part of the design may still be in the front, large stones or chains encircle the entire neck.
Theme
The theme of the necklace varies from the design in that it refers to the images or designs on the necklace. Women can choose flowers, animals, butterflies, hearts, and more. Abstract and tribal designs are also available. Statement necklaces don't have to be tacky or gaudy. Women can find these necklaces in any design that matches their own personal tastes.
Colour
Colour is particularly important when shopping for a statement necklace to wear with a certain outfit. Women who are shopping for a necklace to go along with a little black dress should consider bright colours such as those in turquoise blue stones. If she is wearing a dress that has a pattern on it, then she should avoid buying a statement necklace that is busy or has too many colours. Rather, a simple necklace that has one or two colours would be a better choice. While bold and bright colours are fun to wear, sometimes the outfit and the situation calls for a statement necklace that gets its flair from the shape and design, rather than the colour.
Size and Length
Statement necklaces are large in comparison to other styles of necklaces, but some are much larger than others. Women can choose from necklaces that hang low and hug the cleavage or smaller choker-style necklaces that sit tightly around the neck. The size of the necklace that best completes the outfit depends on the the style of the outfit that the woman is wearing. For example, women wearing tops or dresses with plunging necklines that emphasise their cleavage may opt for longer statement necklaces that draw the focus down. A woman going for a more conservative look may opt for a shorter necklace that emphasises her neck instead.
How to Buy a Statement Necklace on eBay
If you are looking for a necklace that really makes a statement, you should head to eBay. This large online marketplace has thousands of pieces of jewellery to choose from. All of the pieces are sold by private sellers throughout the U.K. They may be new or used, but overall the prices are well below what you can find in a jewellery shop. In order to find the best deals on eBay, you have to know how to find what you are looking for.
Searching for a Statement Necklace
To get started with your search, enter keywords that describe the statement necklace that you are looking for. Be sure to choose your words carefully. Avoid performing a general search for 'necklace' because the number of results that are returned will be too many to sort through. Instead, provide a few specifics to retrieve a nice set of results focused on your search terms. For example, a search for a 'blue statement necklace' returns a few hundred results that contain those keywords. This is an easier number to narrow down. Select various other options to refine the results such that the local search engine only shows the necklaces you are really interested in. Once you are done refining your search, check out the various listings to find the one necklace you like the best.
Conclusion
Statement necklaces are a fun way to make a fashion statement without having to invest in a daring outfit. These oversized and bold necklaces can accessorise any outfit, no matter if the occasion is casual or formal. Made from materials such as stones and alloy metals, these attractive and durable pieces of jewellery can match just about any outfit. When it comes to wearing a statement necklace, there are some very important fashion rules to consider. If the wearer breaks these rules, then she might be making an unforgivable fashion mistake. For this reason, a shopper should take their time and ensure that she understands completely how to pair a statement necklace with the right outfit. Once she knows what to look for, a shopper can begin evaluating the different options for the necklaces so she can choose one that best matches her personal style as well as the outfits she wants to wear with the necklace. eBay offers a large selection of statement necklaces to go along with any occasion or anyone's taste.