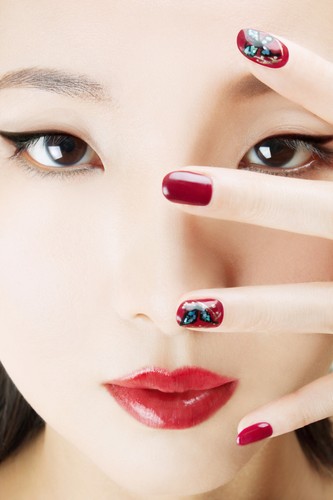 Stick-on nail art is any type of art intended for the nails including stick-on nails, stickers, stones, and a variety of other materials. Generally, if a product is sold to be used as nail decoration and contains its own adhesive, it can be labelled as 'stick-on nail art'. Buyers should decide what style of nail art they want, where they intend to make the purchase, and what age the nail art is for.
General styles range from stickers to fake nails and even applicable plastic gemstones as well as full fake nail tips. These can range from the simple to the very large and glamorous or novelty. Buyers should consider their work environment, the practicality of the nails, as well as how long the stick-on nail art is expected to stay on. Finally, buyers should check hobby shops, drugstores, and of course online shops to find and purchase stick-on nail art.
Different Types of Nail Art
There is a variety of different styles and types of nail art including stickers, fake nails, gemstones, and more. Buyers should make purchase decisions based on what they are looking for and where the nails are intended to be displayed. For example, some nail art is simply stick-on gel type polish, which is excellent for wearing in work environments. Other styles are more extreme and might not be appropriate for work wear.
Nail Stickers
Stickers are one of the most common types of stick-on nail art because they are easy to apply and can be easily taken off. Stickers vary in design and can be either 'appliques' or simple vinyl stick-on designs. Appliques should be dipped in water, applied to a nail that has a layer of polish, and covered with a top coat of clear polish. Stickers should be applied to a coat of either clear or coloured nail polish and then can be left as they are, or covered with a clear top coat to preserve them for longer. Both types of stickers can be found in a variety of styles and shapes, with some covering the entire nail and others working as a simple additional decoration. Some of the most popular sticker nails cover the entire nail and can be cut out to the exact shape of the nail. Variations include those with glitter, plastic beads, patterns, designs, or images on the sticker.
Fake Nails
Fake nails have been popular for years and are different from stickers in that they are usually made of rigid plastic rather than thin material. Fake nails are excellent for extending the length of the nail but can sometimes be trimmed to match the same length as the wearer's nails. Variations include fake nails that already have an adhesive on the back and those that must be used with nail glue. Popular styles include painted nails, pointed nails, French manicure nails, and more.
Nail Tips
Nail tips are a variation of stick-on nails, and are appropriate for people who simply want to lengthen their nails. Usually these nails are designed to extend the length of the nail and are therefore made of rigid plastic. They usually come with stick-on adhesive but due to the nature of the nail, can be paired with extra nail glue to improve the strength of the nail. Nail tips can be sold as simple French manicure styles but can also come with elaborate and often chunky styles including Hello Kitty faces, large bows, ribbons, birds, and more.
Nail Stones and Beads
Individual stones and beads can often be purchased as stick-on nail art. A range of different styles including simple round beads to pearls, cubic zirconia imitations, and more can all be purchased with stick-on backs. These stones can be used on their own, used to create a design or pattern on the nail, or used to complement other nail art. Stones and beads can often be purchased in sets or in lots.
Nail Art for Children
Some nail art is designed specifically for children, although not usually for ages below eight. This is because most nail art is quite small and can be swallowed or chewed off of the hands by very young children. Parents should consider the age of their child, if nail art is appropriate, and then choose styles that are not likely to be swallowed, and that are durable enough to stand up to the sometimes very active lifestyle of a young child. Usually nail art is recommended for girls who are ten to sixteen years of age. Art for older girls is sold as adult nail art.
Application and Adhesives for Stick-On Nail Art
Most stick-on nail art does come with its own adhesive, which means that the application process can be 'peel and stick'. However, depending on the brand, the age of the stick-on art, and the application process, it might also be a good idea to include nail art glue to help the art to last longer. This addition is not entirely necessary but might be a good addition, especially with very cheap stick-on art.
Another type of stick-on nail art includes styles that must be applied onto a base using water. These do not require nail glue but should be used with a clear or other colour base as well as a clear topcoat. Buyers who want to use these should invest in a good quality topcoat and then a solid colour or clear base coat such as white, grey, or other complementary colour. Top and base coat nail polish is affordable and easy to find at most drugstores or even standard fashion stores.
Considerations Before Purchase
Anyone who plans on purchasing nail art should decide on a purchase based on practicality, affordability, and whether or not the nail art is appropriate to be displayed at the workplace. For example, heavy embellished nail tips might be difficult to type with, some novelty nail art might not be allowed at work, and some nail art might be too fragile for daily use. In general, buyers should decide if the nail art is suited to what they intend to wear it to. Some nail art is designed for everyday use but some is designed for special occasion, club wear, and other one-time use. Buyers should check the instructions, look at the art, or check the nail glue to help with a decision.
In most cases, adding extra nail glue can improve the lifespan of some items such as stick-on stones and beads or even stick-on nails. However, adding too much nail glue can ruin the piece. Finally, any nail art can be ruined by not properly applying it. To avoid this, users should check the instructions, ensure that all of the necessary tools either come with the art or purchase them with the art. From there, buyers should follow the instructions given to create their nail art.
It is important to always check the instructions, check any necessary tools, and look at any size instructions that might come with the nails. Most nail art can easily be trimmed and changed to fit the person's own nails using either sizes that come with the nail or simple nail clippers and a file.
Buying Stick-on Nail Art on eBay
eBay is a great place to buy nail art because you can choose to purchase from anywhere in the world based on the seller location. With literally thousands of options in every style, quality, and price range, you can choose any nail art you like. You can also choose to purchase accessories to go with nail art including adhesives, extra beads or stickers, and base and top coats should you want or need them.
Search for your stick-on nail art on the home page of the website and consider being specific in your search. Since 'stick-on nail art' is a very broad category, you might have better luck with 'stick-on pearls', 'stick-on bows', 'stick-on glitter nails', or anything else you are looking for. Read the description of the item you want to buy, check the quantity and includes, and consider asking the seller about the nail art or its application process if you are not sure.
Conclusion
Stick-on nail art can be a great way to add interest and appeal to the nails without paying for manicure or spending hours applying normal nail art. Most stick-on art uses simple peel-and-stick adhesives that can simply be set in place using either the hands or a pair of tweezers. Most stick-on art is also quite adjustable so buyers can choose any style they want and then trim or cut it to the desired size.
Different styles include stickers, applique adhesives, false nails, false nail tips, stick-on gems and shapes, and simple vinyl stickers. These can range in colour, quality, style, and price, and can be quite different across brands. Everything from the application method to the material used to make the art can be different from one stick-on nail art application to the next. Buyers should consider what style they would like, what style is appropriate for their lifestyle, and where they would like to purchase the nail art.