I cannot offer any more information to you I'm afriad, so can you please stop e-mailing me!

Understandably buying designer clothing through ebay always raises the concerns of is it 100% authentic or not.
Stone Island is probably one of the biggest clothing brands on football terraces across the country. It's easy to spot with its unique Stone Island Compass/Patch on the sleeve and combines trendiness with style. Stone Island as a brand was launched in 1983 and is a spin off from Italian sportswear giants SPA and is also couple with the brand CP Company.
How to spot a fake:
- Badge not on left arm (except for the reversible range)
- Badge has colour round the edging, as opposed to all black around the compass (except pre 2000 items)
An example of a real badge.... Even if the badge does look like this you should still ask for proof of ID/ART number.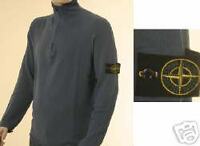 - No seller ID/Art ID under the badge and labels. Some "grey market" sellers like BB Clothing cut this out though so their supplies don't get sussed by Stone Island.
- Ebay is a source of many good Stone Island bargains but also many fakes. Try and ask around before buying.
I would recommend only using sellers with a 95% plus feedback when departing with big amounts of money, also look for members with ebay shops. Don't always believe the RRP prices, they are usually made up and are purely so high to encourage you into thinking you are getting a bargain.