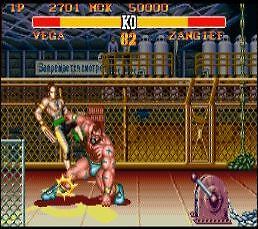 Street Fighter 2 Review
Street Fighter 2 was the biggest arcade game of its day and the exclusive conversion was a huge system seller for Nintendo, to the extent that the Turbo edition was bundled with the Super Nintendo in the standard UK pack for a long while.
Zangief, Vega, Ryu, Sagat and Blanka were my favourites. Probably Blanka was number one for me. I remember as a 10 year old going to the arcade (which is now closed by the way :( to play this great game. There was always a line waiting to play and you would occasionally have one person on the game winning and taking on all comers, until it was your turn and you fought hard to get him off and you on it so you could play and have the challengers play. This game is still sought after and can still be seen and bought on eBay today for less than £10 - which is a steal. If you are going to play this I recommend it on a projector in a dark room - brilliant for a nights fun.

You don't need me to tell you that this is one of the finest fighting games ever made rivalling Mortal Kombat and Tekken. It features highly polished mechanics and come of the best known characters in video gaming history (I try to forget about the notorious Jean Claude Van Damme film). The Super Nintendo version is available on Wii, Xbox and Xbox 360 conversions. This even transferred over to the Sega Mega Drive in the day as a SF2 Special Championship Edition.