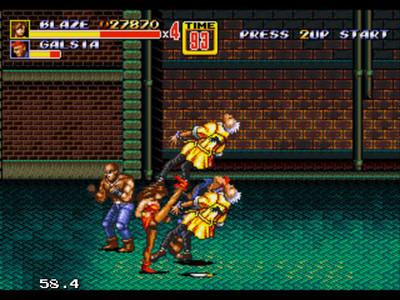 Streets of Rage Review
If Sonic the Hedgehog was the first game that every Sega Mega Drive owner owned, Streets of Rage was usually the second. A side scrolling brawler in the Final Fight / Double Dragon mould, Streets of Rage had one or two players battling through a gang infested city, battling thugs and bosses with fists and any, pipes, baseball bat or bottle they can grab or steal. The sequel Streets of Rage 2 improved on the original with longer levels, branching endings and more extravagant bosses then before, and was one of the finest two players game to ship on the system. At the time the graphics and the music were felt to be cutting edge. This game has travelled over other consoles such as the PSP, Xbox and Wii because of its playable and stay power.
Fighting through the Streets with just your game pad and something to drink to keep you at the game for hours was really good fun. The bit that was frustrating, but funny sometimes, was that like it's predecessor 'Golden Axe', you could hit the other human player. Whilst sometimes this was an accident in the middle of a street brawl, other times it was on purpose, or as retaliation - all good fun.
The bosses were generally easy to defeat, it was just getting to them was a bit difficult but achievable for a 10 year old.
Highly recommend the Streets of Rage original and sequels.