Back in the mid to late seventies a dance phenonamon was sweeping the U.S.A it had it's own style of dress, music & dance.
The dance was called breakdancing which once it became mainstream brought out films like breakin A.K.A breakdance the movie.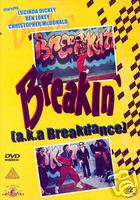 And also a more realistic look at life on the streets during those years call beat street.
Then came along a company called streetsounds
They brought out a collection of albums that brought the music into the UK and in my view were second to none.
I had the whole collection on vinyl and would play the music whenever i was at home much to the annoyance of my parents LOL.
To my recollection i think the sequence of the albums at the time where as follows.
Electro hip hop 1 to 16
Then it changed to hip hop 17 to 23
Crucial Electro 1,2 & 3
UK electro (Avoid this album like the plaque)
Streetsounds New York vs L.A Beats
Streetsounds West Coast
Speak to any die hard b boy or b girl and they will probably tell you that the 1st six electro hip hop albums plus the 1st two crucials where probably the best albums streetsounds ever brought out.
Streetsounds have since ceased trading but the music is still out there going strong
Many years ago i stupidly sold my collection on vinly had load of regrets then when cassettes became popular i bought a few played them but they did not sound the same in my view, for a while i did see some of the collection on CD but not all so i thought naw not really worth.
I menage to pick up the entire collection on MP3 which is great i can now listen to the entire collection on one disc isn't techonology great.
This guide may not appeal to all but it was the music that i grew up to and i know i'm not the only one out there so vote and let me know.
Long live Breakdance & long live the music.