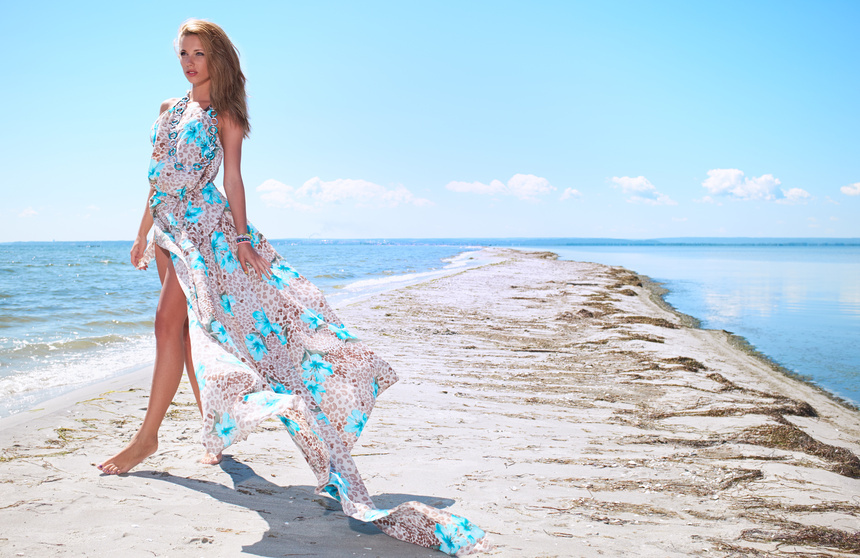 A beach dress is not just a swimsuit cover up. These flirty and feminine dresses come in both long and short styles, as well as in a variety of colours and prints. Pack several for a beach holiday so you always have something for both day and evening wear. Pair them with different shoes and accessories and always look the way you want wherever you go. Learn stylish ways to wear a beach dress to take advantage of the versatility it offers.
Beach Dress and Shoe Choices

The possibilities seem endless when it comes to what you wear on your feet with a beach dress. For walking on the sand and surf, choose a pair of stylish, but waterproof, flip-flops. You can find flip-flops in a variety of bright colours that can match nearly any shade found in a print beach dress. When wearing a long maxi dress at the beach, choose flip-flops with a wedge heel. However, if you wear a dress that falls above the knee, flat flip-flops work best. The same goes for when you choose other shoe options, including strappy sandals. If walking along the boardwalk, strappy sandals make the ideal beachside footwear. You can find them in wedge heels for longer dresses and flat heels for shorter versions. Shoes with metal and rhinestone embellishments help spruce up your beach dress for warm nights out and bring some sparkle and shine to the beach look when dining outside at oceanfront eateries.
Beach Dress and Purse Choices
Pair a beach dress with a beach bag that is equally bold and bright. Pack all your oceanside necessities in your bag, but make sure the bag matches the colours in your dress to avoid an overwhelming look that clashes. When wearing your beach dress for a meal out during the day or evening, choose a smaller purse made from a fabric material. Beach dresses are casual so wearing a leather purse combines two different looks that end up clashing with one another. A straw purse also gives off a beach feel when you are by the ocean.
Accessorise Your Beach Dress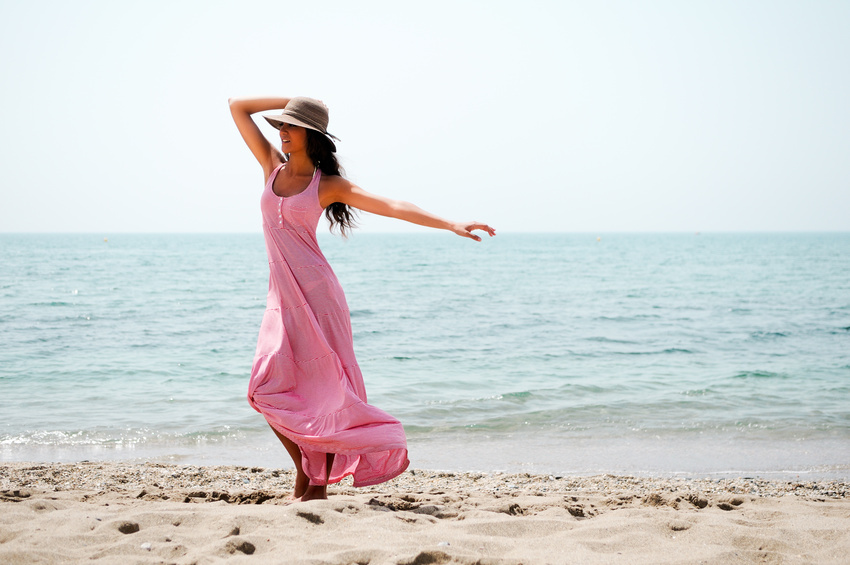 Dress up your beach dress with a variety of casual accessories. Don a straw sun hat that protects you from UV rays, while adding a new sense of style to your look. Large dark sunglasses with gold embellishments on the arms and frames offer a bit of bling to your beach ensemble. Choose beaded necklaces or chains made from shells for a true beach look. Find dangle earrings that match for coordination. Bangle bracelets in all different tropical colours work great when turning a beach dress into nightwear and thin ankle bracelets give a little something special to shorter dresses that show off your feet.