A bolero is a short jacket, covering the shoulders and upper torso, ending just above the waistline. You can wear a bolero for almost any occasion, choosing a fabric and style to match your taste and the occasion. Boleros are available with sleeves of any length, from full to quarter length, and fabric choices include both light and heavy fabrics, giving you the freedom to choose a stylish yet seasonally appropriate bolero for any time of the year.
Formal Occasions
A bolero works well for any formal occasion, as long as you pair it with complementary attire to complete an elegant and formal ensemble and providing you choose the right type of material. Common fabric choices for formal boleros include lace, silk, satin, or fur. If you have a bright, patterned, or embellished cocktail, party, or evening dress, a plain bolero in a contrasting colour is stylish. Alternatively, if your dress is plain, choose a patterned, printed, or embellished bolero to add contrast, texture, and sparkle to your outfit. For formal events, you can also wear a bolero with dress trousers or a formal skirt and a blouse. A bolero is very useful for drawing attention away from heavy upper arms and streamlining your figure if you have narrow hips and legs and a wider upper body.
Casual Events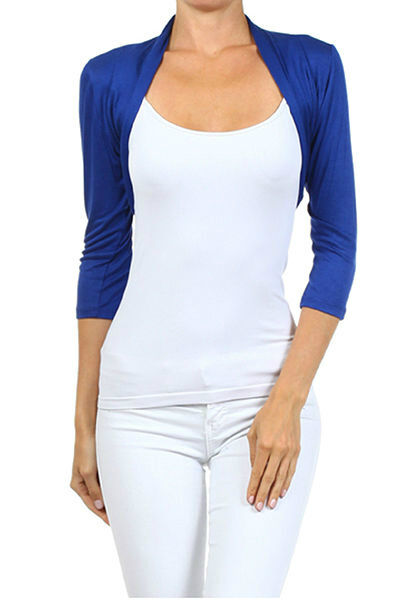 For casual events, boleros create a contemporary, stylish look when paired with skinny jeans and a feminine tank top. If you have a heart-shaped and hourglass-shaped body, a bolero is a very useful and stylish addition. With empire waistline dresses and maxi dresses, boleros help add more texture and detail and accentuate your waistline, providing definition. Wearing a black bolero for a casual occasion is a great way to break up blocks of single colours or heavily patterned prints, helping you balance your look. Popular fabric choices include linen, cotton, jersey, wool, and even denim.
Weddings

Boleros are incredibly popular for weddings. From sheer to opaque, a wedding bolero allows you to add extra warmth to your wedding outfit or lets you to show respect, or meet the requirements of your church, by keeping your upper body covered without getting too hot in warm weather. You can use a wedding bolero in place of a cape or a wrap, and it is the perfect solution to allow you to proudly display your wedding gown while remaining comfortably warm, which is particularly useful for an autumnal wedding or evening ceremony. For traditional gowns, lace and taffeta boleros are popular and stylish.