Bowler hats have a long and distinguished history. They were designed originally to protect the heads of gamekeepers from low branches, and the hat's sturdy design quickly became popular with other workers. Bowler hats were ubiquitous in the City of London in the 1960s. In the modern era, the accessory still looks good with casual or formal outfits for men and women.
Casual Looks for Bowler Hats

Bowler hats add a touch of flair to a casual outfit. Brown or grey women's bowler hats create a tomboyish look when worn with baggy jeans and a men's shirt. Another option is to wear the bowler hat with trousers and a camisole top under a boxy blazer with a pair of brogues or patent leather flats. For men, a navy or dark red bowler hat with jeans and a short sleeve shirt creates an attention-grabbing look.
Formal Looks for Bowler Hats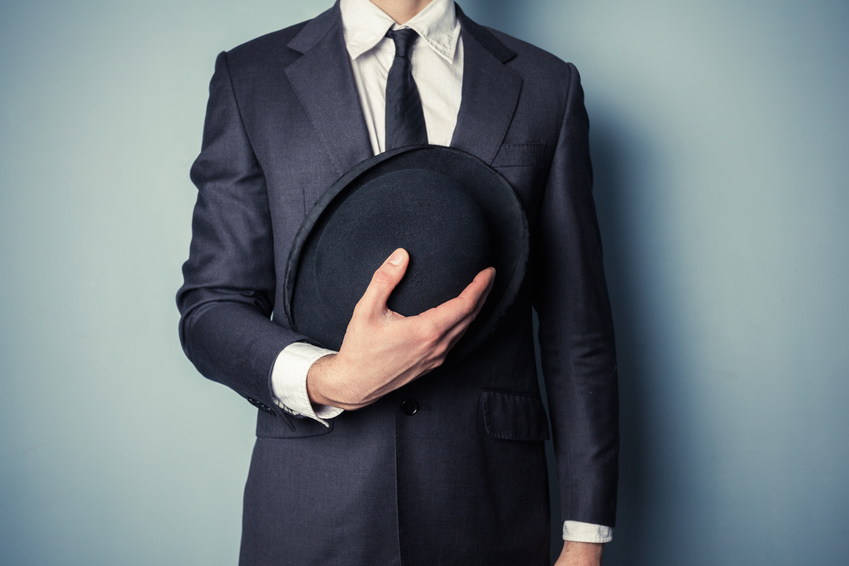 For a more formal look, women can wear a neutral brown bowler hat at a jaunty angle with a white sundress and heels. A purple bowler hat looks terrific with a floral print dress worn over tights and a pair of boots. Feminine accessories, such as delicate jewellery, help to soften the masculine look of the hat. Men often pair black bowler hats with suits. For a night out on the town, a men's bowler hat lined with red satin with a ribbon adds a lighter touch to the accessory.
Retro Looks for Bowler Hats
Vintage bowler hats recall the days when a man never left home without a hat. A 1950s-style felt bowler hat in soft grey is perfect with a classic three-piece suit. For a retro-theme, men can wear a bow tie and a bowler hat tilted slightly to the side. Women can create a new spin on a classic style by wearing wool bowler hats with baby-doll dresses and Mary Jane shoes for a 1960s-inspired look.