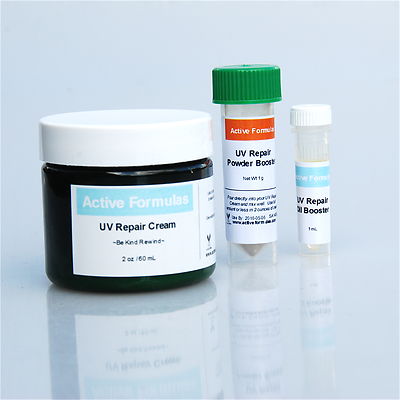 New U V Repair Cream
Old news: UV damage is a major cause of skin aging
Good news: skin aging is not irreversible
From Dr Hannah Sivak
UV Repair Cream 60 ml & Booster kit - essential skin care products.
This will sound repetitive, but if you keep away from the sun and use sunscreen, your skin will stay younger and healthier.
Taking into account that most of the information on this subject was unavailable in the 50s and 60s, our skin has already suffered the damage, and now we have to cope with the consequences.
Before I started working in skin care, I was a research scientist and completely naive about what science could do for the skin. I know a lot more now, and I can say words that would have been unimaginable ten years ago: yes, it is possible to turn back the clock, and it is possible to rejuvenate the skin. How? By protecting it from further damage and by providing tools to reverse damage inflicted by age and the environment on cellular DNA.
What can you do? You can protect your skin, and protect the skin stem cells that will allow this most important human organ to heal and regenerate
The temporary activation of telomerase may extend the Hayflick limit (the number of times a cell can divide before division stops), but this will be no help to your skin if the stem cells in it are significantly damaged by UV and other stressors. The objective of a "rejuvenating" cream should be to promote the skin's own healing powers by protecting its stem cells and supplying actives known to help repair DNA mutations.
The prior version of the UV repair cream could be a little strong for some users. The new cream has been reformulated so that users have the ability to modify the strength of the base cream using the separate booster.
Expert
Function Active
Skin Lightener
Betulinic acid, Niacinamide, Tetrahydrocurcuminoids
Anti-oxidant, free Radical scavenger Caffeine, Tetrahydrocurcuminoids, Gluthione, Astaxanthin, Lycopene, Alpha-D-tocopherol, Tocotrienols, Alpha Lipoic acid, Quercetin, Silymarin, Green Tea EGCG, Resveratrol, Porphyridium, Myricetin, ferulic acid
Anti-aging
Resveratrol, Lutein, Astragalus, Porphyridium extract,Myricetin, silymarin
Anti-inflammatory
Niacinamide, Boswellia serrata, Galanga;, Quercetin, Centella Asiatica, Ursolic acid, Porphyridium extract, mangosteen, Tetrahydrocurcuminoids, Beta Glucan from yeast
Emollients
Shea Butter, rosehip seed Oil Olive Squalene
Skin Elasticity
melatonin, Quercetin, Betulinic acid
Anti-cancer
Astragalus, betulinic acid, Niacinamide, Galangal, Lycopene, Silymarin, Mangosteen, Green Tea EGCG, Pomegranate seed oil, sandalwood essential oil, Ceramides Ursolic Acid Caffeine, Ferulic acid, Black Cumin Oil
Immune Function promoter
and /or anti-viral/antibacterial Beta Glucan (yeast), Boswellia serrata, Sea kelp Biofrment, Porphyridium extract, Ursolic acid, galangal, Quercetin, Green tea EGCG, Astragalus
Protese inhibitor
Boswellia serrata, Betulinic acid, Quercetin, Ursolic acid
Skin Barrier Repair
Ceramides, squalane, Rosehip seed Oil, centella Asiatica, Soy Isoflavones