Mario is a video game character created by Shigeru Miyamoto for Nintendo. As well as being Nintendo's mascot, he is one of the most recognizable characters in video game history, appearing in over a hundred games, many of them best-sellers. Outside of the platformers with which he is traditionally associated, Mario has appeared in video games in many different genres, including the Mario Kart series, many of Nintendo's arcade sports games (such as the Mario Tennis and Mario Golf series), and Nintendo's series of Mario role playing games (RPGs) (including Super Mario RPG: Legend of the Seven Stars, Paper Mario, Paper Mario: The Thousand-Year Door, Mario & Luigi: Superstar Saga, and its sequel, Mario and Luigi: Partners in Time). The character has also appeared in mass media, and has spawned a line of licensed merchandise. He has also had a number of cameo appearances in other video games, and his likeness has been licensed to software publishers for educational titles. Fans have also created a number of unauthorized works depicting Mario.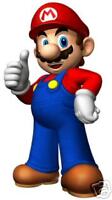 Spot Fake Mario Items
I am a Sage for NOA and have a personal fascination for Nintendo merchandise. I have been handpicked by Nintendo.com for this honour. I have also featured twice in Nintendo Power magazine (USA) and the following UK magazines: Official Nintendo Magazine, GamesMaster, and NGC. I have been an eBay enthusiast for over 5 years. Here are my top tips to help you spot fake Mario items:
1. There are multiple pictures of an item. Check the background, does it really look like a persons shop or home? If the picture looks "unprofessional" then that is GOOD, although there are some good photographers out there. If suspicious check the persons feedback rating (see point 5 below). If the picture is catalogue quality then the item is probably not available, it may be just a brochure picture!
2. Are there any close ups of the label or copyright? Does the item feature the Nintendo logo? (Note: all modern Mario items should feature the Nintendo logo. However some genuine vintage items may not). Has the background picture suddenly changed when showing the items finer points/close ups?
3. Is someone offering a RARE Mario item that is DISCONTINUED ? Check through EBAY right through to the final page, is there another one the same, with a different heading ?
4. Someone is offering multiple Mario items of the same type at a really low price, this is fine in the case of usual items, such as GBA games, common items. But in the case of "Rare" goods please remember, they are doing this at a profit, so 17 seperate auctions of Club Nintendo Figures by the same seller for a few dollars/pounds must be either fake, stolen or very out of date. So what price did they buy them at ? Can you imagine getting a "real" Club Nintendo item for 3 dollars ?
5. Beware of sellers "pumping" up the bids to get more money out of the other bidder. Some sellers create fake accounts and then bid on their own item. This is called Shill Bidding (I have written a guide on this act). Watch out for the same name bidding many times in a row. This, twinned with a bidder with 0 feedback or 2 or so feedback probably means its a "masked" account.
For example :
Ninty Fan (234) £30
Yoshi (2) £29
Yoshi (2) £28.50
Yoshi (2) £28
Ninty Fan (234) £25
Yoshi (2) £24.50
Yoshi (2) £24
The real bidder was Ninty Fan, "Yoshi" was a fake account created to get more money out of "Ninty Fan", he would have won at £25 but was tricked into paying £30.
6. Beware of "Fake Feedback", if there is multiple feedback left at the same time by the same person with exactly the same feedback comments then be careful, furthermore if there appears to be a lot of people on the same feedback page doing it. These have probably been created by the trader to make it look good, often these "customers" have very low feedback scores indicating that they are not really active. But then again, it could be a new customer. (NOTE: EBAY SHOPS are likely to have multiple purchases from a singular person anyway, due to the nature of the business they conduct).
7. Watch out for the devious use of "". These can be used to hide a true meaning. For example "Genuine" Mario T-Shirt. The word STYLE can be used to hide a true meaning also. A Mario STYLE T-Shirt is not a real one.
Please note though, this page is for guidance only. Please dont run away if ONE of the criteria listed matches an item you are looking for, it doesnt mean you are dealing with a criminal. However, if two or three of the items here match then its time to ask questions.
Items to be weary of
Be cautious when purchasing t-shirts or iron-on transfers. Always ask if they bare the Nintendo trademark. Official Nintendo clothing will always have Nintendo on the label. If the clothing does not have a Nintendo label, it is highly likely the t-shirt is a poor quality homemade fake.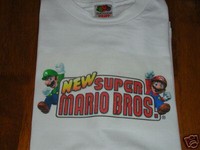 Beware of button badges. Unlike enamel pins, button badges can easily be made at home for a low price. If the badge does not feature a Nintendo copyright mark (usually on the rim or back) then it is usually an fake imitation. A genuine Nintendo copyright mark will say either 'Nintendo', 'NOA' (which stands for Nintendo Of America), or 'NOE' (Nintendo of Europe)

Fake Mario keychains are highly available on eBay. A genuine Nintendo key chain will bare the Nintendo trademark (usually engraved into the product). Watch out for keychains or magnets which are rectangular or circular and plastic coated. These can easily be made using inexpensive craft kits.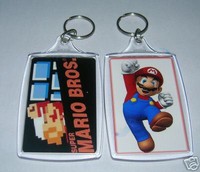 Also be weary of edible birthday cake decorations, candy wrappers, address labels, party invitations and other paper-based products as these are usually handmade fakes. Personalised items are almost always fake. Additionally never purchase a Mario item that features "diy" in the title. This means Fake.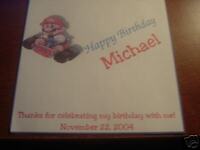 Remember - if in doubt, ask for the trademark.

I hope these points have assisted in your search on EBAY. Good Luck.
*hugs*
Peach xx