To wear stockings, you need a Suspender Belt. Here's a Guide: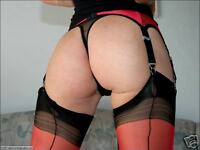 Good Suspender belts are comfortable and don't cost much more than the skimpy 'Bedrrom Fun' lacey ones that are not practical for long wear. Worn on top of the hips, garter belts are usually 4 to 8 inches in length, measured from top to bottom – this measurement does not include the Suspenders. Short, Open Girdles can offer greater support for the waistline.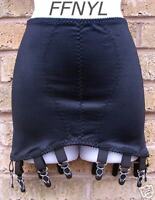 The suspenders from the belt attach to the stocking by clips and the more they are, the better: The more garters are used, the smoother the stocking will look and if on that rare occasion a clasp breaks, there would be no sag in your stocking. Metal clips are better than plastic ones and be sure the garters are adjustable so you can custom fit the amount of tension on the stocking.
Stockings have a top area that is thicker than the stocking itself, this is called the Welt and the clasps are attached to the welt. Stretch stocking wearers can use a 4-6 strap belt but non-stretch stockings work better with at least 8 suspenders.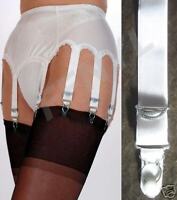 A good starting point for suspender strap adjustment is to make the back straps 2 inches longer than the front ones and 1 inch longer than the side straps. Some suspender belts are cut / shaped longer in the back than in the front to help in this area because when you sit down there is a farther distance to go on your back side to reach the stocking. When standing, there should be a slight pull on the stockings but the word here is slight – over pull will either damage the stocking or cause the suspender belt to slide down. If you are wearing stretch stockings, you can keep the straps tighter, letting the stocking do some of the give.