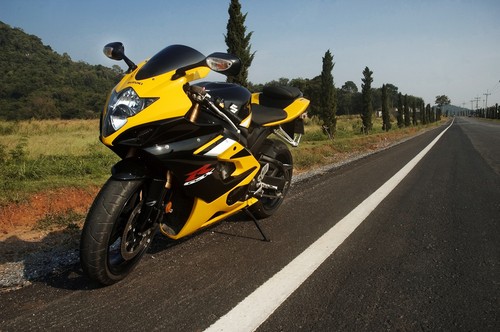 Suzuki is one of Japan's largest vehicle manufacturers. As with many older motorbikes, the first Suzuki bikes were simply motorised bicycles. After the Second World War, Suzuki started to produce clip-on engines for bicycles as there was a need for affordable and fast means of transport. In June 1952 they released the "Power Free", the first motorbike with a double sprocket gear system that allowed the rider to pedal with the engine's assistance, pedal without the engine's assistance, or to disconnect the pedals and run only on the engine. This motorbike was later fitted with a two-speed transmission and upgraded to the "Diamond Free" model. By 1954, Suzuki was producing 6,000 motorbikes per month and they continue to produce some of the most popular motorbikes on the market.
Due to the popularity of these bikes, finding Suzuki motorbike parts is relatively easy. However, several factors should be considered while shopping. A knowledge of the types of parts available and the description of their condition is helpful. In addition, understanding which parts can be used on a variety of motorbike models is a great way to save money. Suzuki motorbike parts are available from Suzuki dealers, garages, and online, from sites like eBay.
Types of Suzuki Motorbike Parts
Suzuki motorbike parts come in number of types and can be classified according to their manufacturing process. There are three broad categories: original equipment manufacturer (OEM), spare parts, and copied parts. OEM parts have been made by the company or manufacturer that made the parts fitted to the motorbike during production. The OEM is not always Suzuki; it is common practice in automotive manufacturing to outsource the making of some components. Spare parts have been manufactured by a third party and were not fitted as standard when the motorbike was produced.
Copied parts are replicas of the original components, so the materials, manufacturing process, and performance may differ from the originals. The table below offers a brief comparison of the advantages and disadvantages of each type of part.
Type of Motorbike Part

Advantages

Disadvantages

OEM

New parts

Like for like replacement

Will fit motorbike

Safe choice

Expensive

Can be hard to find

Spare parts

Less expensive

Could be superior in quality to OEM parts

Widely available, easy to find

May not be as durable as OEM parts

Quality and suitability unknown without adequate research

More time required to make an informed buying decision

Copy

Less expensive than OEM parts

Can be used if direct replacement is no longer available

Should fit if it is a like for like replacement

Improvements in manufacturing materials or processes could yield better parts

Some are inferior and prone to failure

Quality unknown without researching the brand
When buying non-OEM Suzuki motorbike parts, always research the brand to ascertain the reliability, durability, and performance of the parts. It may take a little bit longer to find suitable parts as spare parts often feature slight variations in design. On the positive side, good quality spare motorbike parts are often made of superior materials or by using improved design or production methods.
Condition of Suzuki Motorbike Parts
In addition to the types of parts listed above, understanding the terms used to describe the condition of Suzuki motorbike parts is important. Aside from new parts available directly from the manufacturer or an authorised dealer, a number of parts are available in other conditions.
New Old Stock Suzuki Motorbike Parts
New old stock (NOS) parts have never been fitted, but are old stock. These parts have usually been left in a corner of a workshop or warehouse, so although the packaging may not be in particularly good condition, the part is perfect. NOS parts are especially desirable for those with older motorbikes or who are restoring classic bikes.
Remanufactured Suzuki Motorbike Parts
Remanufactured parts have been rebuilt, with all of the worn out or faulty components replaced with new or remanufactured parts. These parts have been stripped down, cleaned and fixed and are considered equivalent to new parts.
Used Suzuki Motorbike Parts
Used parts have been fitted and used previously, but are in working condition. They usually show signs of wear, but the wear is purely cosmetic and does not affect the functioning of the part. Carefully check these parts to ensure that they are as described and do not have operational flaws or damage. While there is a minor risk of part failure when buying used parts, buyers may find a bargain by purchasing products that are not necessarily brand new.
Finding the Right Suzuki Motorbike Parts
When shopping for Suzuki motorbike parts it is best to have the bike's details, such as the model name and release year, on hand. In addition, the part number makes it easy to find a like for like replacement. While most OEM or copied parts can be found with these details, more research is required for finding spare parts. Before buying a copied part, check customer reviews of the brand and part to ensure that it will not fail after a few months. Buying a cheap inferior part that has half of the lifespan of a more expensive part means spending more on repairs over time.
Spare parts may not fit as well as OEM parts, so finding the right part is essential. Research specific parts, focusing on alternatives to the originals. Forums and reviews are excellent resources when doing this type of research and give buyers an indication of the experiences of others when using particular brands and types of parts. This type of research also gives buyers clear ideas of the fair asking price for parts.
In some cases, parts are interchangeable between motorbike models and years. If this applies, look for parts offered for smaller or older motorbikes as these may be cheaper than, but identical to the part required. However, take the time to research these parts to avoid buying a component that does not fit. A diagram of the part in question or the part number can be used as a guide when researching the compatibility of parts.
Conclusion
Suzuki motorbikes are some of the most popular types of bike available. This makes it relatively easy to find parts for upgrades or repairs. It is important to understand the differences between the types of parts.
OEM parts are the safest when it comes to no fuss, like for like replacements, but tend to be more expensive than spare parts or copies. When using spare parts or copied products, doing adequate research is crucial. As these brands and parts may be unknown, their performance and functionality are also unknown factors. These parts may be cheaper than OEM parts, but they could work out to be more expensive in the long run as they may require more frequent replacement and could damage other components if they fail. However, some of these parts are made with superior quality materials or manufacturing processes. The only way to be sure of the quality of the parts is to do thorough research before buying.
Most buyers prefer to purchase brand new parts, but this is not always necessary. NOS and remanufactured parts are often available at affordable prices, but function exactly like new parts. When searching for Suzuki motorbike parts, have the bike's details to hand to make searching easier. The part number can be used for a specific search and to find parts that are compatible across different models. Again, research about the compatibility should be done before substituting one part for another. Knowledgeable sellers are usually happy to help buyers. eBay sellers offer a wide selection of Suzuki motorbike parts at competitive prices.