QUALITY TIME II UK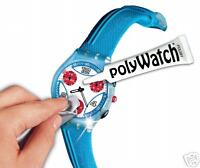 POLYWATCH
The Problem
Plastic watch faces / crystals scratch far too easily as we all know to our cost, with the result that they soon look spoilt and aged. But now you can do something about it, and that does not mean costly repairs.
What Is PolyWatch
Replacement of the face or crystal is not always possible, and can be very expensive, especially with SWATCH WATCHES that have plastic cases. We have all suffered from this sort of problem, but not anymore now POLYWATCH a type of special-purpose polishing paste, offers an economical and easy solution.
So The Solution
Scratches can be easily and cheaply removed by an easy D.I.Y. method.
How To Use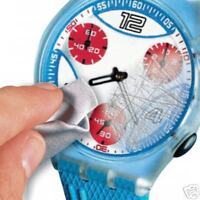 BEFORE
1) Apply a small amount of POLYWATCH to the watch face.
2) Using a soft cloth or cotton wool polish the scratched area for 2-3 minutes. Applying pressure at right angles to the direction of the scratch.
3) Deep scratches need to be treated more than once. Finally remove any remaining POLYWATCH with a soft cloth, a buff up watch face until face has a polished appearance.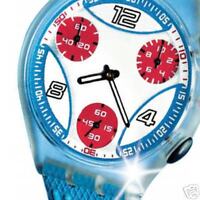 AFTER
So How Does It Work
No Magic is involved. The plastic crystal is very slightly dissolved by the heat generated by the grinding down of the surface by the tiny abrasive particles in POLYWATCH. The edges of the scratch marks are then smoothed off and the scratch filled in with some of the original plastic from the watch crystal.

So Now You Can Renovate Your SWATCH WATCHES and have the faces looking as good as new.
QUALITY TIME II UK
HELP US BY TICKING THE BOX THAT SAYS THIS GUIDE WAS HELPFUL..