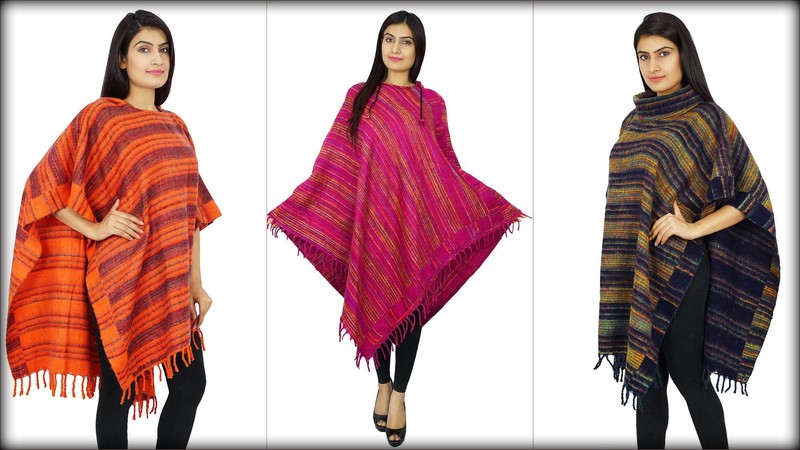 Ponchos
aren't a recent trend. They have been used by the Native American peoples of Andes since Pre-Hispanic times. They are of two types-Traditional Ponchos and Military Ponchos. This billowy fabric if not teamed properly will make you look very unflattering like a decked-up balloon. If you are a boho-look fan, ponchos are your wardrobe essential. With some hippie trinkets and a bandana for your hair, you'll look really stunning.
Why Ponchos?
Fashion lovers, should you intend to try something fresh and chic then you definitely need a poncho. The outlook of the outfit adds a touch of modernity to your wardrobe. Moreover,
the poncho
fashion trend was dormant for quite a long time until now when it has returned with a bang. The key feature of a poncho is that it is of a very light weight and is really cozy which means you can easily wear it both at home as well as at work. Plus, you need not necessarily wear it for winters. Since the designs are extremely versatile, you can even get ponchos tailored for summers too. A pair of hot pants with spaghetti top if teamed with a poncho will make you look ravishing.
What to wear with ponchos?
Skinny jeans, tights or shorts would complement your poncho rather than baggy harems or trousers. They'll make you extremely fat and unattractive.
Make sure your top is of a mild shade and not of any vibrant chrome.
When it comes to prints, the simpler the better. A solid top too can be magically appealing. If you desperately want to wear your embellished top, make sure that the embellishments are made on the sleeves and the chest. If it's a shirt, decorated collar is a big NO.
Go for a good fabric before getting your poncho stitched. Like, cashmere for winters and cotton for summers,
Lastly, avoid high collars especially cowl necks because that will make your look weird.
Ponchos aren't only meant for a hippie look. Team it appropriately to enhance the feminine grace and charm in you. Get some ankle-length boots to match your outfit and accessorize it with your simple yet trendy ornaments.