FINALLY - THE TRUTH ABOUT MULLARD YELLOW-PRINT, AND BRIMAR RED-PRINT, AUDIO VALVES/TUBES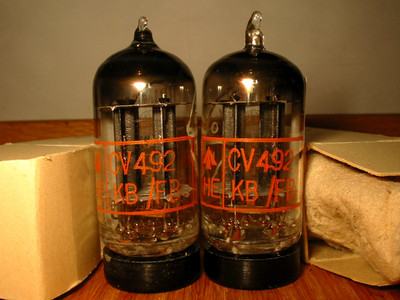 There is a widely held belief that the colour of the print on a valve denotes "Special Quality" of some sort. Whereas this may be true in some cases, it is NOT true of Vintage Brimar Red-prints, or Vintage Mullard yellow-prints.

Brimar AND Mullard changed the print colour on their valves at certain points in time, possibly for guarantee reasons. Certainly NOT for quality reasons! I am certain that is pure myth, for the reasons given below.

It's understandable that these myths have arisen.
The rare vintage Brimar "Trustworthy" range actually are of Special Quality, and have a yellow "T" printed on them. This may have confused the issue.
Brimar never used red print on ecc8* (12A*7) types made after 1955.
So ALL Brimar ecc8_ types that have red print, were made before 1956. This is why they sound special. Because they are so old.
Ergo: If you get a red print one, you know it will be old and sound special.
What folks mostly don't yet know, is that there were long periods before 1956, when red print was not used.
The only difference between the white-prints and the red-prints made in the same factory and period, apart from the individual date code, is the colour of the print.
I have never found a single historic claim from Brimar that red print denoted ANY difference in quality. There is not a single case of the design-code being different either.
The same statements apply to Mullard yellow-prints. If somebody could find a quote in a 1950's or 1960's electronic magazine or advertisement, or anything, claiming red-print or yellow-print denoted better quality, there would be an end to the matter. But nobody ever has.
Why would Mullard and Brimar make Special Quality valves, print them in a different colour, and then never ever publish a single claim??
That would be ludicrous. But if any such claim had ever been made, someone would certainly have discovered it by now!

*Additional info - Since writing this guide I have been informed by an ex-employee of Mullard Blackburn factory, that the yellow print was used to commemorate Mullard's golden (50th) anniversary. The original idea was to use gold ink, but for some reason this plan was dropped, and yellow ink was used instead.
The same ex-Mullard Blackburn employee exploded another myth, this time about factory code - Factory code was never "etched" into the glass, as is still widely believed, at Blackburn, or probably any other British factory. Paint or ink was always used for the factory code, albeit usually more resilient than that used for the main print, it will rub off if you try hard enough!
I have learned the following by handling literally thousands of 1950s/60s vintage Mullards.
The yellow print colour ALWAYS relates to the manufacture date of the valve. And that it was intended for the UK commercial market.
The yellow-print myth is again understandable to a degree, because within weeks of Mullard's yellow print era ending, they made other changes, including discontinuing using copper plate posts in their ecc83's. This change, it's widely agreed, corresponded with reduced tonal quality.
For a 3 year period (approx.) in the mid-1960s, Mullard applied Yellow print to ALL the valves they sold in the UK commercial market, including ALL Mullard-branded, lower-quality, foreign-made imported stock, without exception. On the other hand, Mullard's CV (military, etc.) -printed valves, and those for export from the UK, were always printed white.
I have personally auditioned about 30 of the Brimar Footscray factory 1952 CV492's in my vintage studio, all manufactured between April and July, 1952. All those dated before the 4th week of June, 1952, have red print; of those actually dated 4th week of June 1952, some are red, some are white; and all those dated after 4th week of June 1952, have white print. And:
I have found no audible difference between the red and the white prints.
Is that the myth busted?
You can create sections with lists...
Bullet 1
Bullet 2
Bullet 3
Bullet 4
Bullet 5
You can upload an image by double-clicking the image on the right, or to add additional images, use the "Upload Image" icon in the toolbar.
Use the table feature to create tables(To delete the table, select all and delete)
| Header1 | Header2 | Header3 | Header4 |
| --- | --- | --- | --- |
| Product1 | Value1 | Value2 | Value3 |
| Product2 | Value1 | Value2 | Value3 |
| Product3 | Value1 | Value2 | Value3 |
| Product4 | Value1 | Value2 | Value3 |
| Product5 | Value1 | Value2 | Value3 |
| Product6 | Value1 | Value2 | Value3 |