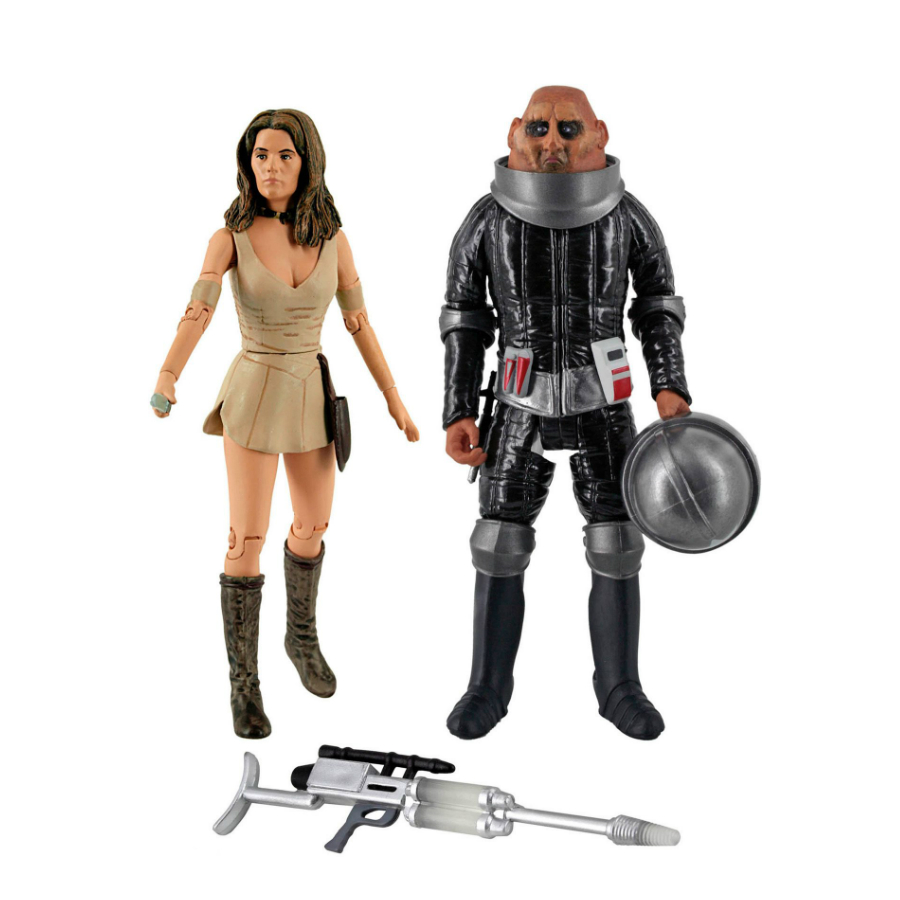 This eBay guide aims to arm provide with all the information a buyer needs to get started.
The first action figures based on TV series appeared in the 1970's. That was around ten years after the launch in 1964 of the first toy to be called an action figure, G.I. Joe from Hasbro. The description was a neat piece of marketing to position him as different from a doll and meant for boys.
The popularity of GI Joe and Palitoy's Action Man in the UK was confined to pre-teen boys, but Star Wars in 1977 introduced a whole range of characters. Just 3.75 inches high with individual features and clothing, they begged to be collected. With the huge success of the film, major shortages soon arose of particular characters. They gained resale value from fans wanting to build up a set. Thus the collectible action figure market was born.
What Is an Action Figure Exactly?
The Star Wars figures became the archetype for what collectors now recognise as an action figure. Not only were they accurate likenesses of the original, their necks, shoulders and hips were articulated enabling them to be put in a variety of poses. The crucial difference between action figures and dolls such as Barbie is that they represent, "a character known for vigorous action such as a soldier or superhero" Oxford English Dictionary.
Classic TV Action Figures
TV programmes followed Star Wars with ranges of action figures throughout the 1970's and later, dominated by the toy maker Mego. Here are some famous examples which still appear on the market and – in the right condition - can command prices way beyond their original value.
Star Trek: Released in 1974 the original Series inspired 8" figures in the forms of
Kirk, Spock, McCoy, Scotty and Uhura. All Federation figures came with tricorder, communicator and Phaser Mark 2. The aliens consisted of Klingon, Neptunian, Cheron, Keeper and the Gorn.
CHiPs : The 1977 show of the California Highway Patrol had 3. 8" figures of Ponch, Jon and the Sarge along with a motorcycle. Each figure was equipped with a gun belt, sunglasses, insignia stickers, watch, gun, helmet, boots and baton.
Buck Rogers in the 25th Century: released in 1979 these 3 ¾" figures came with 8 points of articulation and were deemed a better sculpt that the Kenner Star Wars line.
Starsky and Hutch: 1974's popular cop show netted them four 8" figures, a motorcycle and the Grand Torino car. Figures were Starsky, Hutch, Captain Dobey and of course Huggy Bear.
Doctor Who: While only released in the UK Tom Baker's persona of Doctor Who was captured in the 8" figure bearing his floppy fedora hat, trademark scarf and sonic screwdriver. This series of figures contained the Doctor's companion Leela, a Dalek, a Cyberman, a giant robot and TARDIS carrying case and play set.
.Happy Days: The Happy Days collection comprised of the cast at 8" is Fonzie, Richie Cunningham, Potsy, Ralph, Fonzie's Garage play set and Fonzie's motorcycle.
Dukes of Hazzard: Hazzard county was inhabited by 3 ¾ " figures - Bo, Luke, Daisy, Uncle Jesse, Cooter, Boss Hogg, Roscoe, Cletus, The General Lee and Daisy's Jeep.
TV Action Figures Today
Today action figures are the most widely collected toys on the market. There are over 35,000 different action figures available, including a host of rare variations. In the Top 40 action figure lines for collectors as rated by Collector-ActionFigures (DASH), the world's biggest resource for action figures, TV action figures are well represented.
Star Trek is still there at No.9 with 889 characters. So is Dr. Who with 237 characters. The most popular at No. 8 is Power Rangers (1935 characters). Teenage Mutant Ninja Turtles is also a favourite at No.10 with 701 characters. The Simpsons (251), the Muppet Show (124) and Buffy the Vampire Slayer (258) also feature strongly.
A glance at the TV action figures selling on eBay reflect what's current, such as Family Guy, the Adventures of Merlin, Thundercats, the Walking Dead, Gladiators and some surprises such as Vicky Pollard in Little Britain.
Deciding What to Collect
The collectors' market is now both massive and complex. A collector needs to have a precise idea of what to look for in order to build a coherent collection rather than a box of mismatched figures, collectively worth little. In the process of deciding on a direction, collectors need to take into account a number of factors.
Framework This refers to the source of the originals for the action figures. Even the type of T.V. show – e.g. comedy, cartoon, adventure, soap opera. But a franchise such Dr. Who gives an achievable framework.
Category Within the framework, focus on a particular niche. Instead of trying to collect all the Dr. Who figures, a category might be a group of characters such as the Doctor's many young female companions or a Series such as the recent Series 7. The objective is to find a niche that is tight enough to enable one to build the collection, complete each series or strand, keep costs down and add value.
Condition The first rule of collecting action figures is never to take them "off the card", the cardboard backing on which they are enclosed in a see-through plastic bubble. Doing this devalues the figure quite a bit, although if that figure is rare enough it will still be worth a substantial amount. Because these figures should be carefully preserved and many collectors are also fans of the movies from which the figures came, some will buy two; one to store and one to use in displays.
Grade Their long-term value is affected by close to mint they are. There are various scales which collectors use to assess potential buys. The DASH C-Scale runs from C-10 (Mint) to C1 (Very Poor) and is very exacting.
Value
Anyone buying or selling a TV action figure or simply evaluating their collection might find the following classification system helpful. As with any collectible, the harder a prized action figure is to find, the more money a buyer has to pay. The range of action figures on the market can be rated as Regular, Chase, Super Chase, Variant and Custom.
Regular This is the standard issue, bought new with the figure pictured on the packaging. Beware of overproduced mass market figures. Even in mint carded condition they are unlikely to increase in value for a long time.
Chase This is a version of the regular figure which has been modified in some way by the manufacturing company, for example in clothing, pose or accessory, so-called because its scarcity will stimulate the collecting community to chase it.
Super chase This is a further modification of the chase figure produced in very limited quantities to create an artificial scarcity.
Variant A variant is a different form of the regular figure arising from an error in the manufacturing process or because of a decision to change something in the manufacturing process. Variants can be extremely rare, both highly prized and priced.
Custom The process can involve taking one action figure and turning it into another by sculpting and painting
How to Search
One of the most enjoyable parts of collecting action figures is the thrill of discovery
There is a huge selection of action figures to choose from on eBay. Simply type in what you are looking for and press "search", and check the results. This is a great way to find carded figures, international figures and rare variants. Look out for people who are selling off parts of or even their entire collections. This can save a lot of time and money when starting off on a new series.
Action figures on eBay
Collectors can find what they're looking for and place a bid or buy it outright with the "Buy it now" option. But as with any product, the action figures category has guidelines which experienced buyers understand. Here are some of them.
Save time Search use common action figure collectible keywords like "loose", "MIB (mint in box)", "complete" etc. It also helps to get the spelling right whilst allowing for alternatives, for example, Spiderman, Spider Man and Spider-man.
Look A seller's description can only go so far, so look at every single picture, and ask, if not satisfied, for a more detailed picture or one from a different angle.
Ask A good seller will be happy to answer questions such as: are any of the accessories reproductions? Are the joints tight? eBay gives the right to enquire.
Leave feedback. Once the action figure arrives, it's good to leave feedback for the seller. This helps the seller's rating and therefore their success as sellers.
How to Buy Action Figures on eBay
To start shopping, go to the Sports and Leisure category. Click the Toys & Games then the Action Figures portal.
While shopping, don't forget Animals & Dinosaurs, Anime & Manga, Comic Book Heroes, Designer & Urban Vinyl, Fantasy, Historical Figures and Military & Adventure.
Categories
The Categories list on the left side of each page will help narrow down listings by item type. You'll find links for themes such as: Wrestling ,Doctor Who ,Batman, Power Rangers, Action Man and Marvel Legends .
Product Finder
Use the Action Figure Finder to quickly narrow down item listings by brand, model and condition (new or used).
Keyword search
Search eBay listing titles for specific words. For example, if you want to find New Action Figures, type the keywords "Action figures New" (without quotation marks) into the Search box. Click, "Search title and description" to expand the results. Visit eBay's Search Tips page for more tips on searching with keywords.
If you can't find exactly what you want, try browsing eBay Stores or tell the eBay Community what you're looking for by creating a post on Want It Now, or save a search on My eBay and eBay will email you when a matching item becomes available.
Buy Action Figures with Confidence
Make sure that to know exactly what you're buying and understand how eBay and PayPal protect you.
Know the Item
Read the details in the item listing carefully.
Remember to add delivery costs to final price. If buying a high value item, check that the seller will insure it until it is delivered.
If you want more information, click the "Ask seller a question" button on the seller's profile or the "Ask a question" link at the bottom of the item listing page.
Always complete a transaction on eBay (with a bid, Buy it Now or Best Offer) otherwise you will not be covered by eBay Buyer Protection.
Never pay for an eBay item using an instant cash wire transfer service like Western Union or MoneyGram. These are not safe ways of paying a stranger.
Know the Seller
Research the seller so that you feel safe and positive about every transaction.
What is the seller's Feedback rating?
How many transactions have they completed?
How many positive responses do they have?
What do buyers say in their Feedback?
Are they positive about the seller?

Most top eBay sellers operate like retail shops and have a returns policy.

Do they offer a money-back guarantee?
What are their terms and conditions?
Buyer Protection
In the very unlikely event that you do not receive your item or it is not as described, eBay Buyer Protection covers your purchase price plus original delivery cost.
Conclusion
Watch TV series today and speculate which will be the classics of the future. Then check with toy stores online and on the high street to see whether they are represented by a cohort of action figures. Check also with action figure collectors' websites to see which ones are about to be launched and can be pre-ordered. What's the best time to get started with collecting TV action figures? Now.