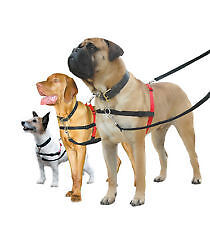 Walking your dog is a daily ritual – no matter what the weather – so having a suitable lead and collar to keep your dog safe and comfortable is essential. Read on for some top tips on what to look for.
What to consider when buying
You can pick up a dog lead in a supermarket, online or at a local pet shop, but despite them being so readily available, always check they are good quality. If the lead breaks or the clip is not secure, your dog can get free and cause a risk to motorists, pedestrians, other animals and itself.



Dog welfare and safety
Identity
By law you must ensure your dog has an
identity disc
or plaque inscribed with the owner's name and address attached to its collar. You can be fined up to £5,000 if you do not comply. Always attach the lead to the "D" ring on the dog's collar, which is designed to take the weight, not the split ring.
Collar
Ensure your dog's
collar
fits snugly but comfortably and cannot easily be removed (by the dog!) by slipping over its head. Ensure any metal fastenings are not sharp or loose and that could cause injury to your dog. As your puppy grows you should check how his collar fits daily and adjust as appropriate.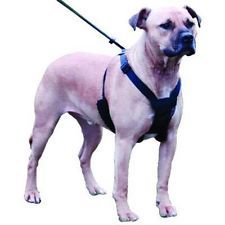 Harness
Harnesses
are another option to consider when walking your dog. These spread the pressure from the lead around a dog's body, rather than putting it all on the dog's neck. Harnesses are thought to reduce strain on a dog's joints, potentially keeping him healthier. Choose a harness that is suitable for the age, size and breed or type of dog you have. Padded or 'vest' versions are especially good for puppies and small dogs.
Lead materials
Nylon
When made into webbing, this synthetic material is strong and long-lasting. What is likely to let down cheaper leads is poor stitching, which will result in it coming apart and fraying. A broken lead means no dog attached to the end of it!

Nylon dog leads are one of the cheapest options, but as long as the clip and handle loop are good quality, they offer a good budget option in a rainbow of bright colours.

eBay likes: these leads are suitable for all weathers.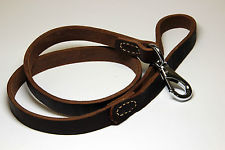 Leather
Leather is a natural product that is strong and long-lasting when well looked after. Look for sound stitching and quality metal buckles and rivets. Thicker
leather
will generally be stronger, so match the thickness of a lead with the size and strength of your dog. Don't forget to use leather cleaner or saddle soap on your lead to keep it supple and in good condition.
eBay likes
: hand-crafted leather leads made in the UK.
Rope
A good rope or cord lead is strong and is also comfortable in your hand. These are available in a huge range of colours and thicknesses – choose one that is the correct weight for your dog and is not too heavy. The average length for this type of lead is between 30cm and 122cm. A potential downside to rope leads is that the cotton leads can take a while to dry out once they've got wet out on a walk.

eBay likes: Ancol's soft, strong nylon slip rope, with bonded fastenings and stop.


Chain
Leads made from chain metal can be useful for puppies that are prone to chewing or carrying their leads in their mouths. This type of lead can be hard on your hands and hurt if a dog pulls, but they usually have a leather or nylon loop.

eBay likes: brass chain lead with leather handle.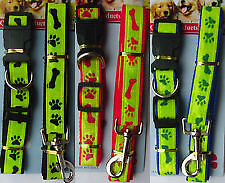 High-visibility leads
Walking your pooch in all weathers comes with being a responsible dog owner. He still wants to go out, even if the thought of freezing, wet and windy weather outside makes your hackles rise.

Make sure both you and your dog are well prepared for the elements and, most importantly, can been seen by motorists and other pedestrians. High-visibility gear is a winter essential and reflective leads are great for showing up otherwise vulnerable walkers who cannot easily been seen on dark roads.

eBay likes: reflective lead teamed with a flashing safety light on the collar.
Show leads
To show off your pooch's best assets, you can invest in a special blinged-up lead just for rth . These include beaded leashes in pretty colours for small breeds, soft rolled leather, leads embellished with crystals and gems, and brass and leather handmade Staffie leads.
Lead features
Length
The term "How long is a piece of string?" also applies to dog leads! They fall into a few main categories, as below.

– Handler lead
A short, strong lead that keeps your dog close to you. Often used by police dog handlers and for other working dogs. These may incorporate quick-release clips enabling the dog to be freed very quickly.

– Normal lead
Used for everyday walking, these leads tend to fall between 30cm and 122cm in length. These may include a clip at the end to attach to the collar or they will have a loop, which is known as a slip lead. These are useful if a dog has a slim head and tends to 'slip' out of a normal collar, such as a greyhound or lurcher type dog.

– Retractable lead
These consist of a plastic handle that neatly holds the retractable cord or tape within it. Releasing a button on the handle allows the dog freedom to roam further. Pressing it again then means you can retract the lead, bringing your dog back closer to you.

Each lead has a maximum hold weight so make sure you choose one that suits the weight and type of dog you have. They are commonly available in weights from mini (10kg, for small dogs or puppies) to large (up to 50kg), and range in length from 3m to 8m.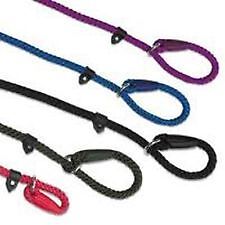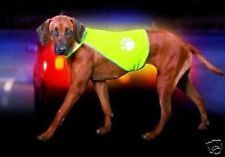 Add a caption
High-vis jackets are good for dark and winter walks.
Click to edit caption
Width
The width of a dog lead should be appropriate to the size of your dog. Also, wider leads are often more comfortable to hold and may be stronger.

Clips
Leads are attached to the 'D' ring on a dog's collar via a metal clip. These can be the traditional 'trigger' hooks, which are good for general use, or quick-release hooks, which may have a release button in an accessible place to let the dog loose quickly.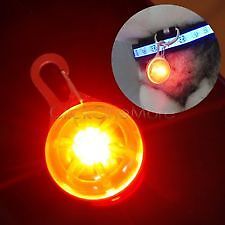 Don't forget the extras
Dog walking isn't simply a case of grabbing a lead and bounding off, you'll need to make sure you are both suitably dressed for the weather and have the accessories that will keep you both happy and safe.
Check out our list:
Dog coat
, reflective gear, head torch,
poo bags
,
treats
. car harness/belt,
dog boots
, water bottle and foldable water bowl, wellies,
waterproof
jacket
, woolly jumper .