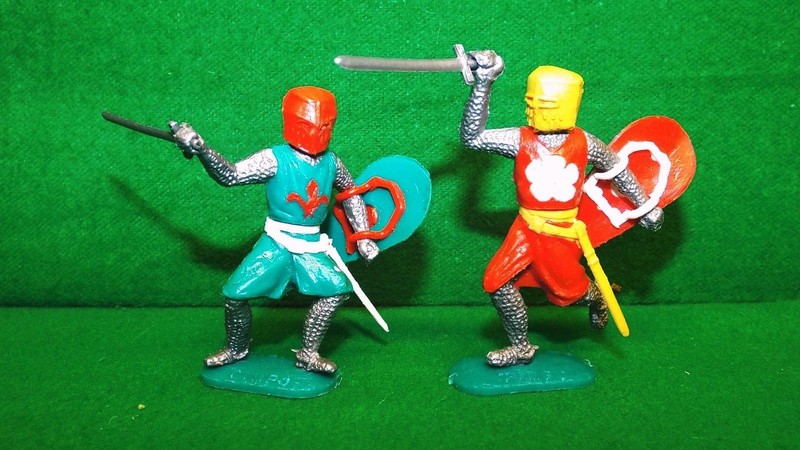 Children have played wargames using toy figures for generations, and many like to look back at past battles, and try to recreate them using their own models. Sometimes kids don't grow out of it and continue to collect as adults, amassing giant armies to either put on display or use in wargames.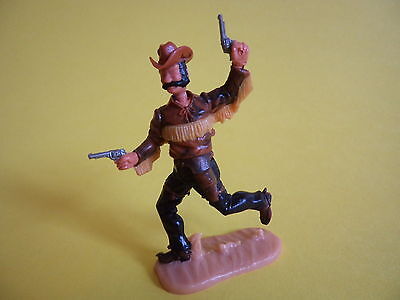 Timpo company
One company that took advantage of this enthusiasm for all things soldier was
Timpo
, an English toy company started in 1938. The company manufactured toys from wood, bakelite and composite until the end of World War II. It then moved on to hollowcast metal toy soldiers, and then plastic figures from 1954. The firm ceased operating in the late 1970s, by which time 40 million 'plug' or 'swoppet' figures had been produced.
A discerning collector can make money out of these highly collectible, high-detail 54mm figures, which are based on warriors, soldiers, cowboys and knights from the past 2,000 years, as well as civilians and sportsmen. Artistic collectors will also enjoy modifying and painting the figures.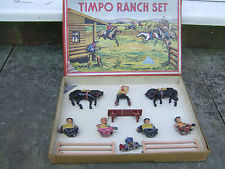 Before you buy
Don't throw away the boxes from the figures as boxed models may fetch much higher prices.

Timpo figures are very collectable, particularly in Germany, so search a variety of online sites.

Buyers' guides are available to help you distinguish the unusual from the common, and also the fake. There are many websites –both in English and German – with expert analysis on this.

Figures that appear to have a defect, or an unusual colour, can often be more valuable. Watch out for figures that appear to have been repainted, but don't completely discard them.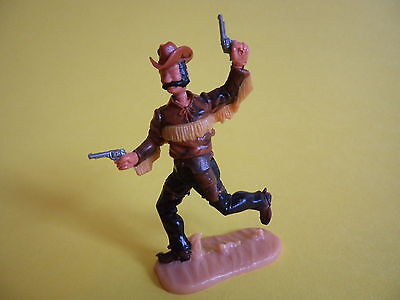 Solid or swoppet
The early metal figures were phased out in the mid-1950s over concerns about lead being used in toys. The new plastic solids were set in one pose and colour, and collectors valued them for their stability and strength. Several ranges were reissued in different colours.

In the 1960s, Timpo was one of very few companies to use the over-molding process, which made it possible to create more vibrant figures. A part would be put in a mold, and more plastic of a different colour would cover some of the part. The process would be repeated with different colours, eliminating the need for painting. This process was also used when the swoppet figures were introduced, a concept originally created by Britains Toys.
They featured a 'swop and swivel' action, allowing body parts to be removed and swapped with other figures and giving a huge range of alternative poses. This might allow the same character to have blue legs in one toy, or green or yellow in others.

Many fans like one or the other; swoppets are more creative but it is easier to lose parts. Solid figures are rigid, but sometimes too rigid (particularly with characters holding swords or thin items, which can break).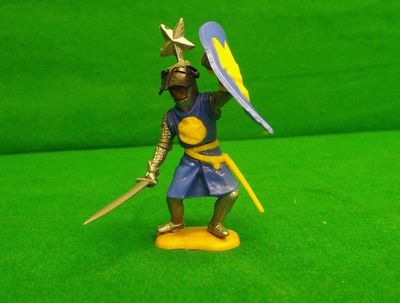 Collect a range
Timpo's 'solid' figures included a 24-animal zoo set with keeper, Cossack warriors, British Infantry from World War II, police, farmers, bandits, cowboys and Indians, among many. There were also quirkier figures such as Hoppalong Cassidy – for whom there was both a solid and swoppet version – and a set of railway figures including squaddies, 'yellow standing girl' and 'Mr and Mrs Smith'. Players were also created for various football teams and a small range of die-cast cars were made in the 1950s, although competitors produced far larger ranges.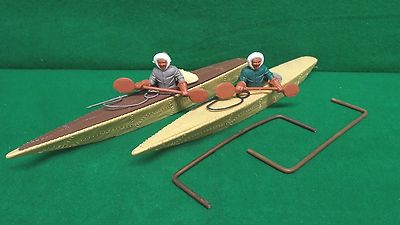 Accessories
Trees, toys, animals, boats, forts, cannons, cars and trucks were manufactured to accompany the human figures. A garage accompanied the set of four mechanics, and wagon sets, cacti and teepees could be picked up for the cowboys and Indians, to name but a few.

Toyway, which later took over the Timpo brand and reissued some ranges, supplied spare weapons and accessories including rifles, spears and tomahawks, belts, knives and other pieces. Figures fetch a higher price if they have a full set of accessories, and specialist online sites may be able to help further.

There are many different paints sold by companies such as Humbrol for painting your models and accessories.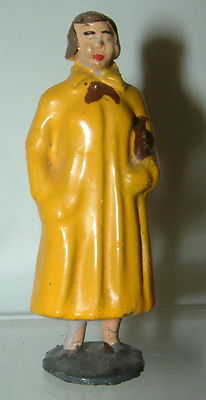 Learning what to buy
Plastic Warrior Magazine created a Timpo special guide, detailing the company's history from 1937 to 1995. This is rare in itself, but it does appear at collectors fairs and online auctions sometimes and may provide invaluable information. Timpo has a strong German heritage so take time to look at their online auctions as well (websites ending .de)

Figures and accessories themselves crop up at buyers fairs, yearly shows, online auctions and retro toy stores, but also car boot sales from people who do not know their true value. Some will be chipped and damaged but may still be worth a few pounds. Original Timpo swoppets have the word Timpo on their base, while some solids may be marked 'Made in England' on the body or legs.

Sometimes buyers will encounter figures which have been re-painted at a later date, which can devalue them as they are not in their original state. It may be impossible to tell from an online picture, but obvious once handled. However, such is the appeal of these toys that some collectors will still part with cash, even for cheaper, copied versions produced in Asia.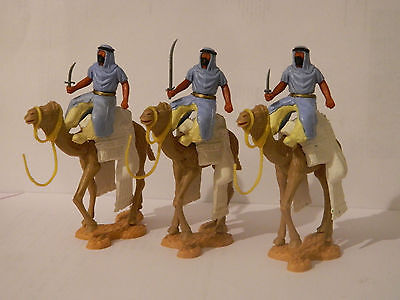 Rarities
Historical figures such as Roman, Viking and medieval soldiers are less common. Some figures are so rare that they only seem to exist in brochures. Prime models to look out for include the cowboy campfire set, the 7th cavalry trooper in prone form from the Confederacy, Arab figures on horseback, and figurines with one-off mismoulds and/or an unusually-coloured accessories. Yellow is often a rarer colour.

Rare, single figures in good condition can fetch several hundred pounds or even low thousands. Many figures were reissued throughout the 1950s, 60s and 70s, so those produced shortly before the company went bust were issued for a shorter time. They are therefore rarer – and consequently worth more. A medieval knight with a common black belt might be worth £15 – one with a rare white one could be worth 10 or 20 times as much.