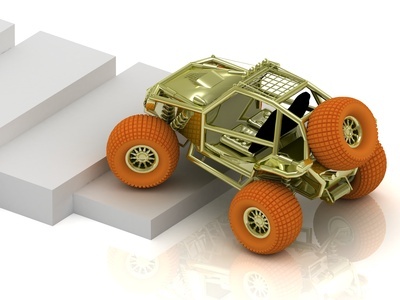 Radio-controlled (RC) cars and vehicles are popular products in the world of recreational hobbies. The activity has developed a devoted fan base that consists of both children and adults. This is why there are a large amount of brands to choose from when it comes to replacement parts. One brand that currently stands prominent in such a competitive market is Tamiya. Hand in hand with eBay, they provide top of the line radio-controlled cars and radio-controlled car parts.
Tamiya took their first steps into the RC car industry back in 1960 when they first began to develop prototype models. Since opening their doors in Shizouka-City, Japan they have been striving to deliver top quality products. Tamiya stand true to their catchphrase "first in quality around the world" and have reached several historic sales landmarks in their over fifty-year history. Such landmarks have cemented their place in the hearts and minds of RC car users around the world.
Tamiya Shell Modifications
RC car owners and collectors pride themselves on owning vehicles that stand out from the crowd. As many of them will tell you performance is not everything and having a car that looks the part is something to pride yourself on. All brands offer different ways to style an RC car but none offer the depth of options like Tamiya do.
Body Shells – Over time collision and surface damage will take its toll cosmetically on an RC vehicle. Body shell replacements are available should deep scratches, cracks and dents occur that are beyond repair.
Decals – The most affordable cosmetic change currently available. Created using pressed vinyl; these can be stuck to the outside of an RC car like stickers.
Wings and Spoilers- The effect that wings and spoilers have on a vehicles aerodynamics is regularly debated. However the visual aspect they bring to an RC car is undeniable. Wings and spoilers vary in size, range and weight.
Paint – RC cars are susceptible to paint damage so having paint of the correct colour at hand is useful. Users can also add a different dimension to a vehicle by applying a new colour.
LED Lights – One of the most unique aftermarket body mods available. Can reduce battery life and be complicated to install but makes an RC car distinctive on the track.
Body mods are a great way to personalize an RC car and show your personality. With the choice of products available from Tamiya it is easy to make an RC car your own. Using eBay's search engine, finding the perfect body mod to style your RC car is a simple process. With a wealth of options available the only limitation is a users imagination.
Tamiya Replacement Parts
Maintaining an RC vehicle and guarding it against the elements is another aspect of being an RC car owner. No matter whether you run a nitro or electric RC car it is important to recognise issues when they arise. Being able to know when a part needs replacing can help save money in the long term. Tamiya offers a range of core RC car parts that will help keep an RC car running at its optimal efficiency.
Tyres – Much like tyres on a full-sized car, wear and tear is commonplace. Replacing tyres on an RC car is par for the course and will be a regular occurrence.
Air Filters – An air filter is a core part of an RC cars intake system as it allows the engine to breathe. In doing so the car can maintain the exact mixture of fuel and air in order to keep it running as expected. A faulty or poorly maintained air filter can have detrimental effects on the engine.
Gear Box – A basic yet crucial element in the build of an RC car, allows for the changing of gears and determines how an RC vehicle handles power from the engine.
Nuts and Screws – Self-explanatory items yet two of the more easily damaged items in an RC car. Simple enough to replace but require a keen eye when it comes to spotting damage.
Shock Unit – A mechanical device designed to damp shock impulse. Much like tyres it becomes less responsive over time due to constant use.
It pays dividends to correctly maintain an RC vehicle, as doing so will ensure longevity and performance. Tamiya produce the previously mentioned parts to the highest standard. They pride themselves on producing replacement parts that both benefit and improve the quality of any and every RC vehicle.
Tamiya Upgrades
As you progress as an RC car owner and become more knowledgeable in the field upgrading will become a process to pursue. Upgrades vary in price and effect but Tamiya offer a wide range of upgrades to improve everything from responsiveness to speed. There is something for everyone in their dedicated ranges.
Engine – Carries more focus in nitro models, upgrading an engine in size can increase power and top speed.
Speed Controls – Upgrading the electronic speed controls in an RC vehicle will increase responsiveness in the car. It is recommended that you also upgrade the engine in order to not accidentally overclock the vehicle.
Electric Motors – Comes in forms such as modified, tuned, stock and super stock. Dependent on what is required from the car, premium options are mostly used for racing models. Has an effect on the running of an RC car by helping heat disposition in order to aid performance.
Wheels – Wheel set upgrades have their main use in racing RC vehicles. Dependent on the finish used they can be resistant to weather elements such as rain, mud and general dirt.
Tyres – Upgrading tyres to a deeper tread or depth will help more powerful RC models maintain surface grip.
Upgrading an RC car can be a costly and time-consuming process. Tamiya and eBay used together can ensure that you get the best value for your money and keep your RC car ahead of the pack.
What Type of Tools are Required?
Having the rights tools at hand and knowing how to use them is important when attempting to make alterations to an RC vehicle. Along with an array of commonly found screwdrivers two tools specific to Tamiya parts are helpful when performing modifications.
Tamiya Screwdriver No. 2
Tamiya Box Spanner
Tamiya produce their very own tool kit that is designed specifically with RC car users in mind. The 8-piece set features the above two core items along with the following.
No.1 Phillips-head Screwdriver
No.2 Phillips-head Screwdriver
1.5 Hex Wrench
2.0 Hex Wrench
2.5 Hex Wrench
5 Screwdriver
5.5 Box Driver
7 Box Driver
All are made using nickel chrome molybdenum steel and the set itself comes with a convenient driver stand. The 8-piece control tool set is an essential piece of kit for those using Tamiya mods, parts, upgrades and accessories.
How to Buy Tamiya Parts and Accessories on eBay
RC car related deals can be regularly found on eBay and the process of buying them could not be any simpler.
To find the RC parts, accessories and upgrades required visit the toys and games portal eBay.
Head into the radio-controlled sub-section and from there shoppers can browse through a wide selection of potential purchases and options.
If shoppers have specific purchases in mind use the search option to narrow down results.
When searching through listings, carefully review all the information for the part you require. With an array of new and used parts available it is important to know what it is you are purchasing and whether or not it is a fit for your particular RC vehicle. If shoppers have any concerns they should be sure to ask the seller any questions they may have. Doing so will ensure that the buyer obtains the appropriate part.
Delivery
Due to the delicate nature of RC car parts delivery options may be different from what buyers expect. All parts should be sent using an insured courier service to allow for maximum protection should problems arise in transit. Tamiya is a global company so purchasing parts from abroad is a realistic possibility. Always take custom charges into account when calculating overall delivery fees for a part.
Completing a Purchase
Once you have decided what to buy either place a bid, best offer or purchase the item outright via the buy it now option. Paying via PayPal will ensure the transaction is secure and ensure that you are protected by the Buyer Protection Program should any issues arise.
Conclusion
Making improvements to (and buying parts for) an RC car is a common part of RC vehicle ownership. As the public demand for parts grows it is important to use a trustworthy brand.
Tamiya have established themselves for their reliable products over the past fifty years and are a brand buyers can count on when it comes to quality.
Durable and effective parts are worth their weight in gold and add longevity to a vehicle. Using eBay will make purchasing the right part a simple, secure and enjoyable process.