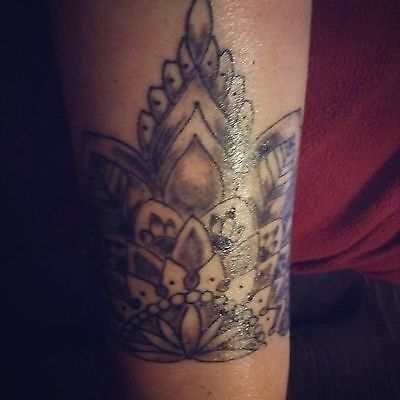 Real deal.
Hi there,
want to know more about tattoos, well you've come to the right place.

so you want a tatto but your to scared or nervous. GET IT DONE.
They honestly don't hurt as much as you think, it's more of a mind game, once the tattoo artist gives you your first line or touch, you will be surprised that, 'oh, well that wasn't that bad!. It feels like a warm vibrating pinching scratch. That's the best way to describe it, it really doesn't hurt as much as you think. The place you get the tattoo is a key point, for your first I would recommend the back or back of the shoulder. These are maybe the best places because there more cushioned by skin and muscle and fat so it doesn't hurt. If you get it on the lower wrist or ribs, especially the ribs or the side of your body be prepared for a little more pain. It's more thin skin in these places so it's closer to the bone so it may scratch more here. It will not be unbearable, it will be sore though.

So you have your tattoo, depending on where you have it be prepared for swelling, it is completely normal! When your home take of the cling film and put on some baby rash cream. Bapanthem I think is how you spell it is the best, it heals it up with minimum scabbing. If you can't get ahold of that use salvlon. Wash the tatto in unperfumed soap or detol wash the antiseptic one.

It it will be itchy it really will, but don't scratch it because you could cause the ink to not sink in so you could have a gap or it won't be as vibrant as other parts of the tattoo.
Pit will be red to but that's normal, keep creaming and washing at least 3 times a day, that's what I do.
Fake/stick on tattoos.
So you want a tattoo but not sure on what you want or are afraid of needles. Or maybe you want a nice tattoo to go out on the town with, well here's some fake tattoos I recommend..

Flash tattoos- these are great for teens to 26 yrs old. There beautiful, some of them are like jewerly necklaces and bracelets. The tattoos are gold and silver metallic there gorgeous on the skin and look so elegant and interesting. If you type in 'flash tattoo' here on eBay loads will pop up so look through and choose what you like.

fake tattoos- if you type this in on eBay loads of different designs will pop up. Look for something you really like, read the description of every listing you like, so you can see how many come in the pack etc. the more popular fake tattoos are butterflies and crosses. These can look beautiful if put in the right place. Butterflies on the wrist look girly and elegant. Smaller ones will be best for this place or one bigger butterfly alone. Near the ankle and going up the leg will look good to again smaller ones for here. Behind the ear a medium or two small one will look good. For the crosses I'd stay of the arm or wrist or on the side of the hand or wrist. For men on the arms or legs will look good.

you don't have to put them where I say but it's just a little guide. Most fake tattoos you cut out place on your arm and put over a damp cloth for 2 minutes. Then peel of and your left with the tattoo.

Theres plenty of of choice here on eBay for fake tattoos. Also listed are tattoo kits if you know how to tattoo or want a specific colour you could buy it and take it to the artist.

Hope me you enjoyed this post, thankyou for reading.