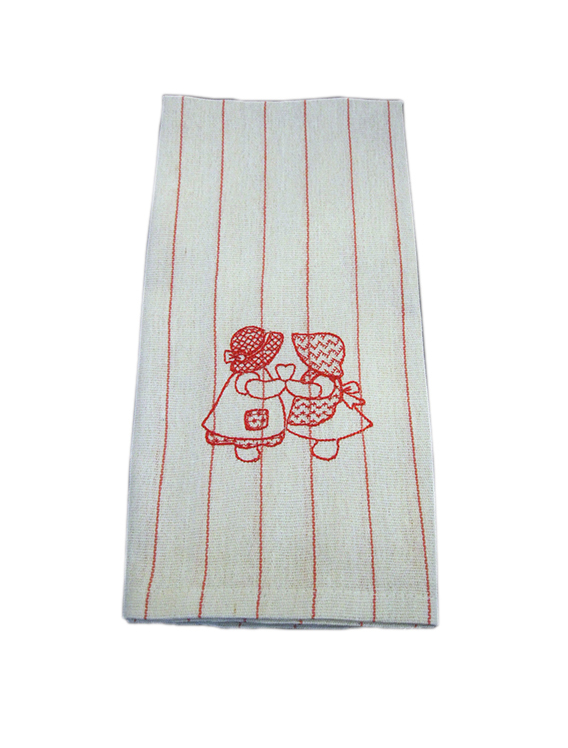 Tea towels are used in a variety of ways in today's homes. Traditionally, they were most commonly employed for two purposes. One was to dry dishes and cutlery after washing. Tea towels are still used in this manner in homes where dishes have been hand washed, but the advent of the modern electric dishwasher means that drying dishes by hand is not required as frequently as it once was.
Tea Towels Today
Tea towels are still used across the UK for their second major function, however, which is to assist with the serving of tea and warm, baked items such as scones. Clean tea towels are often used to cover a tea pot while the tea is brewing in order to keep the pot and the tea inside it hot; they are also helpful for covering baked goods to keep them warm until serving. Another common use is to spread a clean tea towel atop a tea tray before arranging a tea service on it. Tea towels are also used to dry hands after washing or doing dishes. Most households still maintain a considerable supply of tea towels for this as well as for wiping up spilled water or drying fine crystal and cutlery that would be damaged in an automatic dishwasher. In addition, tea towels have come to be a highly decorative element in today's kitchens. They are available in a wide array of colours, patterns, and motifs suitable for matching the décor of nearly any home, whether it be highly traditional or ultra-modern.
Materials Used in Tea Towels
Tea towels on eBay may feature one of several different key materials.
Linen
Most traditional tea towels were made of linen, a textile material manufactured from the fibres of the plant Linum usitatissimum, more commonly known as flax. Linen is an excellent material for tea towels because it is naturally free of lint; this means that it will not produce fluff that could adhere to warm baked goods or dishes being dried. Linen has another advantage as well since it is not capable of scratching even the most delicate of fine silverware or china plates.
Cotton
Modern tea towels are just as likely, however, to be made from cotton. In most cases, cotton tea towels feature a flat, simple weave rather than a terry-cloth looped weave such as might be seen in wash cloths or bath towels. Cotton tea towels have the advantage of being more absorbent than linen ones, and they are also far less expensive, making them a good choice for everyday use. On eBay, cotton tea towels are available either as 100 per cent pure cotton or as a blend of cotton with other textiles. Buyers can specify which variety they would prefer to see by using the filtering panel displayed to the left of the listings. Only those varieties that are relevant to current listings will be displayed. Hence, if shoppers have already searched for pink elephant tea towels, and no listing matching this description is currently available in a cotton blend, that option will not appear in the filtering pane. This eBay feature is intended to make sure that buyers are not led to believe that a purchasing option exists when in fact current listings would not support it.
Other Tea Towel Materials
Tea towels are sometimes available made of other fabrics, or even of plastic. These options can also be selected from the filtering pane as desired. The majority of tea towels in use in Britain and Ireland, however, are made primarily from either linen or cotton.
Decorative Tea Towels
Although tea towels are a useful kitchen item, they can also serve as decorative elements. Purely practical tea towels are most often white, but this can be a bit dull when the towels are going to be on display in some fashion or when they are used to help serve tea and cakes. Other solid colours are, therefore, available. Another decorative option is to choose tea towels that have been woven to reflect a pattern. Checks and squares are common, as are floral motifs. Decorated tea towels may also feature embroidered or painted elements that can lend them a hand-crafted look, even when they are in fact machine-made and, therefore, relatively inexpensive. Novelty tea towels are also available; these can match a seasonal theme or may be decorated to display some aspect of sport, city life, or national pride. There are even tea towels fashioned to resemble bank notes in £10 and £20 denominations, complete with all the artwork that adorns paper bank notes. A major category in novelty tea towels are ones with humorous messages printed on them. These tea towels sometimes appeal to the younger generation - although many are also designed to have a broad-based appeal.
Displaying Tea Towels
Tea towels can be neatly folded and hung over the handles of ovens, where they impart colour and style to a kitchen environment. Some tea towels may feature a simple loop in one corner that allows them to be hung from a hook.
Find Tea Towels On eBay
Although eBay offers several ways to search and navigate the site, one of the best ways to find tea towels on the site is to use the convenient categories feature. To do this, start at the home page and look for the eBay logo near the top left. Below this is the search box, and just below that is the word Categories, followed by a drop down arrow. Click the arrow and select Home & Garden. Then, on the page that loads, hover over the phrase Furniture & Living. A menu will pop up; choose Cookware, Dining & Bar. This will cause another page to load. Choose Kitchen Textiles from the list in the left-hand pane and on the page that is generated, choose Tea Towels/Dishcloths from the list to the left. At this point, users will arrive at the main category page listing the tea towels that are currently available on the site.
Filtering Results
This listing may be too general for some who may have something more specific in mind. A good way to proceed at this point is to filter the category results according to pattern or brand. To the left of the main pane, users will see several choices of pattern including Christmas, Floral, Novelty, and Pictorial. Still more choices can be seen by clicking on the Choose More link. These include options such as Gingham, Paisley, Patchwork, Spotted, and even Geometric tea towels , among many others. Similarly, those who have a particular brand of tea towel in mind can directly check off choices such as Aga, Bridgewater, Cath Kidston, and Disney, with the option to select many more by clicking on the Choose More link. The filtering pane also allows eBay customers to narrow down listings according to preferred colour choices. Shoppers who want to select more than one colour at a time can click the Choose More link in the colour section. Checking off both red and blue, for example, will display listings that feature either colour as well as some tea towels that incorporate red as well as blue elements. Using these tick boxes, it is possible to filter results in multiple ways at once, asking the eBay site to display only listings for blue Disney tea towels in an animal pattern or patchwork tea towels from Bridgewater. Some combinations may yield hundreds of results while others may produce a much more limited range of options.
Using Simple Search to Find Tea Towels
Some prefer to use eBay's search function instead of navigating via categories. This provides users with an unlimited range of search options, since anything can typed into the search box. The search function can be quite helpful since the eBay site generally makes suggestions for alternative wordings that can yield additional results beyond the ones listed in response to a user's query.
Seller's Feedback
Feedback on eBay exists to provide further details about sellers to ensure that bidders have as much information as possible before making a decision. Checking the feedback from other bidders or purchasers can aid in making an informed decision about whether or not to purchase from a particular seller.
Choose Sellers with Top-Rated Feedback
Sellers with top-rated feedback gain this distinction by offering quality in both product and service. Those looking for excellent service and products can maximise their chances of a smooth transaction and a suitable after-sales service by paying close attention to the seller feedback section of the listing page. Sellers with an excellent or very good rating will have already proven themselves reputable and accommodating, and the resolution of any issues is likely to be handled quickly and professionally.
Conclusion
Tea towels are useful for far more than serving tea, and no British kitchen would be complete without a ready supply. Tea towels can be laundered, but when they acquire stains that no longer wash out, it is a good idea to purchase more so that clean and fresh towels are on hand to use when covering baked goods or keeping tea pots warm. Because tea towels are often decorative, they can be hung up in the kitchen to give it more colour.