Add a caption
This is a brief summary: for every thing you ever needed to know about tea see our website
White
~~White tea is one of China's special treasures, young and pure it is made from the youngest and most tender hand picked leaf tips and buds from the tea plant 'Camellia Sinensis', primarily grown in China and India's hilly territories with red and yellow mountain soils, abundant rainfall and year round mild climate all contribute to white teas unique character. White tea is the least processed of all tea types, it is therefore closer to the plants natural state and means the tea is high in antioxidants and amino acids. White is one of the most expensive teas and most prized teas to be produced. The fine silvery-white hairs like fibers on the unopened buds give the plant a whitish appearance. Leaves and buds are allowed to wither in natural sunlight before they are lightly processed to prevent oxidation and fermentation resulting in a light sweet natural flavour to the tea.
There are fewer varieties of white tea than other tea types, three of the most popular are listed below: The highest grade (imperial grade - the best) of white tea is Silver Needles (also called 'Bin Halo Yinzen'), it is made using only the buds and is also the most expensive, light yellow colour, delicate taste and slightly sweet. White Peony (also called 'Bai Mu Dan') is second highest in the grade scale, it contains young leaves and buds, pale green golden colour, a mellow fruity taste and aroma Long Life or Longevity Eyebrow (also called 'Gong Mei') have a lower bud to leaf ratio therefore are the next in line, they are darker in colour and have an earthy taste.
There are more varieties from different areas. The process for white tea involves; Withering - The leaves are spread out either inside or outside in the sun, this draws moisture to the surface to evaporate, softens the leaves and reduces the grassy taste. 'Kill-Green' (also called fixing) - steaming the leaves by hand pressing in a hot pan. Drying - sun drying, pan heating and hot air methods are used to stop fermentation, prevent mould growth, remove any remaining grassy taste and helps to develop the teas aroma.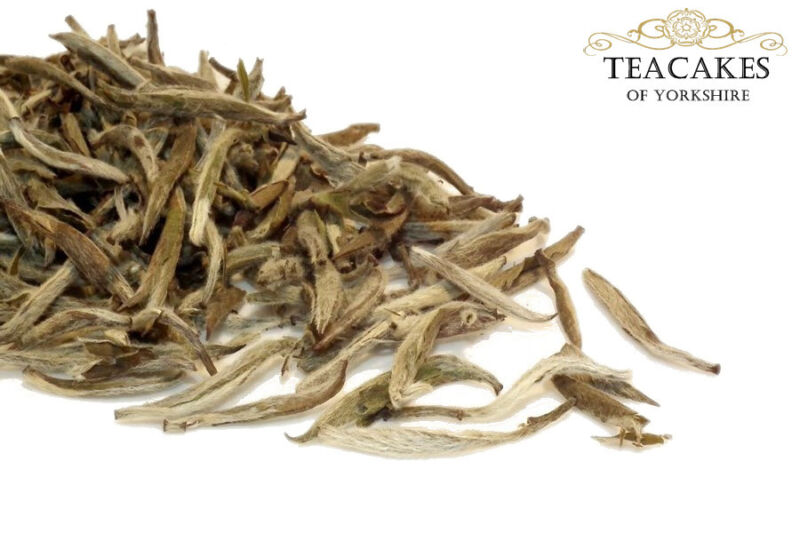 Green
~~Unoxidised or non-fermented, classic green teas have a freshness that is difficult to beat and one of the most enjoyable tea experiences. Once harvested the leaves are quickly preserved which is the reason why it famed for its health benefits, high antioxidants and vitamin contents. The production process starts with withering followed by pan-frying or steaming to prevent fermentation, after steaming and before drying the green leaves are rolled to give them their desired shape.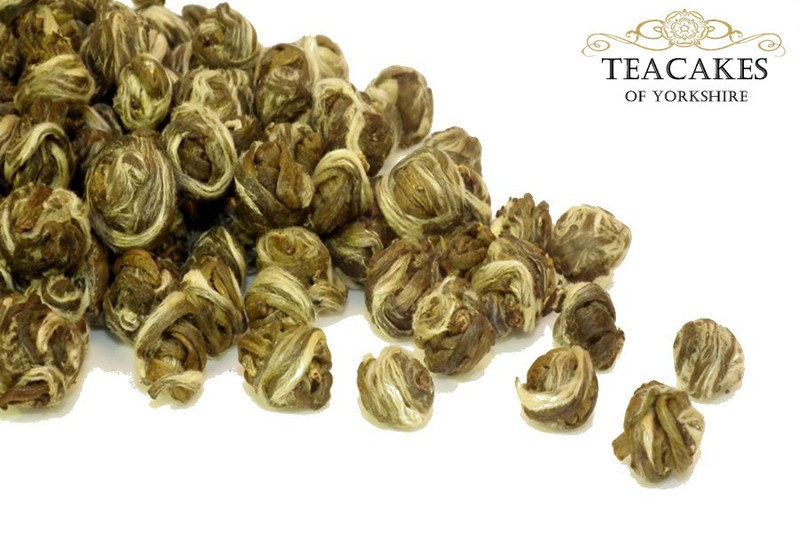 Oolong
~~Inbetween green and black teas there is Oolong a semi fermented tea, sometimes referred to as 'blue-green tea' or 'Wu long'. Oolong is produced around the world although the majority of famous Oolong teas are from China. Oolong tea means 'black dragon' in chinese.
It has a unique boldness due to the process this traditional chinese tea goes through. Oolong teas can be oxidized between 8% and 85%, this results in a wide range of colours, aromas and flavours ranging from smokey, sweet and fruity or thick and woody or fresh and green. It's this depth and complexity that attracts many serious tea drinkers and gives Oolong the title of the 'connoisseur's tea'. Oolong teas can endure multiple infusions.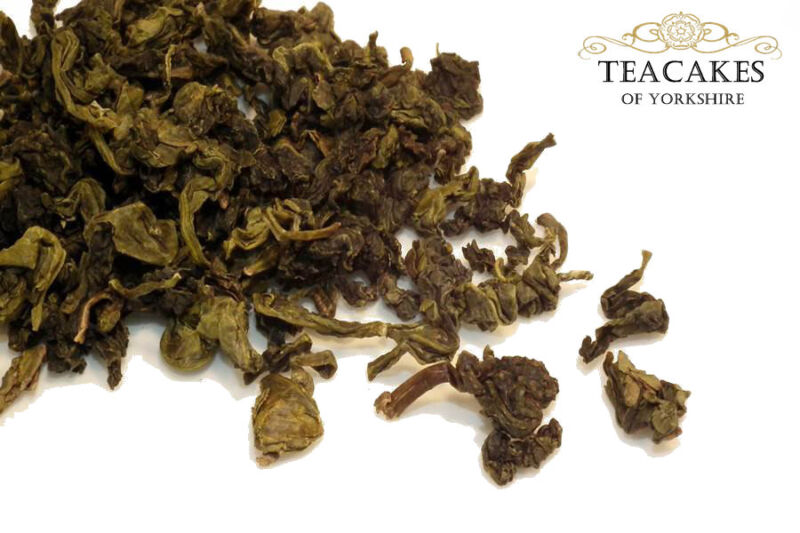 Black
~~Widely known and much loved, they get their characteristic flavour and colour from a natural oxidation process. Black tea is the most oxidised of all the teas. It is made by fully fermenting the harvested leaves before the heating or drying process occurs. The oxidation is responsible for imparting the dark colouring and triples the caffeine. Delivering a deep reddish-brown colour and rich full bodied flavour, the strongest flavour of all the tea types.
Pu-erh
~~ From a large leaf variety of the tea plant it is a single origin tea, named after the ancient Chinese trading mecca, the village of Puerh, located in the Yunnan Province, only aged tea from this province can be called Pu-erh tea. The method of making Pu-erh has remained the same for centuries and is highly regulated to ensure the highest quality and authenticity. One of Chinas great treasures with similar characteristics to fine/aged wine a good Pu-erh can be cultivated in this mountainous region due its suitable growing conditions; the humidity, temperature, sunlight duration and annual rainfall.
Although other factors such as soil condition, other surrounding flora, the age of the trees and leaves can vary the flavour profile. some trees are said to be over 1000 years old, the leaves picked from these old trees are referred to as 'wild arbour.' In the spectrum of tea, Pu-erh is a very dark tea, it is rich and bold, with a malty flavour and a sweet earthy aftertaste. Like other teas it is also concentrated with free radical disarming antioxidants, astringents and antibacterial properties and is great to drink anytime throughout the day.
Green or 'sheng' also called raw, un-cooked or Black or 'shou' also called ripe, dark or cooked tea. The leaves are harvested and sent to manufacturer's who blend the leaves to make their own unique and time-honoured recipes. Both Green and Black Pu-erh follow the same steps of processing Withering carefully plucked leaves are laid in sun to wilt slightly to remove moisture. Pan fried in a process called 'kill green' (this prevents full oxidation) Rolling/forming, this lightly bruises the leaves is important to help minimal oxidation to occur Sun dried and steaming/shaping.
Black has an additional step of cooking (piling/heaping) which is piling the leaves in a heap to aid fermentation. This creates heat due to the natural enzyme breakdown and 'cooks' the leaves. Pu-erh tea differs from other teas due to the process of sun-drying the leaves after the rolling/forming step, this helps develop a unique flavour in the tea. After processing, both varieties can be either left loose or compressed into shapes called 'Tea Cakes' or 'Tea bricks', the compressed tea benefits from an additional chemical process that does not occur in loose leaf varieties. Both varieties are then stored for aging. the tea is usually stored in warm moist cellars which allows subtle chemical processes to help mature the tea over time. Pu-erh is drinkable after 3 months of aging, but after 5 years it develops an aged unique flavour which is very desirable, the longer it is stored the better, some aged/vintage teas are 35- 50 years old and some vintages are very famous and rare, these can fetch record prices on the open market.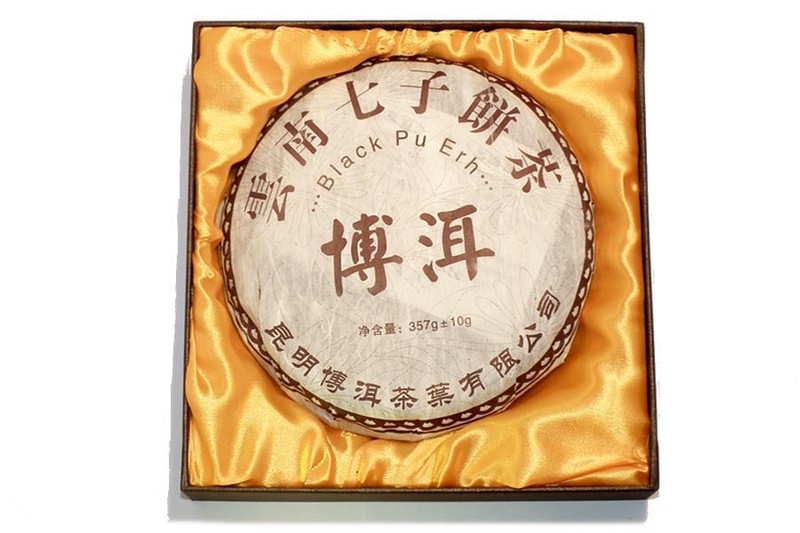 Aromatic /Flavoured
~~Tea easily absorbs other aromas and tastes, therefore making it perfect to add different aromas and tastes. Flavouring tea is a well established tradition particularly in China where for centuries tea has been brewed with onion, orange peel and berries, but the more popular choice is flowers or petals including jasmine or rose. The process involves laying the blossom over the tea to allow the tea to absorb the scent, oils and flavours. The tea can also be scented or flavoured artificially by spaying the tea with chemicals We insist on all natural flavourings here at TeaCakes of Yorkshire.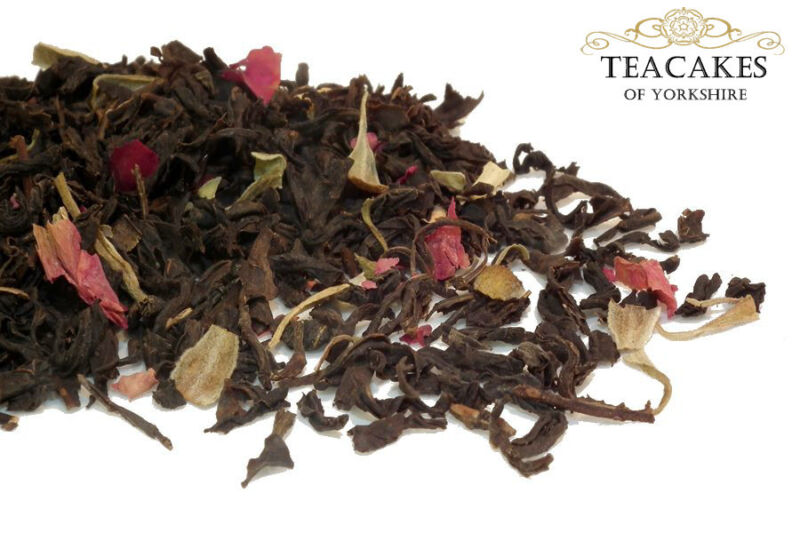 Decaffeinated The Natural Way
~~ Caffeine occurs naturally in the tea plants leaves, having a stimulating effect which is not desirable for some people, over the years various methods have been developed to remove the caffeine. These methods include Methylene chloride processing this is a chemical used as a solvent to remove caffeine, caffeine molecules bond together with molecules of the methylene chloride.
The teas are softened in a water bath or by steam, and either directly soaking in methylene chloride or by the indirect method, this involves soaking the tea in water, removing the caffeine but also many of the flavours and oils are extracted, so the solution is treated with methylene chloride and then the flavours are returned to the tea. Ethyl acetate processing is a natural chemical found in many fruits, it is also used in the same methods as methylene chloride. This process is often referred to as 'naturally decaffeinated'.
Carbon dioxide processing- This method decaffeinates tea by using carbon dioxide (CO2), water-softened teas are pressure cooked with the gas. At high pressures and high temperatures, carbon dioxide is in a supercritical state, it acts as both a gas and a liquid. It becomes a solvent with its small, nonpolar molecules attracting the small caffeine molecules. Since flavour molecules are larger, they remain intact, which is why this process retains the flavour of the tea better, for this reason TeaCakes insist on this method only. The caffeine can not be completely removed by any of these methods but it can be reduced to just a few per cent to allow you to enjoy the lovely taste of tea without the effects of the caffeine.
Herbal Infusions
~~Herbal 'tea' is not strictly a tea, as it is not made from the tea plant camellia sinensis. known as tisanes or infusions encompassing all beverages made by infusing plants other than the tea plant in hot water. Herbal infusions are complex concoctions of leaves, herbs, spices and flowers from a variety of plants and are typically recognised for their caffeine-free quality as well as their soothing and rejuvenating effects. They have a history as long as tea itself, but the two are distinctly different drinks. Tisanes are caffeine-free beverages that don't contain any tea. Instead, they contain fresh or dried flowers, leaves, fruits, seeds and/or herbs that are steeped in boiling water. Herbal infusions are commonly known for their physical and mental health benefits, therefore becoming increasingly more popular for their soothing or rejuvenating qualities. Fruit infusions are made essentially from dried fruit, when infused in hot water the natural flavours and oils are released to produced a beautiful tasting drink, delicious hot or cold.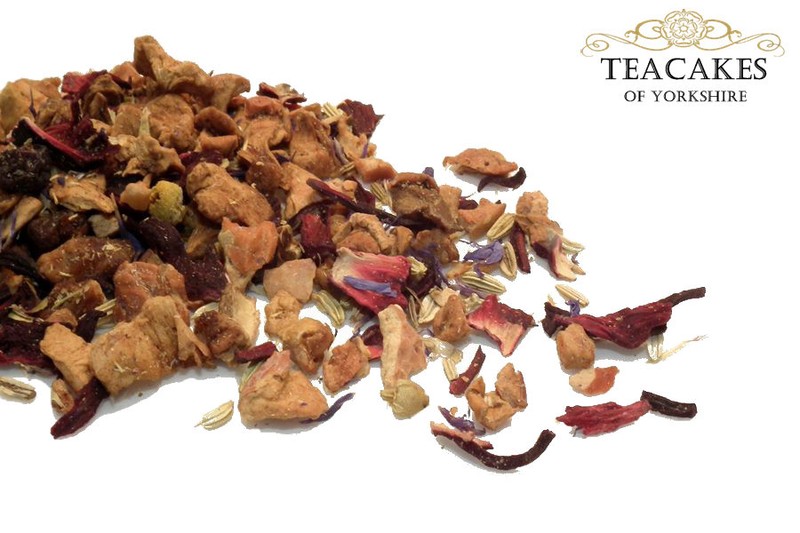 Artisan
~~Artisan Also known as flowering teas or blooming teas, tea artists hand tie tea leaves and flowers to create a tea ball which will unfurl when submerged in hot water, these teas actually bloom when steeped. A very beautiful creation, looks fabulous in a glass teapot on any table table makes a lovely gift and a lovely aromatic cup of tea.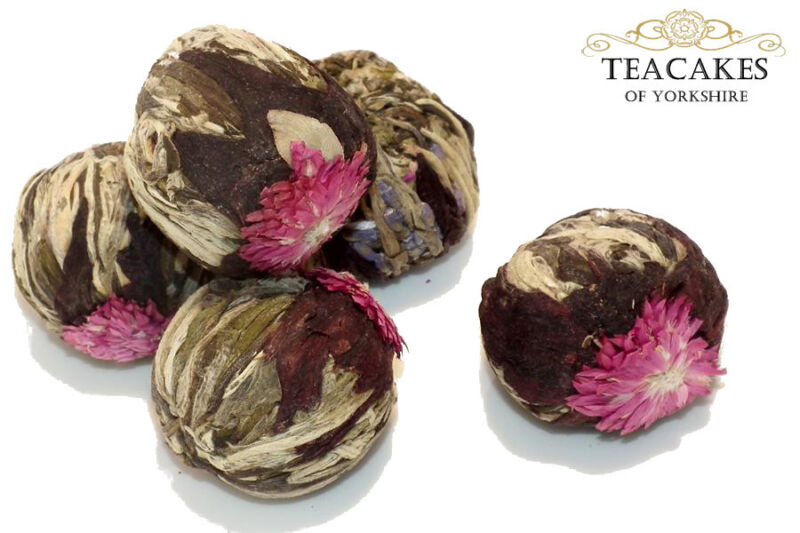 Add a caption
TeaCakes Volcano Flower Burst as with all tea it has a story: On our website
Rooibos
~~Rooibos (pronounced Roy-boss) is a South African herb, it is also sometimes referred to as 'Red Bush'. Rooibos is naturally caffeine free, the leaves produce a lovely reddish brown cup colour that has a rich smooth sweet flavour. It is becoming increasingly popular all over the world due to its wealth of health antioxidants.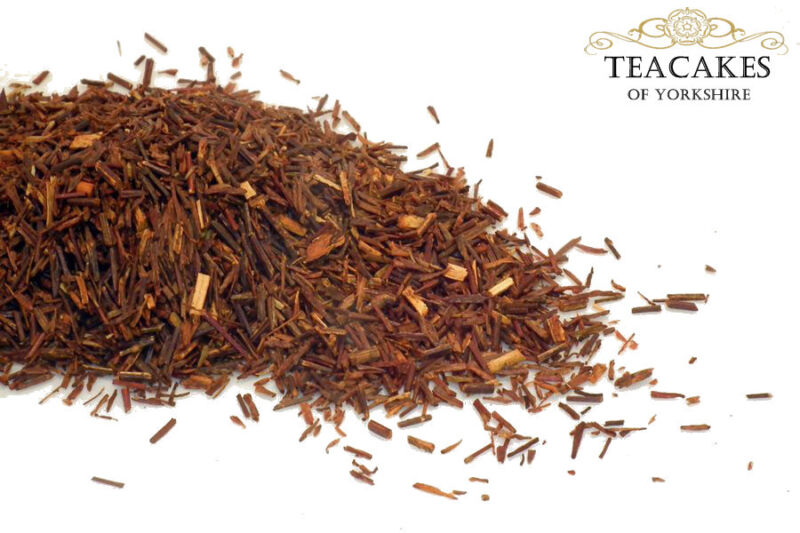 Packaging
~~We go to great lengths to select the very best grade packaging to preserve all the great qualities in our outstanding teas and tisanes all sizes are available in our high performance, heat sealed, foil lined triple ply Natural Kraft packaging.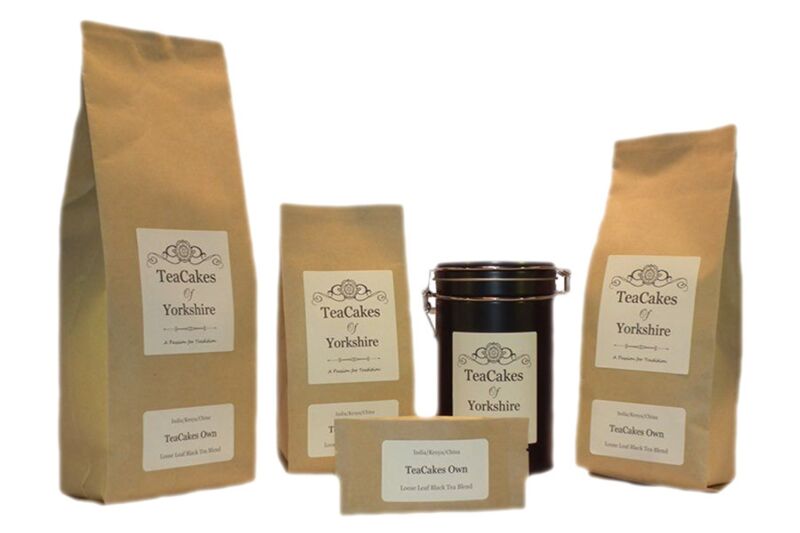 Share The Love of Tea
If you found this guide useful or interesting please click the green thumbs button below, it will help Ebay tea drinkers discover new tastes.
Whole Leaf Tea tastes amazing, and it's super beneficial to health. Our all natural subtle flavours complement our high grade teas perfectly.
Make someone day just a little better and share us with social media. Thanks you're amazing.