Having a fashionable and functional item to keep all of your small toiletry and beauty items in when travelling is essential to making sure your belongings stay in one place. Ted Baker make up bags, also known as wash bags, serve that purpose with their roomy compartments and sleek looks. To pick the right one for you, learn about the different Ted Baker make up bag styles and which ones work for overnight trips and which ones come in handy on long holidays.
Ted Baker Pencil Cases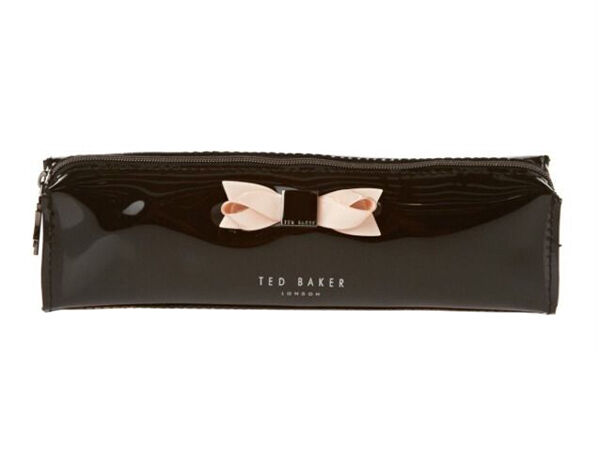 While certainly not made to hold traditional pencils, these bags come in that familiar pencil case size and shape. Long enough to hold writing instruments, they hold other pencils instead, including eyeliners, eye brow pencils, and lip liners amongst other items. A perfect place to keep that toothbrush on a one-night stay in a hotel or bed and breakfast, Ted Baker pencil case-style make up bags come in a variety of prints and colours, including black and white, seafoam green and white, and yellow and white woven material looks, as well as a solid shade of salmon. Each bag comes with a polyester lining, a top-zip closure, and a signature Ted Baker bow.
Ted Baker Large Bow Bags
Use these bags when planning a week away, as they are large enough to carry a variety of travel toiletries, including mini tubes of toothpaste, a variety of lipstick and eye shadow colours, travel size shampoos and conditioners, and any other little beauty product you may need. Large bow bags get their name from the signature bow finish found on most Ted Baker ladies' accessories. You can find these make up bags in solid colours like salmon, black, pale pink, seafoam green, and yellow. For a little extra bling, some bows feature a bejewelled look offering sparkle and shine. Each large bow bag features a polyvinyl chloride shell and a polyester lining.
Ted Baker Small Bow Bags
Like the name states, you can find that signature bow adorning these small bags for weekend holidays. Rather than packing a variety of make up colours, pack what you know you need in these compact bags that organise your beauty items for a few short days. Each bow features a shining metal center that offers contrast between it and the polyvinyl chloride shell. The polyester lining offers a soft interior for your belongings, while the zippered top closes with ease.
Large and Small Printed Bags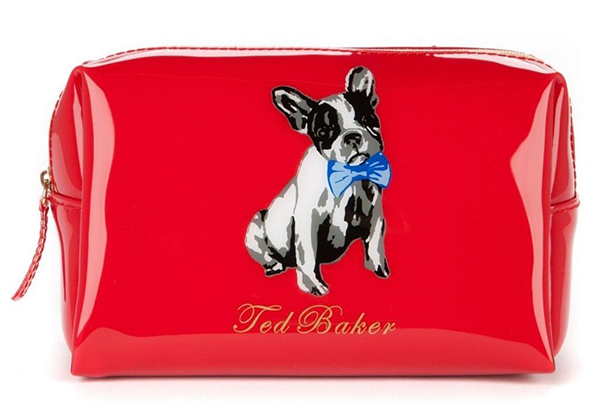 Dare to be different with a host of decorative and feminine prints on these classic make up bags. From floral and tropical prints to Paris and New York scenes, these make up bags come in both leather and polyvinyl chloride materials. Large printed bags offer two compartments for your belongings and work well for long holidays, while small printed bags hold just enough to get you through a few days away.