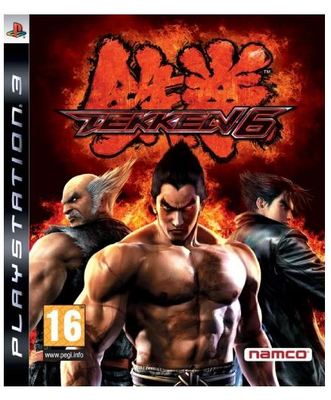 Best 3D fighter ever?
I would call myself a veteran of the series, since I have been playing Tekken since the first installment (tekken 1) and have played all the sequels competitively with skilled players ever since. Tekken has always been evolving and getting better with each game (Tekken 4 being an exception but nonetheless a very enjoyable game). Tekken 3 has probably been the best in the series (for its time), with Tekken 5 being a close second best. As many are aware, the latest arcade version of Tekken 5 (called Dark Resurrection) was ported to the PS3 in form of a PSN downloadable game. The game was fantastic, as it had essentially the same wonderful game-play of T5, fast load times plus very sharp 1080P graphics (it is one of the very few PS3 games up to even now that is rendered in 1080P). After seeing this great port on the PS3, one could only expect better features from the next Tekken. Unfortunately, it is not the case. I know that it is proper to list the Pros first and then the cons, but in this case I want to list the flaws first because although the game has many strengths, the few flaws prevent me from being able to appreciate and enjoy its many qualities. Here we Go:

CONS: THE GRAPHICS!:

Tekken has always had top notch graphics. Specially the PS3 port of T5 raised my expectations, but Tekken 6 is just NOT as SHARP & DETAILED as it should be. Many sources say that it's not even 720P and its graphics are sub-HD. There is an option to turn off motion blur but that still doesn't help and disappoints me from a visual perspective. Who cares if there is a lot of objects moving in the background or if there is cool lighting here & there when the main characters do not even look as sharp as the previous game! (to make sure, I played both versions just before writing this review). What is most annoying is the trailers we are shown before the game's release, raising our hopes and setting us up for disappointment.

LOAD TIMES!:
Painfully long. The game has not been developed well, why else would I have to go through the same lengthy load scene when I was just playing the exact same level, Character, and everything else? It can only be that not enough was spent optimizing and polishing the game. These two main flaws just "get in the way" of me enjoying the game.

PROS: -Many Characters! -Great fighting engine (fast, responsive and fluid) -Customization is cool -The new "rage system", "bound" concept and "multiple-level" levels with breakable grounds are great.

All in all, long time fans like myself will have already bought the game, but I am overall disappointed in Namco's effort this time around.