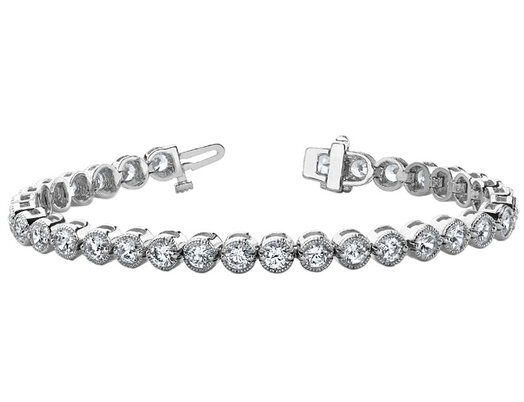 It is not common for a piece of jewellery featuring an inline array of diamonds to have a name inspired by sports. However, this is the case for the tennis bracelet, which was given this name by accident. Even though this type of jewellery had been a common design for decades, it began to be referred to as 'tennis bracelet' in 1987. That year, tennis player Chris Evert was wearing a diamond bracelet during a U.S. Open match. The clasp snapped and the match was interrupted in order for the player to find her bracelet. Because of the notoriety brought by the event for that particular piece of jewellery, it became known as a 'tennis bracelet'. Nowadays, one can buy a tennis bracelet in various styles and sizes and can opt for different types of gemstones, not necessarily diamonds. By being well informed about the different types and characteristics of tennis bracelets, one can make sure the piece they buy is a wise investment.
What to Look For in a Tennis Bracelet
Tennis bracelets come in a large variety of metals, settings, and diamond cuts. There are several things to consider before actually selecting a tennis bracelet. The most significant of them are the occasion on which one plans to wear the bracelet and the way it gets secured.
Choosing the Right Tennis Bracelet for a Specific Occasion
Before deciding to purchase a particular model of tennis bracelet, buyers should first think about the occasion they would wear it on. For example, those who are only planning to wear a tennis bracelet at special events may opt for a style featuring a gold setting and any type of diamond cuts. On the other hand, if one plans to wear a tennis bracelet on casual outings or at work, they should make sure they opt for a model in which the mounts and the diamonds are smooth, in order to avoid snagging on things. Opting for a scratch-resistant material such as platinum would also be a good idea for those who wish to wear their tennis bracelet on a daily basis.
Security Features
An important element that should be taken into account when shopping for a tennis bracelet is the safety latch. The clasp of these bracelets may vary from one style to another and buyers should opt for tennis bracelets that include a secondary security measure whenever possible. These styles feature an extra chain safety latch that can hold the bracelet undamaged in case the main clasp gets broken. Another type of secondary safety latch is the 'figure eight', which can keep the bracelet in place even if the main clasp fails.
Types of Tennis Bracelets
There are multiple types of tennis bracelets to choose from and buyers should take into account things such as the type of metal setting, type of gemstones, and shape of gemstone. All these features may not only influence the way a tennis bracelet looks, but its price as well, so buyers should consider their budget too before starting shopping for such an item.
Metal Types
Tennis bracelets can be made from different metals and gemstones and for this reason there are numerous looks to choose from. Many classic tennis bracelets are made from 12 and 14 carat yellow gold, but buyers can also choose bracelets made from white gold as well. Rose gold is not that common in tennis bracelets. Sterling silver is another option, but in many cases bracelets with a setting made from this metal do not contain high quality diamonds. The most expensive but also the most durable metal one can purchase tennis bracelets in is platinum.
Gemstone Types
Even though the majority of tennis bracelets contain diamonds, these may sometimes be combined with emeralds, sapphires, and rubies. Buyers can opt for combinations or for tennis bracelets made only from sapphires, for example. In the majority of cases, using any other gemstone apart from diamond may reduce the cost of a tennis bracelet considerably.
Gemstone Cuts
Different types of tennis bracelets may feature different types of diamond cuts. Some of the most popular diamond shapes include square, round, and princess. The diamond cut may change the way a tennis bracelet looks. The way the diamonds are set in the metal base can also alter the appearance of a tennis bracelets and buyers can choose from styles that show the metal between diamonds or styles in which the diamonds are surrounded by metal.
How to Choose a Tennis Bracelet in the Right Size
In order to fit well, a tennis bracelet should not be too loose, but not too tight, as well. One has to make sure the bracelet cannot slip off when the hand is down. A bracelet that is too loose can become snagged quickly and get damaged this way. On the other hand, a tennis bracelet that is too tight may irritate the wearer's skin and can break easily by becoming too stretched. When in doubt, buyers should make sure their finger can pass easily between the wrist and bracelet.
As for the size of diamond, the choice of a buyer can vary according to their preferences and budget. Due to the fact that they feature multiple diamonds, almost all tennis bracelets are quite expensive and the price tends to go up proportionally with the size of the diamonds. The size of a diamond is measured in carats. The chart below can offer buyers an idea of what the carat size of a diamond may look like in millimetres.
| Diamond Carat Size | Diamond Width (millimetres) |
| --- | --- |
| 0.03 | 2.0 |
| 0.05 | 2.5 |
| 0.07 | 2.7 |
| 0.10 | 3.0 |
| 0.15 | 3.4 |
| 0.20 | 3.8 |
| 0.25 | 4.1 |
| 0.33 | 4.4 |
| 0.40 | 4.8 |
| 0.50 | 5.2 |
| 0.65 | 5.6 |
| 0.75 | 5.9 |
| 0.85 | 6.2 |
| 1.00 | 6.5 |
| 1.25 | 7.0 |
| 1.50 | 7.4 |
| 1.75 | 7.8 |
| 2.00 | 8.2 |
| 2.25 | 8.6 |
| 2.50 | 9.0 |
| 3.00 | 9.3 |
| 4.00 | 10.2 |
Buyers should remember that the size and number of diamonds can greatly influence the price of a tennis bracelet, but these are not the only criteria for establishing the final price tag of such a piece of jewellery. The quality and colour of the diamonds are also considered when it comes to the final price. The metal setting is also a factor to take into account, with platinum and white gold being some of the more expensive options.
Finding a Tennis Bracelet on eBay
Since a tennis bracelet is often a rather expensive piece of jewellery, you should pay close attention to many details before purchasing one in order to make sure your investment is a wise one. Tennis bracelets are often given as wedding gifts and become family heirlooms, so it is obvious that buying such a piece of jewellery should not be done in a rush. You need to take time to browse through as many styles and possible and one of the best places where you can do this is eBay.
When shopping for a tennis bracelet on eBay, you can take advantage of the easy-to-use search system of the website. You can start your search as soon as you arrive on eBay's home page by simply typing the words 'tennis bracelet' into the search bar. You can then take your time and look at each of the results you get. If they seem too many, you can refine them easily according to your preferences. For example, you can choose to see only those tennis bracelets that suit your budget by adjusting the price range accordingly.
Shopping for diamonds online may seem like a risky business, but on eBay you have the option of buying only from trusted sellers. Make sure you read the product descriptions carefully before committing to buying an item. Verifying the credentials and reviews of the seller can also offer the peace of mind you need for buying expensive jewellery online.
Conclusion
Whether one is looking for a new tennis bracelet to treat themselves or to offer as a gift, they may feel overwhelmed because of the multitude of styles available in high-street stores as well as online. Browsing through as many styles as possible and comparing them is the best way to make sure the tennis bracelet one chooses is a good investment. The budget is also an important thing to take into account, mostly because these pieces of jewellery tend to be quite expensive.
Shopping for a tennis bracelet on eBay offers the buyer the possibility to have a look at numerous styles and narrow their search down to a few models that fit all their criteria before actually buying a jewellery piece. In addition to that, buyers can opt for new or used bracelets on eBay, according to the amount of money they are willing to spend. Regardless of the type of tennis bracelet one is interested in, chances are they can find it on eBay.