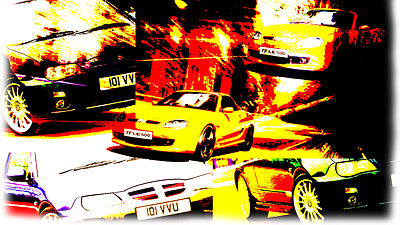 Terms of use, limited license PART I
PLEASE THOROUGHLY READ THROUGH THE TERMS OF USE.
1. All artwork supplied are the protected copyright works of ("the designer") Mr Jason Carl Morgan who owns all rights to the "Custom LE500 Style Project" artwork that has been supplied suitable for use only on the MG Rover F & TF Cars registered between 1996 and 2005. The designer reserves all rights in and to the artwork not expressly granted to you by the terms of this license. Your rights to use any part of the artwork are subject to this license agreement.
2. By this Agreement, the designer grants you a personal, non-exclusive, non-transferable, right to use and reproduce the artwork as a single printed reproduction to be used personally as an instrument dial for your own vehicle and not resold;
3. In the event that you create a derivative work based on or incorporating one or more of the supplied artwork files, all rights in and to such artwork shall continue to be owned by the designer, subject to your rights to use such artwork pursuant to the terms and limitations set forth herein.
4. All other rights in the artwork are expressly reserved by the designer.
Terms of use, restrictions PART II
PLEASE THOROUGHLY READ THROUGH THE TERMS OF USE.
YOU MAY NOT:
5. Use any artwork for other than as specified in PART I.
6. Except as expressly provided in Part I hereof, directly or indirectly copy or reproduce any artwork (in whole or in part) more than once. Nor may you produce or otherwise create for resale or distribution, printed reproductions of any artwork on canvas, paper, plastic or any other medium unless expressly permitted by this agreement.
7. Use or display any artwork on websites or in connection with any service designed to sell or induce sales of products using or incorporating the artwork.
8. Resell, redistribute or transfer any artwork except as specifically provided herein. Displaying any Image in any digital format or for any digital use will be deemed to be an attempt to redistribute the artwork and could result in the termination of your rights under this agreement.
9. Share the artwork by providing access to such artwork on shared disk drives, computer networks, intranets of any nature or otherwise.
10. Use the artwork in a manner that competes with the designers business. This includes, by way of illustration only and not by way of limitation, displaying the artwork in any format (including thumbnails) for download on a website, offering the designers artwork for sale, or including the designers artwork in templates of any nature, or otherwise for distribution and/or sale to third parties.
11. Use or display the artwork in such a manner that gives the impression that the artwork was created by you or a person other than the copyright holder of the artwork.
12. Represent yourself as an agent, employee, designee, or affiliate of the designer for any purpose, including but not limited to the negotiation of any business, distribution, partnership, or development agreement.
13. Store the artwork if not used within six (6) months of purchase. If you fail to use the artwork within such six (6) month period, you will lose all rights to use the artwork as intended and must delete all supplied artwork files from your computer or any other devices capable of storing the artwork.