Tga Breeze S4 Mobility scooter
Your guide to save £1000 when buying your New Tga breeze S4 Mobility scooter. From Smartscooters the Uk's leading mobility retailer

I
t is extreemley important to remember that you are buying one of the best
mobility scooters
in the Uk and hence we aim to give you the best service when buying your new
Tga breeze s4 mobility scooter
.
The reason that we are saving you over £1000 off of manufacturers recomendend price is simple, by not having the over heads of others sellers including the manufacturer we pass on the saving directly to you the customer.
The scooters are all Brand new built to order suppiled with all of the paper work and complete with the manufactureres warranty. All from a Trading standards approved retailer, with excellent ebay feedback. Remember we are an authorised Tga stockist as well as leading Mobility aid retailer working out of a shop not a bedroom. Voted number one out of 564 mobility shops in the Uk and memebers of the British Health Trades assocation
Delivery is free and we can also offer you and engineer delivery where by the scooter is delivered assembled and demonstarted in the comfort of your own home and all of the paperwork including dvla registration taken care of, please feel free to call us to find out more about this service 01582 413718.
ou are looking at one of the Finest all terrain Mobility scooters available in the uk.
"CALL US FOR THIS MONTHS SPECIAL OFFER 01582 413718"
The Tga BREEZE S4 Mobility scooter delivered Free with Free Insurance and full manufacturers Warranty all from an Authorized Main dealer
We are Smartscooters the Uk's largest online mobility scooter specialist as well as one of the most trusted mobility stores in the UK
Trading Standards approved and retailer with Impeccable customer feedback.
Call us 01582 413718 for the best deal on Ebay along with first class customer service and after sales support
There are number of aditional upgrades avalable when you order this scooter such as the all weather canopy, a heavy duty battery upgrade and the all important Gt upgrade. call us
The Breeze range from TGA has an established and respected reputation for providing exceptional reliability, comfort and build quality. the new and enhanced Breeze S4 continues this superb heritage with the addition of several new features. These have been made possible by the latest advancements in TGA scooter engineering and include a unique, 'BMW motorbike style' optional rigid canopy. The new robust Breeze S4 has been restyled to reflect the refreshed profiling seen in the new Breeze Midi range last year. Modern aesthetics reflecting the direction of automotive design can be seen throughout the chassis moldings and its full round suspension and shock absorbers have been re-engineered for an even smoother ride. These deliver levels of stability never seen before in the industry and will ensure users weighing up to 200kg (31.4 stone) remain comfortable and in complete control even over uneven terrain. Similar to the new technology incorporated in the Midi models, the new Breeze S4 encompass energy absorbing bumpers for added safety and to minimize lateral movement whilst driving. The rear trans axle motor delivers all the power and performance expected from a TGA Breeze and can tackle a 9.5o slope with ease.
As the Breeze S4 chassis is now more compact, levels of maneuverability have been improved even further, which is ideal for use around town. Breeze S4 still delivers the optimum experience in an urban environment,the new model has advanced dual front and rear braking systems that deliver a very responsive action in forward motion and automatic engagement if the scooter rolls backward for maximum safety. The ergonomically designed tiller can now be positioned more accurately to meet the owners' exact requirements as adjustments can be made more delicately.
The luxurious, orthopedic seat is also fully adjustable for maximum day-long comfort and now incorporates 360o swiveling for easy side transfers in and out of the cockpit. Optional Heavy-duty batteries are available, which give an impressive range of up to 45km (30 miles) on one charge.
Heavy duty battery upgrade available to increase range
Fully adjustable comfort seat
Very high ground clearance
All the features and adjustability to suit your needs
Fully active suspension, with true shock absorbers for added comfort
Highly dynamic stability and stable steering
Fully adjustable tiller with quick release action
Stunning metallic silver finish
Tilting tiller and fully adjustable seat to suit everyones needs
Simple, convenient control system installed
Alloy wheels and pneumatic tyres fitted as standard
Smooth and quiet operation
Powerful LED front & rear lights which dim at stanstill to save battery, indicators and audible horn
Advanced safety system installed
Probably the most advanced and comfortable scooter on the market
"First class all-terrain comfort makes this the ultimate choice for people who demand the best in life."
Specifications
Specification Detail Metric Imperial
Standard Specification:
Length 1630mm 64inches
Width 680mm 27inches
Wheel size FRONT 300mm 12inches
BACK 430mm 17inches
Turning radius 1740mm 68inches
Min height (Folded & seat
down) 1000mm 39.5inches
Min height Without seat) 800mm 31.5inches
Seat (Fully adjustable swivel seat) yes
Total weight From 148kg 325lbs
Speed Variable. Up to: 12km/h 8mph
Approx range Standard battery 32 km 20 miles
Heavy duty battery 48 km 30 miles
Battery size Standard battery 2 x 12v 40 a/h
Heavy duty optional 2 x 12v 75 a/h
Max carry capacity 200kg 31stone
Max gradient 21%
Ground clearance 150mm 6inches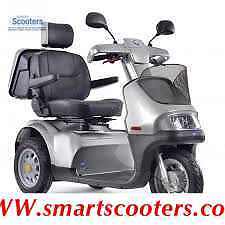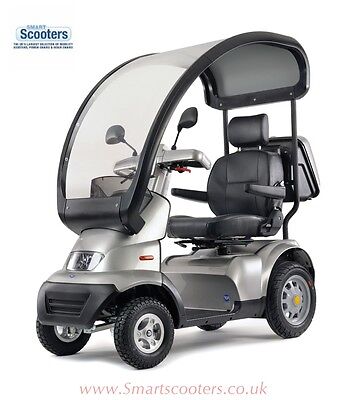 Optional Hard Top
Call us for pricing and installation of the Tga Rigid canopy for the Breeze Range of mobility scooters