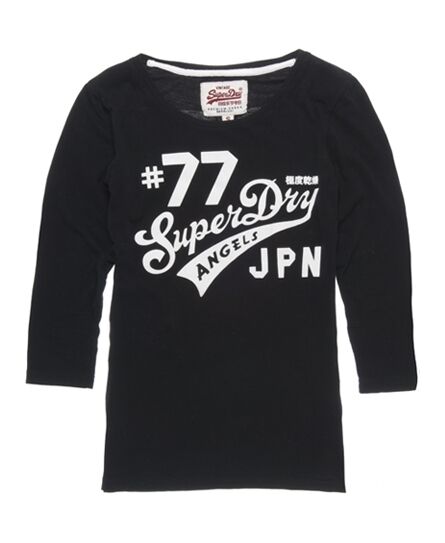 Three-quarter sleeve shirts are the epitome of comfort with their perfect blend between cool and warm. The sleeves that reach just below the elbow provide a small amount of protection from the elements while still exposing enough skin to keep ladies cool. The tops are worn in winter and summer, and they can be both casual and dressy depending on the type of cotton. Because of this, the shirts are much more versatile than long or short sleeved ones. The three-quarter length sleeves are also convenient because they stay out of the way. They do not have to be pushed up when doing activities like cooking, changing nappies, or artwork.
A portion of the popularity of three-quarter sleeve shirts stems from the fact that they are usually flattering on more types of figures than short and long sleeves are. The three-quarter sleeves expose some skin but they also hide the upper arms, which many women prefer. The lower arms do not show body blemishes or signs of age as much as the upper arms do. In comparison to long sleeves, the three quarter sleeves fit all women no matter how long or short their arms are. Some ladies find it difficult finding long sleeved shirts that fit their arms.
When it comes to shopping for three-quarter sleeved shirts, the options are vast. Sizing is important as well as figuring out which type of three-quarter sleeve shirts to get. Then there is the issue of figuring out where to find and purchase them. Continue reading the following sections for guidance on how to buy three-quarter sleeve T-shirts.
Sizing Three-Quarter Sleeve T-Shirts
How T-shirts fit will depend mostly on the brand and the fabrics used. While there are universal sizing guidelines, companies tend to vary a little from each other in how their clothing fits. The material is also a big factor because cotton T-shirts that are blended with Spandex or other stretchy materials will fit tightly instead of loosely. As a starting point, use the chart below for general sizing information. Measure the bust around the fullest part, the waist around the natural waistline without sucking in, and measure the hips about 20 cm down from the natural waistline.
| | | | | | | | |
| --- | --- | --- | --- | --- | --- | --- | --- |
| UK Size | 6 | 8 | 10 | 12 | 14 | 16 | 18 |
| Bust (cm) | 78.5 | 81 | 86 | 91 | 96 | 101 | 108.5 |
| Bust (in) | 31 | 32 | 34 | 36 | 38 | 40 | 43 |
| Hips (cm) | 86 | 88.5 | 93.5 | 98.5 | 103.5 | 108.5 | 116 |
| Hips (in) | 33.75 | 34.75 | 36.75 | 38.75 | 40.75 | 42.75 | 45.75 |
| Waist (cm) | 60.5 | 63 | 68 | 73 | 78 | 83 | 90.5 |
| Waist (in) | 23.75 | 24.75 | 26.75 | 28.75 | 30.75 | 32.75 | 35.75 |
Keep in mind when shopping online that sizes are different in each region of the world. The chart below compares the sizes so that women can shop from anywhere and find their right size.
| | | | | | | | | | | | | |
| --- | --- | --- | --- | --- | --- | --- | --- | --- | --- | --- | --- | --- |
| UK | 4 | 6 | 8 | 10 | 12 | 14 | 16 | 18 | 20 | 22 | 24 | 26 |
| EU | 32 | 34 | 36 | 38 | 40 | 42 | 44 | 46 | 48 | 50 | 52 | 54 |
| US | 1 | 2 | 4 | 6 | 8 | 10 | 12 | 14 | 16 | 18 | 20 | 22 |
| AUS | 4 | 6 | 8 | 10 | 12 | 14 | 16 | 18 | 20 | 22 | 24 | 26 |
Another way to determine sizes is to pull out several shirts that still fit and see what they are. They will most likely vary a little but this will still give women a baseline to work from.
Types of Three-Quarter Length T-Shirts
Luckily, three-quarter length shirts are not limited to simple and plain cotton tops. Manufacturers got creative with many different styles and cotton blends that give women more choices to select from.
| Type of Three-Quarter Length T-shirt | Description |
| --- | --- |
| Angel Sleeve | Angel sleeves are cut with a lot of extra fabric so that they resemble wings when the arms are lifted. The bottom portion of the sleeves are proportionately longer than the top portion. The style dates back to the Renaissance |
| | Shirts made from cotton that is blended with stretchy materials to create a tighter fit. Usually the fabric is designed to minimise perspiration by expelling sweat |
| Bell Sleeve | Bell sleeves got their name because they look like a bell. The fabric on the sleeve is fitted to the elbow, and then gently flares out. These are fashionable as well as functional because they keep the arms cooler |
| | Button-up T-shirts can either button all the way up the front, or have a collar with a few buttons similar to a polo shirt |
| Collars | The type of collar that the shirt has makes a big difference in style. The shirts can be V-neck, crew neck, U-neck, or many other shapes |
| Dolman Sleeve | Dolman sleeves have a unique appearance because they are narrow at the elbow and wide at the shoulders. Rather than being separate pieces that are sewn on, these sleeves are cut as part of the shirt bodice. The baggy nature of the shirts makes them comfortable and they can be flattering because they hide body blemishes |
| | For embellishment, some sleeves have lace sewn onto the ends of them, or the sleeves can be fully lace themselves |
| Off Shoulder | These shirts are designed with a very wide collar so that they hang off the shoulders when worn |
| On Shoulder | On shoulder shirts are traditional with smaller collars that hold the garment on the shoulders |
| Raglan Sleeve | Raglan sleeves are attached to the collar of the shirt rather than the shoulder. Many times the sleeves are a different colour than the shirt. They are considered to be sporty and are often associated with baseball |
| | These sleeves are rolled up and buttoned just under the elbow. Some of the shirt cuffs can be unrolled to be long sleeves, but most rolls are for decoration and are sewn in place |
| Scrunch Sleeve | Scrunched sleeves have elastic sewn into the seam so that they naturally scrunch up around the elbows |
| Split Sleeve | These shirts split at the top of the shoulder and then re-attach below the elbow. These are universally flattering because they are highly stylish but they still hide the majority of the upper arms |
| | The traditional three-quarter sleeve T-shirts are plain cotton with a simple bodice and sleeves |
The type of cotton blend and the style of the T-shirt make a big difference in where they can be worn and what they can be worn with. To help them decide, women can lay out some wardrobe items and then decide what shirts would go best with them. Or, consider whether the wardrobe is lacking in casual or dressy apparel, then select shirts that would fill in that need.
Where to Shop for Three-Quarter Sleeve T-Shirts for Women
As the above chart demonstrates, there are many variations of three-quarter length T-shirts. Finding all of them in one local shop would be impossible, but since they are a popular clothing item, women can travel to several different shops and probably find a decent selection between them all. Rather than going to general stores, go to the ones that specialise in casual or dressy clothes because general stores will have a scanty collection of both.
However, some women find it much easier to simply shop online rather than travelling to multiple stores. Online websites like eBay give women access to all types of shirts from around the world in one place. Being able to see all of their options at once allows ladies to make better decisions on which shirts to purchase, and ultimately, they are then happier with what they buy.
How to Shop for and Purchase Three-Quarter Sleeve T-Shirts on eBay
eBay makes the shopping process easy for everyone. You can start from any eBay page and simply type the keywords of what you are looking for into the search bar. For example, enter "Three-Quarter Sleeve T-Shirts", "Women's Off Shoulder Shirt", or "Women's Split Sleeve Shirt". You can be specific or general in the search by entering more or fewer details like colour preferences or sizes. Once you have pulled up a list of shirts, you can narrow them down according to your price range, the region they are being sold from, and whether or not you want new or used shirts. It is also possible to sort the products based on lowest or highest price first.
As you browse through the listings, add the ones you think you are interested in to your wish list. Then when you are done looking, you can go to your My eBay page to compare them all and decide which ones you like the best. As you compare, be sure to keep in mind details like the shipping charges and whether or not the seller has multiple colours in stock.
Conclusion
Three-quarter length sleeves are undeniably comfortable and convenient. They eliminate the need of constantly having to decide between short and long sleeved shirts based on the weather conditions, and their functionality does not make them lose any amount of fashion sense. Women of all ages and body types can enjoy the relaxed comfort of these T-shirts because they are not only stylish, but they also flatter all arms by covering up and revealing the right portions of skin. This allows women to be feminine as well as modest at the same time.
Purchasing three-quarter length sleeves may seem like a chore in the beginning, but with the help of this guide, women can find tops that are the right size, decide between the various types of three-quarter sleeve T-shirts, and shop for them in a much easier way where they can find shirts of any style without taking time out of a busy lifestyle.