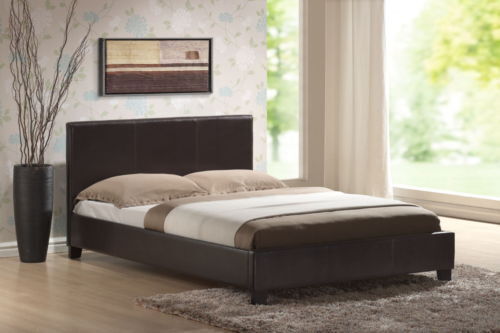 When it comes to shopping for the home, no market is tougher to wade through than the bed market. Sizes, springs, forms and brands all play a part in confusing shoppers. It makes the bed buying process a chore rather than a pleasure. This means that many people avoid the process completely and all to often are sleeping in beds that aren't appropriate for them.
The Better Sleep Council (BSC) published a report that shows people are often sleeping in beds that are too small. When considering a new bed there is no doubt that a king-size bed is the premier option, for a multitude of reasons. Bed shopping can be a stressful process, but this guide and eBay are here to prove that it doesn't have to be.
What Is a King Size Bed?
Before looking at the reasons as to why a king-size bed is a smart purchase, it's important to understand what they are. When it comes to king-size beds, luxury is the aim of the game and they're the perfect addition to every bedroom. Everything from the frame to the mattress options exudes quality.
They may only be three inches longer and six inches wider than a standard double bed, but they work wonders with the extra space. It gives extra comfort, which can aid a night's sleep. especially when it comes to couples that share a bed. They are the perfect option for those who want a bed that offers style, substance and extra space. The following shows how king-size beds match up to their counterparts.
| | |
| --- | --- |
| Style | Size |
| | 54" W x 75" L |
| Queen | 60" W x 80" L |
| King | 76" W x 80" L |
| California King | 72" W x 84" L |
Added Space and Comfort
King-size beds have a variety of upsides, with the most obvious one being space. Those extra inches in width and length go along way in providing a restful nights sleep. The comfort that can be obtained from these extra inches is unprecedented; it makes it one the premiere reasons to purchase a king-size bed.
* If you suffer from joint injuries or conditions (such as arthritis) a king-size bed will allow you to lie back without disturbing your partner.
* A king-size bed offers the same amount of length as a queen-size bed.
* It's great for families, as it will fit both parents and their children comfortably.
* Don't underestimate the importance of the extra width and length; it is pivotal in preventing people falling out of bed.
Suitable for any Décor
It's no secret that a king-size bed is a large piece of furniture; it draws attention in a bedroom environment and can't look inconspicuous. This means buying the right style of king-size bed is important, and there is no shortage of choices available.
* Brazil - Offers a modern look that comes complete with curved joints.
* Cottage - Has a country feel with a contemporary twist, features a two-panel headboard.
* Low Deco - Helps create the illusion of space; it is a sleek and slim bed that has a low centre of gravity.
* Mozart - Contemporary curves are the key feature along with a traditional appearance.
* Platform - Constructed without a headboard or footboard, it's a 'no frills' option that's perfect for those on a strict budget.
* Shaker - Basic and fuss-free, sleek in design with a distinct modern touch.
* Summer - Comes complete with an unusually small pillow board. Helps keep pillows positioned and is a unique design feature.
The bed is the focal point of every bedroom, however, not all bedrooms are the same size. This shouldn't scare people off from purchasing a king-size model, as there are types specifically designed for those who don't have much space to work with. This means no one will have to sacrifice the spectacular luxury that a king-size bed offers.
* Apple - Features low eaves that make it a perfect fit for attic rooms. Its light and simple lines are its key appearance feature; it does a great job of not compressing the free space in a bedroom.
* Bimini - Space saving, yet still manages to feature a headboard. Strong, solid and sturdy, this type of king-size bed is built for longevity, as well as relaxation.
* Rossi - Has the look of a traditional frame but is slimmer in order to save space. Helps create a tranquil and balanced look in any bedroom.
* Trellis - This frame comes in a variety of finishes, but looks at its best in a simple high gloss white. Uses wide slats along with a detailed headboard.
Fully Customisable
King size beds are not just designed orientated in the frame; they are fully customisable pieces of furniture. Being one of the most popular beds in the world means that bedding comes in all different shapes and styles. Expect to find a large variety of blankets, bed sheets and duvet covers on eBay. When it comes to styling a king-size bed, the only limit is an owner's imagination.
Health Benefits
Bad sleeping conditions are on the rise in the United Kingdom, with the likes of insomnia becoming an all too commonly discussed ailment. A lot of the time issues, like wakefulness, develop because someone just can't settle at night. This is usually due to uncomfortable sleeping conditions. A king size bed can help alleviate this, along with other physical conditions such as arthritis and back pain. Some of the bed's benefits include:
* Relieves pressure points.
* Reduces the amount a sleeper tosses and turns by up to 80%.
* Appropriate neck alignment can reduce tension pain, vertebrae pressure, nerve contusions and ankylosing spondylitis.
* Helps alleviate frozen shoulder syndrome.
* The correct amount of rest can heal tennis elbow.
* The extra space will allow sleepers to stretch out, reducing the risk of contracting pins and needles.
* Sleeping can often compress the respiratory system; king-size beds make that a thing of the past and ease breathing issues.
* Lumbar support in a bed is crucial and king-size beds have it in abundance.
* Restless leg syndrome is not uncommon; the extra space alleviates pressure on sore ankles and Achilles tendons.
Burgeoning Used Market
Buying a used king-size bed is a great way to save money. New beds may be financially out of reach for some, so exploring used options is a good way to extend a budget. When shopping for a used bed always do so with caution. It's beneficial to talk to a seller and ask questions about the item, such as:
* How old is the bed?
* When was it is last used?
* Is it missing any parts?
* Will it come disassembled or preassembled?
* How often has the bed been used?
* Is it still under manufacturer's warranty?
* What delivery options do you offer?
How to Purchase a King-Size Bed on eBay
The average home features a large amount of furniture, but none are more important than the bed. It is vital that shoppers buy the right bed for both health and comfort reasons. There is a large range of king-size beds available, which means making your way through the marketplace can be tough. This guide is here to make the shopping process simple and eBay will make sure you get what you're after at the most affordable price.
* To start browsing what king-size beds are available go to eBay's homepage and select the home and garden option.
* From there, click on beds and mattresses then bed frames and divan bases.. This will display all live bed related auctions and allow shoppers to browse freely.
* If shoppers have a specific brand, style or design in mind they can use the keyword search tool found at the top of the page.
* Those who are working within specialist dimensions may get benefit from using the advanced search options.
Delivery
No matter their size, beds are large items. So whether they come in flat-pack or preassembled form, standard delivery isn't possible. This means that shoppers will be expected to pay a large fee in order to get the bed they want delivered.
Another option is for shoppers to collect the bed on their own time, in such instances they need to factor in van hire and petrol charges. Always discuss delivery options with the seller prior to committing to a purchase.
Completing a Transaction
* When a shopper has found the king-size bed they're after they will need to do one of the following.
o Place a Bid
o Make a Best Offer
o Buy it Now
* Once an auction has concluded the winning bidder will need to complete the checkout process.
* Doing this via PayPal will mean that the Buyer Protection Programme covers the transaction.
Conclusion
King-size beds have a lot of attributes, but their key benefit is their unrivalled luxury. Those who are sleeping on old and uncomfortable beds should look to take a step towards a new model and a king-size is a great option. The benefits include health, comfort and design. The majority of king-size beds also come with a large amount of styling options.
The reasons to buy a king-size bed should be obvious by now, and if not you should take a look at this guide again. They are an absolute must have for those who are looking to get a long and restful night sleep. It will alleviate aches and pains by giving you that extra bit of space that makes all the difference. eBay has made the bed shopping process simple. and is a priceless resource for those looking to get the bed they require on a budget.