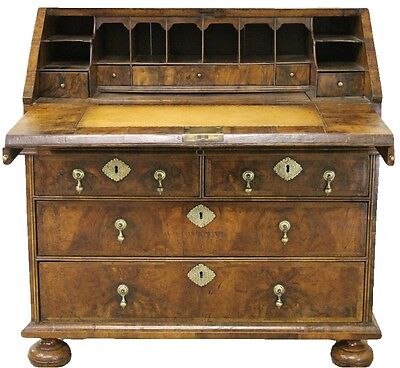 A bureau is broadly defined by it's fitted, writing desk, interior which is concealed behind a 'fall-front' or 'drop flap'. The fall front usually rests on two arms that extend from the front of the bureau and can be inlaid with a tooled leather or felt writing pad. The hidden writing compartment is most commonly complimented with a bank of lockable drawers below providing significant additional storage space. Older examples were often cunningly fitted with various secret drawers and compartments to provide additional security in an age before banks and safety deposit boxes.

From the highly informative and invaluable reference guide to everything antique, Millers Antique Guide: "Bureau: The French name for a type of desk with a hinged sloping top set above a chest of drawers. The top comes down to form an even writing surface behind which were are drawers and pigeonholes variously arranged."

A bureau is very similar both in form and function to a secretaire. The principal difference being that a secretaire will usually have the fitted interior writing compartment, again often inlaid with tooled leather or felt writing pad, hidden in a hinged, drop flap, top drawer. You can view our range of secretaires in our eBay Shop.