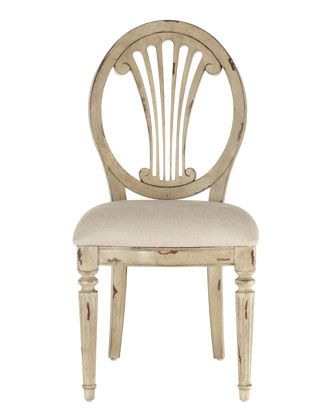 The purchase of new room dining chairs or antique dining room chairs is exciting and ultimately rewarding, but the decision making process is sometimes confusing and altogether exhausting. Because there are so many different kinds of dining room chairs, choosing just one style to incorporate into the home is tough.
Intelligently learning about the various types of dining chairs, consumers can not only identify seating solutions by style, but they make an informed decision about what type of chairs to choose. From traditional wooden chairs to classic chairs, the diversity within the modern furniture market ensures that even the most particular consumers are satisfied.
Places to buy dining chairs include furniture stores, designer home outlets, high street shoppes, and online websites like eBay. For most customers, the eventual purchase location is decided by the price, convenience, and trust. Buying antique dining room chairs is no small task, thus consumers who are well equipped with information only stand to benefit from an easier shopping experience.
A Brief History of the Dining Room Chair
Until the middle of the Renaissance period, chairs were relatively uncommon pieces of furniture. For many centuries leading up to that point, common people sat on benches or the ground instead. After the Renaissance, the chair was no longer a separation between those that were rich or poor; hence the development of the modern array of dining chairs began.
A Sign of Authority
Until the 16th century, chairs were seen as status symbols and were the exclusive domain of wealthy, important people who were elevated above the ground and away from the dirt. Poor people sat on crude benches instead or on mats or cushions, which were placed directly on the ground.
Chairs were not, however, a new concept. While the very beginning of the chair concept is shrouded in the history of time, Ancient Egyptian examples exist, some of which are over 2,500 years old. Evidence of chair use in ancient Greece and throughout the Roman Empire is sparse, but available.
Between 618 and 907 AD, the Tang Dynasty in China kindled the beginning of a new era of chair usage. First popular amongst the upper classes, chairs soon found a way into the rest of Chinese society. By the 12th century, floor sitting was no longer common in China.
A 16th Century Popularity Surge
The Renaissance period saw a reawakening of classical culture and art, and a large increase in chair use amongst the elite. Aristocrats and wealthy traders began to settle down and establish permanent homes after finding success in newly established avenues of international commerce. Chairs became highly stylised and were decorated in a lavish manner. Although chairs from this era are considered antiques, purchasing them for daily use is not the most economical or pragmatic approach.
Later, simpler decoration became commonplace, as chairs drifted out of the domain of the wealthy and into the wider society. Mass production began in the early 1800s, and by the middle of the century, most American households were able to assign a dining chair to every person in the family.
Characteristics of Traditional Wooden Dining Room Chairs
In the 1830s, the industrial revolution changed woodworking from a strictly manual craft in which one item was created at a time, to a machined industry capable of producing many chairs in a single day. As a result, wooden chairs began to adopt a standard, which has remained largely unchanged.
Characteristic

Overview

Details and Variables

Chair materials

Locally available wood varieties include pine, spruce, cedar, hickory, and oak

More exotic wood types include mahogany, burl wood, ebony, teak, and eucalyptus

Woods usually sourced locally; softwoods like pine and spruce are less durable than hardwoods like oak and birch; exotic hardwoods are expensive and reserved for wealthier families; all woods require pre-treatment for insects and thorough drying prior to use

Typical features

Four legs which are rounded or squared off; leg supports which extend between the midpoints of the legs; a solid or semi-woven seat; a fixed-angle backrest

Arms are often found on seats reserved for the heads of families; leg shape is sometimes embellished by machine or on a lathe; designs are painted onto or etched into the wooden surface

Standard dimensions

Total chair height approximately 66 centimetres; seat height approximately 40 to 46 centimetres; seat width and depth approximately 40 to 46 centimetres; backrest usually extends to the top of the back

Backrests on particularly grand chairs sometimes extend above the head; larger or wider chairs are made to suit taller or heavier individuals; chair seat height needs to be based on the height of the accompanying table
The above chart is not inclusive of every territory that ever created wooden dining room chairs, but it stands to serve as a relative understanding of antique wooden dining chairs. Though modern designs have expanded on the characteristics above, they still apply to a wide range of chairs available today, particularly in dimensional considerations. Dining chairs are oftentimes cushioned or upholstered on the seat and the backrest, making them more comfortable to sit on.
Available Dining Room Chair Styles
While many contemporary designs are completely new and original, some shapes or production processes are based on other, older chair types. The table below explores various chair styles and reveals the particular properties unique to each one.
| Dining Room Chair Style | Description |
| --- | --- |
| Windsor | Backrest spindles planted into thick seat; thin, turned legs; sack back, bow back, comb back, continuous arm, low back, rod back, fan back, and hoop back variations; chairs often contain two or three species of wood |
| | Based on 18th century dining chair style; horseshoe shaped seat; cabriole style front legs; centre of back support (splat) is shaped like a Grecian urn; delicate, small scale chair; inlaid marquetry decoration common |
| Empire or Regency | Also known as Duncan Phyfe chairs; sabre style legs; scroll back; squared top; square upholstered seat; harp or lute design in open back; gently sloping arms; simple, elegant woodturning |
| Shaker Style | Also known as ladder back chairs; slat backs give the impression of a ladder; three-back, four-back, and five-back chairs available; backrest wider at top than at bottom; woven or solid seat; legs splay outward |
| Chippendale | Named after Thomas Chippendale, a mid-18th century English furniture maker; also known as rococo style; ball and claw feet are common; Chinese influence; acanthus leaves sometimes featured in designs |
Sometimes, classic chair styles are brought into modern design in a fascinating way. One example of this is seen in the Philippe Starck's Louis Ghost Chair, which is based on the shape of a Louis XV armchair. The contour may be familiar, but the chair itself is completely transparent, made with injection-moulded polycarbonate.
How to Buy Antique Dining Room Chairs on eBay
To find an ideal dining room chair on eBay, begin on any eBay web page and type into the search bar the antique dining room chairs you have chosen.. You can then use the subcategories and refinements provided by eBay in order to narrow your choices. If you know specifically the style or material which you want, you can type a more specific search into the search bar in order to filter the choices rendered.
Some of the options you may choose to explore include materials, colours, conditions, price, and more, depending on what type of antique dining room chairs you are looking for. If you are interested in a vintage dining room chair set, there are many antique options to choose from. If you know exactly what you need, you can search for those specific dining room chairs.
Though there are many online retailers, eBay is a convenient, secure, and reliable site. The intuitive structure and the honour-based feedback system provide an easy-to-navigate place for those new to e-commerce, as well as frequent eBay users.
Conclusion
Dining room chairs are one of the most important features in an established and furnished home. Not only do they add presence and character to your dining room via design quality, they also provide you with a comfortable seating area for family meals.
The history of the dining room chair is long and convoluted with its roots beginning not in one country, but on a series of continents all over the world. At first, chairs were reserved for the wealthy, but as time passed, they became more common in all households. From the elaborately carved examples created during the Renaissance period to the minimalist modern styles of the twentieth century, dining chairs contribute to the atmosphere in a room, as well as add a functional element to it. Today anyone can own antique dining room chairs from nearly any era or decade if they know how to shop.
Many modern designs are based on older ones, like the Queen Anne, Windsor, Empire, or Chippendale chair styles. Because of their timeless nature, a large number of the classic shapes are still manufactured today. Antique chairs are also widely available for individuals who enjoy owning a part of history.
Antique dining room chairs are found in furniture stores and larger department stores, as well as online. No matter where you get your set, the knowledge provided here will help you pick your ideal chair set and purchase it with confidence.