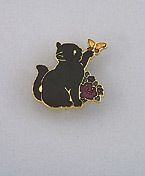 Technically speaking, enamel in it's simplest form, means fusing powdered glass to a metal backing at high heat. This does not mean that enamel jewels are not as valuable as gemstone jewellery. It is the skill and workmanship required which makes enamels costly, and to be valued as highly as gemstones. Fine Enamels have been creating enamel jewellery to the highest quality for more than 25 years and continue to have a long and honoured place in the art of jewellery making.
Enamels, when they were first developed, provided bright, durable colours that were much easier to fashion than gem stones. Enameling was used in tiaras, neckbands and brooches in the Gothic, Renaissance, and Art Nouveau periods.
Fine enameled pieces are often considered as valuable as those containing fine gems - sometimes even more so. This is due to the meticulous craftmanship, where human skill and artistry are everything.
There are different methods of enamelling. Basse Taille is a French word meaning "low cut". It describes a technique where the silver surface is engraved so that the metal has a pattern etched into it. The design is then covered with translucent enamel, creating texture and dimension in the piece. The sterling silver base gives added brilliance to the applied enamel colours.
Plique-a-jour enameling. (Glimpse of Day) is a particularly difficult enamelling technique whereby delicate translucent enamel is suspended between threads of silver. This allows the light to pour through, illuminating the colours with the same brilliance as a stained glass window seen in sunlight.

Ribbons of precious gold and silver filigree wire are fused with specially formulated glass to create breathtaking jewellery, and objets d'art.
The appearance of plique-a-jour enamels readily brings to mind the skilled craftsmanship of great Art Nouveau jewellers and artists such as Lalique, Tiffany, and Faberge.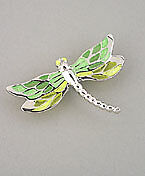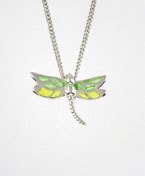 These charming dragonflies are great examples of plique-à-jour.
Plique-à-jour is sometimes referred to as backless cloisonné.
Cloisonné is an enameling technique where an original metal shape is decorated with silver or gold filigree wire to make the 'veins', these are then filled with coloured enamel and fired. They are more solid and do not have the delicate transluscent look of plique-à-jour.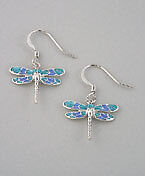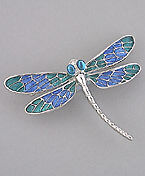 These beautiful dragonflies are rhodium plated cloisonné and therefore less expensive than the silver plique-à-jour. Nevertheless, rhodium is one of the platinum group of metals, it is very hard wearing and does not tarnish like silver.
Champlevé
A French word for "raised field", in champlevé the artist removes the silver by cutting, hammering or stamping in order to create a depression which will then receive the melted glass. As the enamel is laid in the recessed areas of the silver, it is built up in layers until it reaches the same height as the remaining silver.