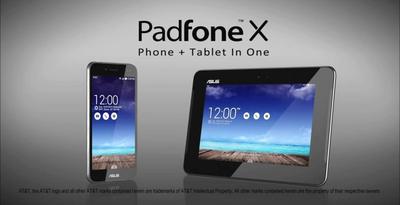 Phone + Tablet In One
The Good With it's fast quad-core processor, the AT&T's Asus PadFone X's camera has a huge capable 13-megapixel camera, and can also dock safely into a 9-inch tablet that also doubles as a charger.
The Bad The PadFone X, When combined has a clunky design but unfortunately its rear-camera loses a few some features. The device also comes with a non removable battery and a lot of bloatware
The Bottom Line Although it has last year's specification, the PadFone X combines two mobile devices into one easy convenient form at a very affordable price tag.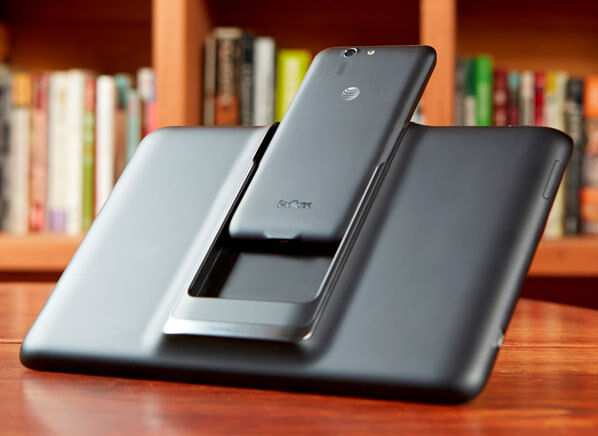 ASUS PadFone 'phablet'
The ASUS PadFone is a smartphone manufactured by ASUS. The phone is marketed with companion tablet dock and keyboard dock accessories intended to improve battery life and overal functuality.
Released in April 2012, the ASUS PadFone It fits into a 7-inch tablet dock. Although it's not the same as the ASUS PadFone mini 4.3, revealed in December 2013 by ASUS. Since that operates on Android 4.3 Jelly Bean and is skinned with the ASUS' ZenUI.
The ASUS PadFone has a 4-inch WVGA (480 x 800 pixel) IPS+ LED-backlit display, the ASUS PadFone mini has a8-megapixel 'PixelMaster' rear f/2.0 BSI camera, 2-megapixel front-facing camera, 8GB of built-in storage, and a 4.5Wh 1170mAh non-removable polymer battery.
The successor to this phone is the PadFone 2, which was released in October 2012. It featured a 4.7 inch Super IPS+ screen with HD (1280×720) resolution.
The successor to the PadFone 2 is the PadFone Infinity, which was released in April 2013. It featured a 5 inch Super IPS + screen with Super HD display, (1920 x 1200) resolution with 441 ppi.
The successor to the PadFone Infinity is the PadFone X, to be released in June 2014.
A new ASUS PadFone S was launched in July 2014 with a 13 Megapixel camera.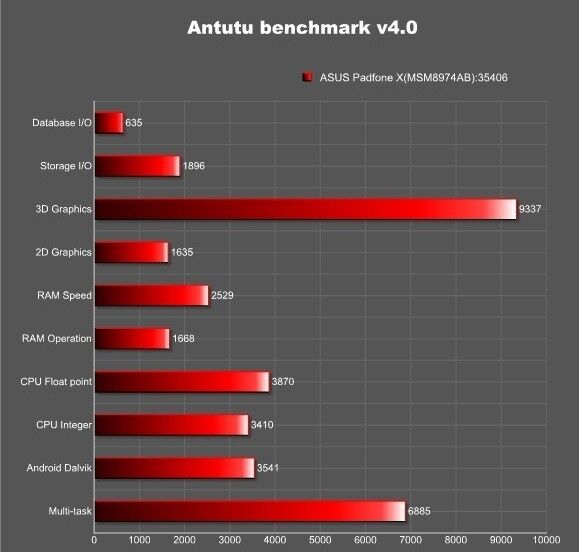 Add a caption
Asus Padfone X with Android 4.4 KitKat
Click to edit caption
Asus Padfone X with Android 4.4 KitKat
The PadFone X runs Android 4.2.2 KitKat and comes loaded with the usual array of Google services like the Chrome browser, Drive, Gmail, Search (including voice), Plus, and Photos. There's also Hangouts,
Other than its predecessors, there's nothing quite like the Asus PadFone X. As a smartphone/tablet (and sometimes even laptop!) hybrid, it is an amalgamation of two devices aiming to give users the most seamless and efficient mobile experience.
Measuring 5.67 inches tall and 2.85 inches wide, the handset is comfortable to hold, and easy maneuverable with one hand.With it's brushed-aluminum design it sports tapered edges that adds just a dash of style to the otherwise bland-looking device. However, at 0.39 inch thick and weighing 5.29 ounces, it's a bit heftier than most high-end 5-inch phones.
With a 3.5mm headphone jack on the top edge , and a sleep/power button and a volume rocker to the right . It has a Micro-USB port flanked by two circular ports at the bottom , which are used for plugging into the tablet dock. Located on the back is a 13-megapixel lens with accompanying flash, and a barely there speaker grille right below it.