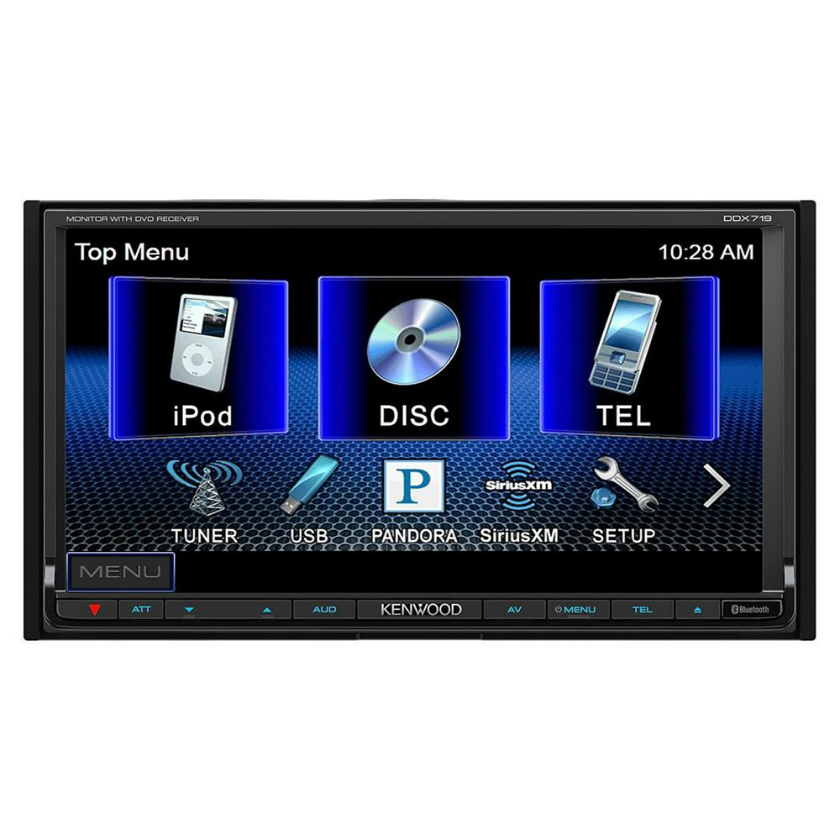 Music can make both short and long drives entertaining, and it can take some stress out of dealing with traffic. Moreover, listening to the car stereo can also help the driver to stay awake, and thus ensure a safer journey. Today, most cars are fitted with audio systems that incorporate a variety of devices, such as CD players, MP3 players, and radios. In a car, all of these can be combined into one head unit. The quality of the sound is largely dependent on this stereo head unit,, and audiophiles should therefore choose carefully. Car stereo head units are available from high street electronic appliances shops as well as bigger supermarkets, but they can also be conveniently purchased through online auction sites such as eBay..
Before making any decision, it is worth delving into the many features of car stereo head units, in order to be able to make an informed decision and enjoy the best music experience on the road. With modern technology, favourite songs can be enjoyed with outstanding quality to please any audiophile.
Features of Car Stereo Head Units
Car stereo head units are available with many features that vary from model to model. These features include physical values, such as the car stereo's size and the maximum power output, as well as the performance and supported file types.
Car Stereo Head Unit Sizes
Most car stereo head units come in two standard sizes. These sizes are single and double DIN, respectively, and the car stereos are labelled with these names. "DIN" refers to the in-dash cavity of the car where the stereo head unit is fitted. Both single and double DIN head units measure 17.8 cm wide, but their heights differ. A car stereo head unit may be either 5 or 10 cm high. The cavity sizes vary in their depth, so these need to be measured as well.
Maximum Power Output of Car Stereo Head Units
The maximum power output of a car stereo head unit describes its performance, indicating how loud the speakers can be. When buying a car stereo, it is the RMS power rating, rather than the peak power rating, that should be considered. The peak power rating only indicates the highest power the car stereo could provide, while the RMS power rating describes the continuous power output. Power output is measured in watts.
EQ Controls on Car Stereo Head Units
The EQ controls on a car stereo head unit allow the user to adjust the levels of frequency response of any given audio signal. Sound signals are divided into bass, midrange, and treble according to their frequency. If the car stereo has EQ controls, it is possible to adjust the balance between these sound signal types. The most advanced stereo systems come with up to seven bands, allowing users to fine-tune the midrange frequencies.
Supported File Types and Formats of Car Stereo Head Units
Although many motorists simply listen to the radio when on the road, is is also possible to enjoy favourite songs that are delivered in a variety of other ways. The more formats and file types that are compatible with the car stereo head unit, the more flexibility it offers. Tracks that are downloaded from the Internet or bought from iTunes are usually in MP3,, MP4, WMA, or AAC formats, and modern car stereos tend to support these file types. These audio codecs allow the drivers to rip multiple albums to a single disc. Car stereos that have CD players generally support CD and CD-RW formats. If the car stereo also includes a DVD player, then DVD discs can also be played.
Inputs and Outputs on Car Stereo Head Units
If the car stereo head unit comes equipped with a USB port, it is possible play songs from USB drives. Some car stereos also read SD memory cards, although SD card files can also be played through a USB port when using a special adaptor. The car stereo system generally features speakers that are built into the car, but audiophiles may also add extra amplifiers or subwoofers for a better sound experience. For this, the car stereo head units should incorporate a pre-out.
Additional Features of Car Stereo Head Units
Car stereo head units that make use of Bluetooth technology are capable of streaming music from mobile phones with no wires attached. Thanks to Bluetooth, drivers can make hands-free phone calls as well. Moreover, many advanced car stereo head units, usually the larger ones, do more than just play music. Equipped with an LCD touch screen, some head units also play DVDs, and some also come with integrated GPS navigation that can show maps on the display. With a large LCD display, it is also easy to navigate through hundreds of tracks on a disc. If the tracks on a CDs have ID3 tags, the artist and song information is also shown on the screen.
Types of Car Stereo Head Units
The types of car stereo head units are differentiated by the kinds of radio they use, because the radio is the main part of such a system. Available radio types include traditional AM/FM radios as well as modern digital, satellite, and HD radios.
AM/FM Radios on Car Stereo Head Units
The AM/FM car radio is the oldest radio type used in the car. It uses analogue signals in order to transmit music. AM/FM radios are tuned manually, and therefore they may deliver some background noise and interference.
Digital Radios on Car Stereo Head Units
Analogue AM/FM signals are being replaced by digital signals. As with television broadcasting, digital technology is now preferred over analogue, because of the crispness of the output and the wider range of stations available. Digital car radios are called DAB radios. "DAB" stands for "Digital Audio Broadcasting". AM/FM radios can also receive digital audio signals if used with a special adaptor.
Digital car radios are tuned automatically by station name, so the frequencies of the stations do not have to be remembered. Show listings, song titles, artists' names, sports results, and news headlines can be displayed on the screen of a digital car radio. Some advanced models also allow the user to pause and rewind live radio programming. Favourite shows and songs can be thus be listened to over and over again.
Satellite Radio on Car Stereo Head Units
A satellite radio signal may be either analogue or digital. As the signal is transmitted through satellites that orbit the Earth, satellite radio signals can be received in wide areas. For example, US radio stations can be listened to in the UK if the car stereo head unit is built to receive such signals. However, satellite radio stations generally require a subscription, and monthly fees usually apply.
HD Radio on Car Stereo Head Units
"HD" stands for high definition, and refers to high audio quality. An HD radio combines both analogue FM and digital signals. In essence, HD is a digital technology, but it uses the existent FM spectrum and sends the digital signal along with the analogue signal. A car stereo head unit that comes equipped with an HD receiver can reproduce the original broadcast after sorting through multiple signals, and the multipath distortion that often occurs with analogue reception systems is removed.
Buying Car Stereo Head Units on eBay
The easiest way to find car stereo head units on eBay is to search for them by typing the search terms into the search box, which you can find at the top of any eBay page. After you receive the initial search results, you can further refine your search by sorting the items in terms of price or auction time. You may also click on related searches for more inspiration. Pay close attention to the type of radio used in the car stereo. It is best to get a digital one, because of the digital radio switchover planned in the UK. If you prefer to listen to FM radio, you can still get a digital radio, as these usually support FM stations. In any case, read the detailed item listing and ask the seller if any of the information needs clarification, or if you want to make sure that the features you desire are included.
When it comes to car stereo head units, not only the features, file compatibility, and audio quality should be considered. Although it is easy to get carried away by the endless opportunities offered by some models, you should always ensure that the car stereo head unit fits your car, because only then are you able to enjoy it to the fullest.
Conclusion
Listening to favourite radio shows or songs is good entertainment, and it can help drivers to stay alert and focused on long trips. Most cars today are compatible with car stereo head units that audiophiles can enjoy. Before making a purchase, it is worth investigating all the available features and options available, in order to get the car stereo that best suits individual needs.
Car stereo head units come in two sizes, namely, single and double DIN. "DIN" refers to the unit's height, and the choice should be made according to the car in order to make sure that the unit fits. The most versatile head units support a variety of disc formats and file types and should accommodate the needs of most audiophiles. Songs can also be played from USB sticks as well as SD cards. When buying a car stereo, audiophiles may also want features, such as EQ controls, that allow them to tweak the sound to their liking. The power output of the stereo should also be considered.
Car stereos are divided into types by the kind of radio signals they receive. Traditional AM/FM radios are now being replaced by digital, satellite, and HD radio stations, which all provide audio quality that audiophiles can appreciate.