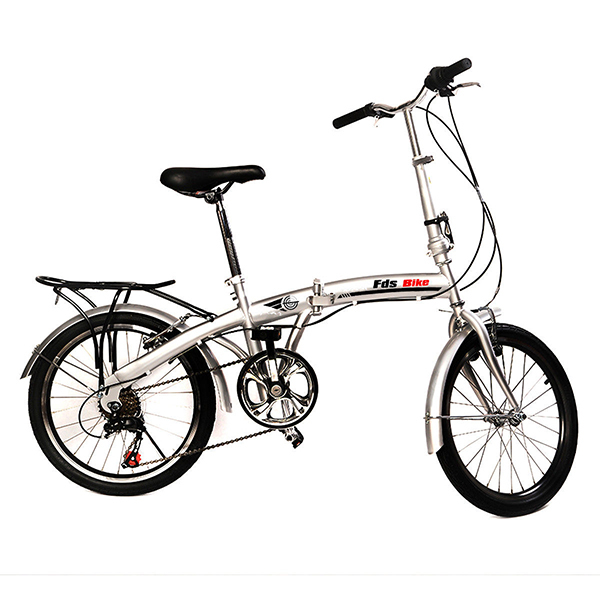 A folding bike is designed for compact storage and transportation. It is commonly used if cyclists have limited space for storage either at home or in the work place. People who have different modes of commuting may also choose to use a folding bike for one part of their journey, while storing the bike quickly on a bus or train, where conventional bikes may not be allowed.
There are many types of folding bikes with different mechanisms for folding. People can choose folding bikes depending on a number of factors such as folding speed and ease, size, weight, durability, quality of ease when riding, bike speed and price.
It is also an environmentally friendly mode of transportation as it's powered by the cyclist's own force and energy. This can be a way to maintain a good exercise routine and a healthier lifestyle for the cyclist.
History of Folding Bikes
The use of folding bicycles started in the early 19th century, intended to become a folding version of the Pederson bicycle for the British army to use in the Second World War.


From 1935 - 1945, the British paratroopers used the British WWII Airborne BSA Folding Bicycle. It was designed with portability and weight in mind so it could be easier for the British paratroopers who had to be very mobile. It could be stored in the airplane, held during the drop and then opened up on the ground for quick transport.
From around the 1970s the design of the folding bike drastically changed with constant improvements on shape, durability, weight and folding mechanisms. Some versions were created to fold a bike that had a traditional letter U shape to the frame, applying the same choice of shape to the folding bike.
Two established folding bikes were created in the 1980s, theBrompton and the Dahon, which both revolutionized the mechanism for folding while retaining the strength of the bike when in use.
Today there are hundreds of manufacturers of folding bikes, which apply different methods of folding.
Benefits of Buying a Folding Bike
* Portable - A folding bike can fold into half, or even smaller, of its original size. Depending on the material the bike is made of, it can be lightweight and carried around easily. It's can be easy to transport such as cars, buses, trains, planes and boats, particularly if the cyclist needs to used varied methods of transportation to get from point A to point B.
For people who are traveling, it's a handy item to bring along. Some bring it on the plane and use it at their destination to continue on with their trip. People going on a holiday can take it along during camping trips or out of town, so they can still travel around quickly and easily even on terrain that isn't necessarily smooth.
* Compact Storage - The folding bike can be easier for storage than a regular bicycle. The compact size is ideal for people who have limited space to place their bike, whether at home, work or school.
* Secure - By having the folding bike in a place that's easily accessible to the owner, for example under the work desk, or inside the home, it brings an increased sense of security. Compared to traditional bikes, which typically need to be chained and locked in public places, a folding bike could be carried in to the final destination point the person needs to get to.
* Cost-Effective - Considering the actual cost of the folding bike aside, the owner could potentially save money either from petrol bills or public transportation costs. In the long run, the total cost of traveling on a bike could be considerably less than compared to the expenses need for driving a car, taking the bus, train or taxi.
* Environment-Friendly - Choosing to bike instead of taking a car or bus can dramatically decrease the amount of air pollution. On average, about one mile of cycling would take a car 3.6 pounds of air pollution created.
* Physical Exercise - Cycling regularly can help improve one's physical health specially in improving the stamina. By using the cyclist's own force and energy to push the vehicle along, the regular exercise increases the cyclist's overall endurance.
Features To Look For In A Folding Bike
When purchasing a folding bike, people normally look out for the ease of folding, ease of riding, durability, size, performance and price. The buyer should keep in mind the overall usage of the bike. Some may look for the lightest model and some may look for the model that can allow them to travel as quickly as possible with the least amount of energy. Some may look for one that is the most compact, for the best possible storage. Others may look for a sturdy one that can be used on rough terrain . Depending on what the person's needs are, there will likely be a bike available on eBay perfectly suited to them.
Ease of Folding
There are different folding mechanisms for these bikes, and they should all be looked in to with close attention. Older models of folding bikes were 'clunky' and difficult as well as heavy to move, so it would require more strength and energy to simply fold it. A bike that may look compact when folded doesn't necessarily mean it was easy to get it into that shape. Most modern folding bikes are easy to fold in just a few quick and effortless moves.
Ease of Riding
The basic action of riding the bike in a comfortable position is important when choosing the right kind of folding bike. The bike frame and wheel size will also come in to consideration for overall easiness of riding. If the wheel is too small, the cyclist may need to pedal more frequently. If the frame is too small, or the handlebar or seat is too low, the cyclist may become uncomfortable during extended periods of cycling. Selecting an incorrect size could lead to back strain or banged knees while cycling. Folding bikes with additional gears give an easier option of speed and strength settings, which may be easier for long traveling.
Weight
The weight of the bike will be determined on its make. Some foldable bikes are made ofaluminium, and some incorporate steel as well. Since the folding bike will have to be carried, one that is too heavy for the cyclist will make it difficult to transport. New models of folding bikes are constantly being created, where the weight gets lighter but the quality and durability are not compromised.
Durability
A common question first time buyers ask about folding bikes is "is it safe?" There are questions about whether the folding bike will snap while riding, which could be very dangerous. As long as an international bicycle-testing institute such as CPSC (U.S.), JIS (Japan), TUV (Germany), UTAC (France and Italy) or BS (UK), has approved the bike, one can be assured it's definitely safe to ride. Selecting a bike made from good quality material could ensure that it will be strong and durable over a longer period of time.
Handling
It's important that the cyclist has full control over the bike. This means that the brakes need to work well, and steering should be controlled easily. With proper control over the bike, the cyclist can turn quick corners, stop suddenly, or react quickly to avoid bumps or accidents.
Adjustment Range
One should check the adjustment range and see if it's got the right height. Most folding bikes have aseat and handle bars that can be adjusted to various heights, though some bikes may not have a size that fits tall cyclists. Finding one with the correct adjustment range will be very helpful in making the cycling experience easy and comfortable.
Carry Bags
Some folding bikes come with a carry bag, so that quick and easy storage can be done immediately after cycling. A sturdy carry bag will be able to hold the weight of the bike without tearing, and will be able to protect it from water, dust and potential scratches while in storage.
Shopping for folding bikes online
Purchasing folding bikes is easy on eBay. To search for folding bikes, type into the search box ' folding bikes'. The search can be refined based on a few categories such as condition, price, brand, and location of item, size and colour. If there are questions, feel free to Ask the Seller a question and they can be helpful by providing additional information on the product.
When searching through listings, carefully review all the data. Make sure the item matches what you had in mind. Look over the photographs a couple times. Feel free to Ask the Seller a question if you want additional details. Visit the Buying Tips page for more information.
Once you're ready to buy, either place a Bid,Buy it Now, or put down yourBest Offer. Buying with PayPal will ensure the transaction will go smoothly. eBay users are protected by the Buyer Protection Program.
Conclusion
Folding bikes are a practical and easy form of transportation that can be very portable, easily stored, and good for the environment and also a good tool for exercise. It is a good alternative to the traditional bike because of its portability features. There are many strong, reliable and internationally tested and approved bikes to choose from on eBay. Be sure to consider factors such as the ease of folding, ease of riding, size, weight, handling and durability and price of the product before making a purchase. Finding the right one can make the cycling and travelling experience more enjoyable.