About this Guide
I wrote this guide to help those who are looking for gifts for people who like Sharks! This is not a comprehensive guide but will hopefully give you some quick ideas whether you are looking for a stocking filler for a Shark lover, or whether you have a Great White budget!
I run the only dedicated
Shark Gift Shop
but the items you find in this guide are not just sold by me but are ideas from all over - I hope you find it helpful.
Stocking Filler Sharks - £0 to £15 (dogfish size)
If you are looking for a Sharky gift as a fun stocking filler item you could do worse than a pair of
Shark Bite Socks
, or a
heat changing Shark Mug
which starts off as a nice beach scene but when you add hot water sharks appear alongside the swimmers!
Also for a laugh a wine lover might like the
Shark Wine Cosy
which keeps red wine nice and warm. If your friend has a sweet tooth (rather than a sharp and pointy set!) the might enjoy some
Blue Shark Jelly Sweets
- available from 100g to 3kg!
Mid Range Shark - £15+ (blue shark size)
Expensive Sharks - around £100 - (Great White size)
These gifts are the real fin (ha ha). Nothing that I sell costs more than £29.99! Here we have a very nice
Shark Bite Stapler by Jac Zagoory
, the famous
Chumbuddy Sleeping Bag
which makes you look like you are being regurgitated by a Shark (I choose not to believe it is biting), an imposing/ironic
Shark Head
to hang on your wall (
Shark Gift Shop
will be introducing a range of large paper maiche Sharks next year by the way!), and a handmade Shark Attack Hoodie dress which I can't link to because it's not on ebay but if you google that you will find it!
Money-no-object Sharks (Whale Sharks)
These are the real WOW items!
Some can be bought straight away but others are created on commission. You will have to google these as I can't put non-ebay links in this guide. The stunning Shark Surfboard and Shark Attack Wetsuit are by Diddo, the fantastic Shark Ukelele is by celentanowoodworks , the amazing Shark Table is by a sculptor called Bruce Gray and the scary Shark Shoes are by Kobi Levi.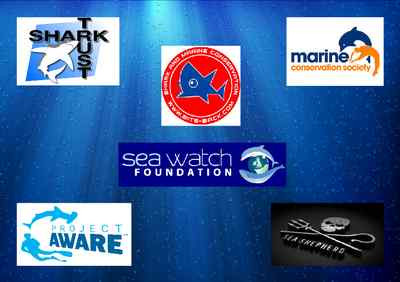 Add a caption
The Shark and Marine Conservation Charities I support.
Loving Sharks, Helping Sharks
Shark Gift Shop gives a 10% donation on all sales divided by the Shark Charities pictured on the left. Some of these Charities have their own shops too which may give you further ideas for Shark Gifts.
THANKS.
Add a caption
Swimming in the Dock of the Bay - The Shark Gift Shop Christmas Ad