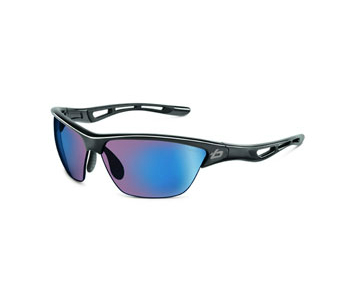 A quality pair of sports sunglasses can be a meaningful investment for a runner. For someone spending extended periods outdoors, sunglasses provide vital protection from the damaging effects of the sun's rays. Ultraviolet (UV) light has been linked to permanent ocular damage. Sunglasses also have the ability to enhance a runner's performance and enjoyment by shielding and blocking out distracting light and glare.
Anyone considering purchasing a pair of sunglasses should first be aware of how to identify models that meet their eyewear needs. Different options such as lens and frame materials and lens tint affect the sunglasses' performance, fit, and durability. In addition, comfort is an important factor in selecting running sunglasses: runners should look for a pair that will be comfortable to wear continuously.
Technology changes quickly in the world of sports sunglasses, so it is a good idea to research the latest products before shopping. Good sources of information include runners' magazines, sports shops, online customer reviews of models, opticians' and athletes' recommendations, and retailers' descriptions of their latest offerings. With the right amount of research and preparation, the consumer can confidently select and buy a quality pair of sunglasses online.
Sun Protection in Running Sunglasses
Because runners spend extended periods outdoors, they need to protect their eyes from the sun's damaging effects. Ultraviolet rays, as well as HEV radiation, can cause irreversible damage to vision. Therefore, it is very important buyers choose sunglasses that are certified to provide 100-per cent UV protection.
UV Protection
Only sunglasses offering 100- per cent UV protection can help protect from the damaging effects of ultraviolet (UV) rays, which are linked to cataract development, macular degeneration, pingueculae and pterygia, and photokeratitis that may result in temporary vision loss. Reflective surfaces like snow, sand, water, and even concrete increase the amount of UV exposure. In the case of snow, it is nearly doubled.
Because UV protection is determined by the lens material and coatings or additives applied to the lens, tint is not necessarily indicative of protective capacity. In other words, a dark pair of sunglasses may offer little UV protection, whereas a pair of nearly transparent, yellow-tinted sunglasses may provide 100-per cent protection. And, as discussed below, the larger the lenses, the more protection they give.
Sunglasses that are CE-certified and meet Pr-EN-1836:1997 comply with UV-protection standards established by the European Union. As of 1997, all sunglasses retailed in the EU must meet these standards. When purchasing online from a seller outside the EU, buyers should take care to verify that the sunglasses offer 100-per cent UV protection.
HEV Radiation and Blue-Blockers
In addition to UV rays, high-energy visible (HEV) radiation from the sun (otherwise known as "blue light") is also of concern. Some research suggests that long-term exposure to HEV is linked to macular degeneration and other eye problems. There are several models of blue-blocker" sunglasses available on the market, including one with a synthetic version of melanin, a light-absorbing pigment naturally present in the skin and retina.
Lens Options for Running Sunglasses
Choosing a pair of sunglasses with the right lenses is a high priority for runners, who may have specific needs depending on the weather and lighting conditions in which they usually run. Buyers should pay attention to specifications such as lens material, colour, and other options.
Lens Material
Lens materials vary in terms of optical clarity, weight, and durability. The following chart outlines the most salient features of common lens materials.
| Lens Material | Advantages | Disadvantages |
| --- | --- | --- |
| Glass | Maximum clarity and scratch-resistance | Expensive; heavier than other materials; upon impact, glass spiders, although it does not shatter or chip |
| NXT Polyurethane | Flexible and lightweight; extremely resistant to impact; excellent clarity | Expensive |
| Polycarbonate | Excellent impact resistance; lightweight; clarity is very good; affordably priced | Slightly more prone to scratching; lower clarity than glass or NXT polyurethane |
| Acrylic | Affordable; good for casual use | Lower clarity and less durable than other materials; some image distortion |
Choosing a lens material depends on the runner's price range and which needs are a priority in terms of weight, durability, and clarity.
Lens Tints and Colours
Those shopping for sports sunglasses are faced with a wide selection of lens tints and colours, which can be overwhelming at first. Different tints and hues control the amount of available light transmitted to the eye, and which particularly wavelengths (colours) are selectively blocked.
Lens Tint Categories
Lens tints are categorised according to how much light they allow to pass through, on a scale of zero to four. Four is the highest level of blockage, and is not recommended for driving or for use when running on a road. A rating of zero means the glasses block minimal light; a rating of one is good for weak levels of sunlight; a rating of two is appropriate for average sunlight; and a rating of three is suitable for strong sunlight, particularly when reflective surfaces are present.
Lens Colours
For those looking for darker tints to block out strong sunlight and reflected light, blues, greys, greens, and browns work well. These hues cut down on glare without filtering specific colours.
For running in lower-light conditions, lighter colours such as amber, yellow, and gold are good choices. They help runners detect bumps and edges on the terrain by blocking out blue light.
Many manufacturers make models with interchangeable lenses, allowing the runner to switch the lenses according to changing light or weather conditions.
Mirrored Lenses
Some lenses have a special mirror coating which reduces glare by reflecting it off the lens. They make objects appear darker, so they are often paired with a lighter-tinted lens for balance.
Polarised Lenses
Polarised lenses are made from Polaroid plastic sheeting, which blocks glare in sulight and from reflective surfaces.This makes them particularly recommended for runners, especially when reflective surfaces are present. One precautionary note to drivers is that polarised lenses can occasionally interact with windshield coatings, causing blind spots and reducing the readability of LCD signs. If this is a concern, mirrored lenses may be a better choice.
Lens Size and Style
Runners should keep in mind that larger lenses provide better coverage. Wraparound lenses block peripheral light, and many sports models feature this construction. Single-lens wraparound models provide the most coverage, as the lens extends over the bridge of the nose, blocking light from entering there. In addition, wraparounds prevent more dirt and debris from blowing into the eye.
Frame Options for Running Sunglasses
Frames for running sunglasses come in different materials, each with specific advantages and disadvantages. Hinge construction is another factor when it comes to comfort and durability.
Frame Materials
Sunglass frames come in three general materials: metal, nylon, or plastic. They differ in durability, flexibility, and weight, as outlined in the following chart.
| Frame Material | Advantages | Disadvantages |
| --- | --- | --- |
| Metal | Adjusts easily to face; minimal obstruction of vision | Can be less durable than other materials; if left in a hot car, may become too hot to wear; may be more expensive |
| Nylon (brand names: Grilamid, O Matter) | Lightweight, highly durable; some sports models are impact-resistant | Does not adjust to face unless there is an internal wire core |
| Acetate and zyl (plastic) | Range of colours possible | Not very adjustable; not advisable for sports |
Buyers should also keep in mind that frames partially obstruct vision. If a full range of vision is a priority, models with frameless lenses are a good option.
Hinges
The hinge construction usually depends on the frame material. The hinge on nylon frames is generally comprised of a pin that is part of the frame itself, which makes it quite durable. Metal, acetate, and zyl frames employ barrel-hinge or spring-hinge mechanisms. Both have the advantage of flexibility, but sacrifice some structural stability. Nickel-silver hinges on high-end frames tend to be longer-lasting.
Running Sunglasses: Fit and Comfort
It is vital that runners find a pair of sunglasses that fit securely and are comfortable to wear over long periods. Sunglasses should remain in place while the runner is in motion, without bouncing or sliding down the face.
Fit Considerations
Sunglasses should fit securely on the nose bridge and ears, without pinching or rubbing. They should not feel tight around the head. In order to prevent pressure and friction in certain areas, make sure the weight of the sunglasses is distributed evenly between the ears and nose.
Some manufacturers make different sizes of the same model, and certain models may particularly suitable for smaller or larger faces. If shopping online and unable to try the product on, it is useful to read reviews to see whether there are any sizing suggestions, as these can vary from model to model. In addition, some models feature adjustable nose bridges and frames that flex at the temples to fit different sizes.
Comfort Factors
A good fit is the most important factor in comfortable running sunglasses. There are still other factors that can add even more comfort. The first is weight: lightweight sunglasses tend to be more comfortable. Next, comfortable nose and ear grips keep these potentially sore points padded, and prevent slippage during perspiration. Finally, some models feature ventilation designs that prevent the lenses from fogging up.
How to Buy Running Sunglasses on eBay
If you've decided to look for running sunglasses online, eBay's auction website has a broad selection from which to choose. To begin, go to eBay's home page and type keywords, such as "men's polycarbonate running sunglasses", into the search bar. You can narrow the results by price, colour, and other limiting factors. For more information on how to search more efficiently, visit eBay's Search Tips page.
Before bidding on a pair of sunglasses, be sure to read the product description carefully. It should contain information on the manufacturer, frame and lens materials, size, and whether they are UV-certified. You should also check what the seller's return policy is; if you have any questions, it is easy to contact the seller.
It is also a good idea to get to know a bit about the seller. You can do so by reading feedback from previous customers, particularly those who have bought sunglasses from them. A high per centage of positive feedback is a good indication that the seller is reliable and knowledgeable. Top-rated sellers have earned their status with a consistent record of the highest customer service.
Conclusion
A quality, comfortable pair of sunglasses is an important accessory for runners. As people who spend extended periods of time outdoors, they need protection against the sun's harmful rays. In addition, sunglasses can enhance vision by blocking glare and filtering certain light wavelengths. For these reasons, running sunglasses can actually enhance performance.
No matter what sunglasses a runner selects, they should be CE-certified to provide 100-per cent protection from the sun's ultraviolet rays. UV rays have been linked to several serious eye problems, so protection should be a priority when shopping for sunglasses. Understanding different lens and frame materials helps runners select a model that meets their needs and is within their price range. Lens materials differ in terms of weight, clarity, and impact- and scratch-resistance, while frame materials vary in flexibility, weight, and durability. Choosing a lens tint and colour is another step in the buying process; this depends on the light and weather conditions when running. Finally, it is important to be able to recognise when sunglasses fit well. Additional features such as non-slip grips and ventilation may also be attractive design options.
eBay has a broad selection of men's running sunglasses. With the right information, buyers can find a quality pair that is right for them.