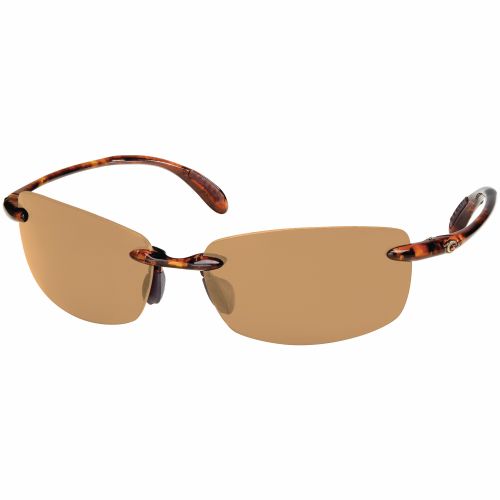 The history of sunglasses dates back to prehistoric times, when Inuits wore wooden goggles with narrow slits to protect their eyes from the glare of bright sunlight reflecting off snow. In twelfth-century China, panes of smoky quartz were used to reduce the sun's glare, but it was not until the early 1900s that sunglasses as we now know them became popular. Early film stars wore them to conceal their identity and possibly to hide eyes reddened from the bright lights used during shoots. By the 1940s, sunglasses were a common fashion accessory, particularly for beachgoers. They remain an essential part of both men's and women's wardrobes, especially since quality sunglasses can protect from the damaging effects of the sun's ultraviolet rays.
Face shape is an important consideration when selecting a pair of sunglasses. Men with square faces should look for certain kinds of frames that either soften the face's angles or draw attention to its strong features. In addition, they should look for quality frames and lenses that provide 100-percent UV protection. Informing themselves about different options helps men find a pair of sunglasses that will flatter their face and protect their vision.
What is a Square Face Shape?
Square-shaped faces are nearly as wide as they are long, with with a prominent forehead and jawline, as well as an angular chin.
Before shopping for sunglasses, consumers should determine what their face shape is, so that they can find a style of sunglasses to suit them. In order to do so accurately, follow these steps:
Stand about one meter from a large mirror so that the head, neck, and chest are visible. In order to avoid distracting lines, is best to be shirtless.
Use daylight, since artificial light can highlight certain facial features and throw shadows.
Comb hair back from the face completely; if necessary, secure with a headband or pins.
Keeping the face relaxed, use a tape measure to measure the widest part of the forehead, cheekbones, and jaw, as well as the length through the centre.
Compare the measurements. A square face's length is nearly equal to its widest point. The cheekbones tend to be broad, with a strong jaw and angular chin. The forehead is deep and broad.
The angles on a square face are striking, and styling for square faces can go in one of two directions. The first is to create contrast by working with softer, rounder lines and delicate detail. The second is to emphasize the strong facial structure with bold lines and angles.
Sunglass Styles for Square-Shaped Faces
Stylists agree that sunglasses with soft, round shapes are flattering on square faces. The most common recommendation for square faces are round shapes with circle or oval frames. Minimal frames can also work well. To play up their strong features, men with square faces can opt for sharper angles and bold lines; for example, horn-rimmed sunglasses with the frame along the top only, or even a pair of rectangular frames. Aviators are another option that tends to suit square faces.
Men should look for temples (the part that extends and fits over the ear) that are high or central in comparison to the lens frames.
Styles to Avoid
Men who want to deflect the angles of their face should avoid geometric and square frames. In addition, low-set temples are unsuitable on square faces.
What to Look for in Sunglass Frames
Sunglass frames not only create the shape; they also affect the durability and comfort of the sunglasses themselves.
Frame Material
Sunglasses come in three common materials: metal, nylon, and plastic. The following chart outlines the most common materials for sunglass frames, with the advantages and disadvantages of each.
| Frame Material | Advantages | Disadvantages |
| --- | --- | --- |
| Metal | Adjusts easily to face; minimal obstruction of vision | Can be less durable than other materials; if left in a closed car, may become too hot to wear; may be more expensive |
| Nylon (brand names: Grilamid, O Matter) | Lightweight, highly durable; some sports models are impact-resistant | Does not adjust to face unless there is an internal wire core |
| Acetate and zyl (plastic) | Range of colours possible | Not very adjustable; not advisable for sports |
Men should consider when they intend to wear their sunglasses, as well as how they want their sunglasses to look. Metal frames may be more comfortable since they are adjustable, whereas nylon's durability may be preferable for active use. If colour and fashion is a priority, buyers can choose acetate or zyl, which offer more variety.
Hinges
The hinge construction usually depends on the frame material. The hinge on nylon frames is generally comprised of a pin that is part of the frame itself, which makes it quite durable. Metal, acetate, and zyl frames employ barrel-hinge or spring-hinge mechanisms. Both have the advantage of flexibility, but sacrifice some structural stability. Nickel-silver hinges on high-end frames tend to be longer-lasting.
UV Protection and Glare Reduction
Sunglasses should not only be fashionable; they also need to protect the eyes from the damaging effects of the sun. In addition, some lenses can reduce glare, which can be very helpful in certain situations.
Selecting UV Protection
Only sunglasses offering 100-percent UV protection can help protect from the damaging effects of ultraviolet (UV) rays, which are linked to cataract development and other eye problems that may result in temporary vision loss. Reflective surfaces like snow, sand, water, and even concrete increase the amount of UV exposure. In the case of snow, it is nearly doubled.
Because UV protection is determined by the lens material and coatings or additives applied to the lens, tint is not necessarily indicative of protective capacity. In other words, a dark pair of sunglasses may offer little UV protection, whereas a pair of nearly transparent, yellow-tinted sunglasses may provide 100-percent protection. Larger lenses and wraparounds offer more coverage and, therefore, more protection.
In addition to UV rays, high-energy visible (HEV) radiation from the sun (otherwise known as "blue light") is also of concern. Some research suggests that long-term exposure to HEV is linked to macular degeneration and other eye problems. There are several models of blue-blocker sunglasses available on the market, including one with a synthetic version of melanin, a light-absorbing pigment naturally present in the skin and retina.
How to Recognise Certified UV Protection
Sunglasses that are CE-certified and meet Pr-EN-1836:1997 comply with UV-protection standards established by the European Union. As of 1997, all sunglasses retailed in the EU must meet these standards. When purchasing online from outside the EU, buyers should take care to verify that the sunglasses offer 100-percent UV protection. Sunglasses purchased from US manufacturers should be labeled "UV 400" or "100% UV Protection".
Polarised Lenses
Polarised lenses are made from Polaroid plastic sheeting, which blocks glare from sunlight and from reflective surfaces. They can be particularly useful when driving or playing outdoor sports. The one precautionary note for drivers is that these glasses can occasionally interact with windshield coatings, causing blind spots and reducing the readability of LCD signs. In such cases, mirrored sunglasses might be a better choice.
How to Buy Sunglasses for Square-Shaped Faces on eBay
If you've decided to buy your sunglasses online, you will find an extensive selection on eBay's auction website. To begin looking, go to eBay's home page and type keywords, such as "men's horn-rimmed sunglasses", into the search bar. Next, you can filter the results using certain limiting factors such as color, manufacturer, or price. For more information on searching efficiently, visit eBay's Search Tips page. If you cannot find what you're looking for, try browsing through eBay Shops.
Before You Bid
Always read the product description carefully before bidding on a pair of sunglasses. It should have important information about the item, including lens and frame materials, size, and whether they have certified UV-protection. You should also check the seller's return policy. If you have any questions, eBay makes it easy to contact the seller.
Get to Know the Seller
It is also helpful to get to know a bit about the seller. You can check their positive feedback rating, and read comments left by previous customers, particularly those who have purchased sunglasses from the seller. Top-rated sellers consistently provide the highest level of customer service.
Conclusion
Sunglasses are an important accessory in a man's wardrobe. As such, it is important to have a pair that fit well, look great, and protect vision from the effects of the sun. When selecting sunglasses, consumers should first determine the shape of their face by analysing its widths at the forehead, cheekbones, and chin, as well as its length. Square-shaped faces are nearly as wide as they are long, with a broad, deep forehead, wide cheekbones, and a strong, angular jawline. Styling for square-shaped faces usually works to soften its angles, but occasionally men choose to emphasize their strong features.
Frame and lens materials are another important consideration. There are a few common frame materials, each with specific advantages and disadvantages. Intended use may help buyers decide on which material is right for them. Finally, the most important thing to look for in sunglasses is 100-percent protection from the sun's UV rays, which can cause permanent damage to the eye. Buyers should look for certified lenses to ensure the safety of their vision.
eBay has an extensive selection of men's sunglasses. With the right knowledge, men with square-shaped faces can find a pair of stylish, quality sunglasses perfectly suited to them.