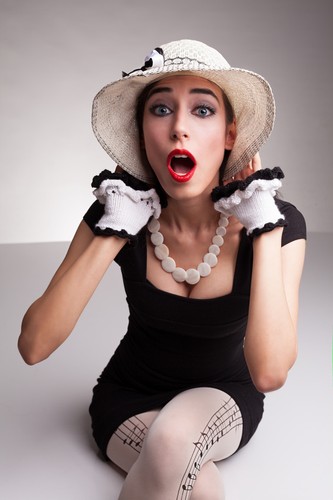 A mini dress is a bold fashion statement, with its short skirt designed to hover high above the knees. Whether worn with costume jewellery and strappy high heels, or with a delicate cardigan and ballet flats, it is sure to attract attention. Mini dresses are available in a number of styles, which means that the right dress can be found for casual day wear, a night out with friends or a semi-formal occasion. Some mini dress styles are adaptable and can be transformed from a daytime look to a more sophisticated evening look with a few accessories. This guide will explore the best ways to accessorise a mini dress, based on the occasion and the season. While accessories can be bought at department stores, clothing shops, and accessory shops, an online auction site, such as eBay, provides an excellent way to find new or vintage pieces, and offers up a wider variety than is traditionally available in bricks and mortar shops.
Trends in the Mini Dress
Mini dresses first gained popularity in the mid 1960s, when they succeeded the circle skirts and A-line dresses of the late 1950s. This marked change in fashion was partly as a result of an evolving generation of teenagers, who broke with the tradition of dressing like their parents in favour of a daring and individual style. Dresses of the previous decade fell anywhere from below the knee to the floor, but the hemlines of mini dresses rose several inches above the knee, sometimes as high as the mid-thigh.
Mini dresses were an iconic feature of 1960s London where they were widely associated with the designer Mary Quant. In recent times, British designer John Bates has received much of the credit for popularising the mini dress with his versions worn by the model, Twiggy. The mini dress fell out of favour at the beginning of the 1970s when it was replaced by the much longer maxi dress. However, it did experience a revival at the end of the decade thanks largely to the punk rock movement.
The mini dress now comes in a wide array of styles, from structured, strapless designs made of satin to loose, chiffon A-line dresses. Some mini dresses are made of warmer fabrics, like wool, making them not just flirty summer garments, but also part of the autumn and winter wardrobe. Mini dresses either have no sleeves, or anything from a capped sleeve to a long sleeve. Some are enlivened with sequins and plenty of glitter, while others are neutral colours with subtle prints.
General Tips for Accessorising a Mini Dress
Mini dresses tend to attract attention, so women need to feel confident and secure that they have selected the right outfit. Firstly, they should make sure that the mini dress fits well, because a dress that is too short may ride up, revealing more than was intended. The wearer may also find it difficult to sit down if the dress is ill-fitting.
Keep the Ensemble Simple
A mini dress shows a lot of the legs, so drawing attention to the top half of the dress helps to balance the outfit. Too many accessories can create a gaudy effect. Instead, choose a few key pieces that complement the dress.
Consider the Event
The mini dress may not be best suited for black-tie events or places where a modest dress code is in effect, such as a traditional office environment where business attire is worn. For a casual day out, a date, or a hen night, however, the mini dress is the perfect choice.
Mini Dress Looks
Mini dresses come in a wide variety of styles, so when choosing accessories consider the style of the dress and where it will be worn. A mini dress can enhance a woman's strengths and hide the unflattering aspects of her figure. For instance, a mini dress with sleeves can hide unsightly arms, a dress with an empire waist can conceal a tummy with a slight bulge and a sweetheart neckline creates the appearance of curves on a women with a small bust.
Casual and Daytime
Shirt-style mini dresses can be worn during the day with opaque tights and ankle boots.This makes the legs appear longer, especially if the tights and boots are the same colour. A long sleeve mini dress, can be styled with long boots and no tights. Alternatively, the mini dress can be worn over a pair of skinny jeans or leggings for a casual look during the day.
A delicate, feminine mini dress can be paired with a piece of men's clothing, such as a waistcoat. The contrast between the two will give an edge to the outfit. A single, minimal accessory, such as a plain belt, creates a simple, but beautiful look. A tote chosen in a colour that compliments the outfit will complete the look.
Semi-Formal and Evening
For a night out, women can pair a strapless, heavily embellished dress with a bejewelled clutch and glamorous strappy heels. In this case, the jewellery should be kept to a minimum with just a pair of gold studs, so as not to have too many clashing designs. However, for those determined to go for a bolder look, add a chunky cuff-style bracelet. A hat, such as a fedora, creates a sense of balance while making a dramatic statement.
For a look that will make a women feel confident on a dinner date, a mini dress can be paired with striking dangly earrings, a silk shawl, and simple heels.
A layered dress or one with ruffles can be accessorised with kitten heels and no jewellery. Wearing the hair up in a sophisticated knot or bun can bring the focus to the dress. For a strapless or form-fitting dress, again, keep the accessories to a minimum with statement earrings and enhance the look with the hair in waves or curls.
A lace mini dress provides an excellent opportunity to wear a stunning pair of high heels. To keep the focus on the dress and to maintain a classic look, keep the jewellery to a minimum by wearing a pair of pearl earrings.
Spring and Summer
Bare legs are sign that warmer weather has arrived, so pairing a mini dress with ballet flats, wedges or sandals is an excellent way to welcome the summer. Pastels or bright colours are suitable style choices when the sun is shining, as are light fabrics such as cotton and chiffon. A satchel and a pair of sunglasses complete look for day spent outdoors. A short jacket can be kept to hand for the cooler evening.
Autumn and Winter
Long sleeved mini dresses can be worn in the colder months for a comfortable, but stylish statement. Dresses made from heavier fabrics, such as wool, can be worn with leggings or tights and boots, along with a scarf.. A black wool mini dress can be enlivened by vibrant, coloured accessories such as a handbag or heels, but the colder months are also seasons for rich colours such as cranberry, chocolate brown, or hunter green.
Buying Mini Dress Accessories on eBay
When you are ready to accessorise your mini dress, visit eBay's home page.. If you know which items you want you can enter the keywords into the search box.on any page, for example, "red stiletto heels", "pearl necklace", or crocodile skin clutch. The results can be filtered to display items that offer express delivery or free postage and packaging. You can also narrow down the items further by displaying only Top-rated sellers, who have earned consistently high ratings and positive feedback from other buyers..
Using My eBay
When starting to shop on eBay, you can register for My eBay. From here, you can keep track of past purchases, watch items that you are interested in buying, and send and receive messages. When you find sellers that you like and have positive transactions with, then you can add them to your "My Saved Sellers" list, to search their listings via the Advanced Search function. My eBay is also an effective tool for updating account information and providing feedback.
Conclusion
Mini dresses are a fashionable choice for many occasions, from casual get togethers to semi-formal events. Accessorising a mini dress begins with the dress itself. It should fit well and be comfortable when the wearer is standing, moving around and sitting. Next, the wearer should take into account the season and the location. Despite their short length, mini dresses can be worn during colder months if they are made of a warmer fabric, such as wool, and paired with opaque tights or leggings. In the summer, a light mini dress can be worn with sandals or ballet flats for a casual and comfortable look. For a night out, add a sequin clutch, strappy heels, and a shawl. When accessorising a mini dress, avoid adding too many items as this can make the outfit seem overdone. Instead, choose a few tasteful pieces that complement the dress. Whichever way a woman chooses to accessorise her mini dress, eBay is an excellent place to start shopping.