My run down of the top ten free iPhone apps!
10. Sky Sports News Score Centre
If you are a football fanatic then this is the app for you.
This nifty little piece of kit tracks all the football scores for you and presents them in a classic 'vidi-printer' style. Come kick off time, you have every game covered with features such as live commentary, fixtures, team ratings, statistics, goal alerts, live league standings and much more. A must have for any football nut. Also, has a news section which is brilliant during transfer times as you get to know about the latest signings by all the major clubs before anyone else.

9.Yahoo! Mobile app
This app took me somewhat by surprise. On the face of it one can be forgiven for thinking everything you can do on the Yahoo! app could simply be done in the Safari iPhone browser, however the app makes it so much more fluid and enjoyable.
Access your emails, customise your yahoo homepage, and add links from all over the web directly from your iPhone. Has customised news pages and most recently Facebook integration meaning you're connected to everyone and everything at any time.

8. iMobsters
Seriously, this app will ruin your social life so be warned!
This is a game more than an app. It requires an internet connection to work, although works fine over 3g, so don't worry if you don't have a wifi connection. Basically you create a character and become a mobster (hence the name). You then have to fight your way to the top by completing missions for money, building businesses and property, investing in others, making friends from across the world with other users and trying to grow your mob. The longer you play it and the more you progress, the bigger the rewards and risks. Be warned however, there are some pretty serious gamers on this app, and many see it less as a game, and more as a way of life.

7.My O2 / My Orange
Both o2 and orange have released apps to their customers depending which network you chose to go with when you bought your iPhone. Both apps are virtually the same so I am not going to go into details over which I prefer or think is better.
These apps were designed and released so you could keep an eye on your tariff and profile whilst using your new iPhone.
For example, they will tell you your bill date, when it will come out of your account, how much it was, how many minutes you have left and how many you have used, how many texts you have left and how many you have used, as well as more such as any recent charges to your account and when you are eligible for an upgrade. It doesn't sound much, but its a very nifty gadget for those watching the bank balance.

6. Sky News
This app is perhaps the app I use the most on a day to day basis.
Basically, it is what it says it is, Sky News on your mobile.
With constant updates of what is going on in the world and categories of news such as UK, Worldwide, Politics, Sport, Showbiz and a very entertaining 'Strange' section this app is a very nifty bit of kit indeed.
Another great feature of this app is the ability to stream live Sky News tv coverage to your handset in real time without any delay. This also works over a 3g network and does not need wifi! Very good when bored in the office!

5. eBay
Ok, I had to put eBay on here! Not least as this is the site I am reviewing it on!
In all seriousness I was very sceptical of the app before I downloaded it. I believed eBay would have too many features to be able to produce a quality, flowing iPhone app which has an actual use, but hey, I was wrong.
Everything you can do on the full eBay site is here on the iPhone! It is brilliant if you go away somewhere for a few days and have been watching an item , or even if you're stuck in traffic and still frantically bidding on that new DVD!

4. Flixster
This app is for all you film buffs out there.
It has up to date information such as release dates, cast lists and locations of nearly any movie which will be released.
Fancy going to rent a film? Flixster will review the DVD for you by people who have watched it.
On holiday and fancy a trip to the cinema? Flixster takes your location and finds the nearest cinemas to you and presents you with showing times!
There is also a profile section where you can build up a collection of your favourite movies and actors, Flixster will then suggest other movies you my not have seen. The movie quizzes section, with built in Facebook integration are also brilliant for passing 10 minutes!

3. Facebook
For all you facebookers out there, fear not! 24/7 facebooking has arrived!
This app is simply brilliant and would have got to the top spot had the other 2 been flawless!
This does exactly what it says on the tin. The biggest social networking site on the globe in the palm of your hand with all the full site features such as chat, profile and photos.
Keep your friends updated whilst on the move with this brilliant mobile app, and make new ones by searching for those peeps you hadn't seen in months, or maybe who you just met!

2. Freeview TV! for free on your iPhone!
There are some people who are actually selling the link to this site on eBay for 99p a go.
I think this is a tad silly as a quick google search for the right criteria will take you there. Simply go into your safari browser on iPhone, and google the term 'TV CATCHUP'. This will take you to a site where you have to join (don't worry, its free) and after that you can stream live tv from all freeview channels direct to your iphone, even over a 3g connection! Its brilliant to watch scrubs in the office at work on your phone!
Also, you can add the site to your homescreen and so there is a nifty little button link, so although this technically isn't an app, it gets number 2 on my list!

1. iPhonemoviez.net
Wouldn't it be great if you could stream all the latest films, as well as all your favourite tv shows such as family guy, the simpsons, and friends direct to your iPhone.
You guessed it.
This site is the best site / app for the iPhone.
Go to your safari browser on iPhone an enter iphonemoviez.net. There are hundreds of movies to stream, as well as full seasons of all the major tv shows. Prison Break, lost, 24, the list goes on and on.
Be warned however, the site will only work from an iPhone so don't go trying it at home on your pc!
Perhaps it is a little strange that a web site got top spot on the list, however once you try it, I'm sure you'll agree!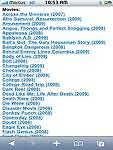 So, that concludes our list folks.
If you feel I have missed any apps you think are worthy of a place in the top ten then please do get in touch. I always welcome feedback and it would be nice to think someone actually read what I write! Until then happy apping!