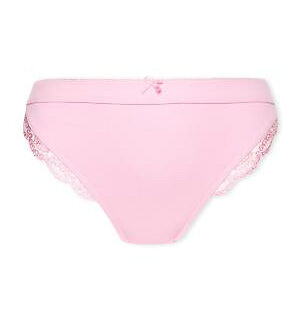 As the weather warms up, women begin to consider purchasing new bikinis for the upcoming summer season. For the plus-size woman, there are a few different styles of two piece swimsuits, and they include bikinis, tankinis, shortinis, and skirtinis. These styles are ideal for the fuller figure as they are great at disguising problem areas while at the same time complementing a woman's natural curves. The most flattering styles include halter neck bikinis, bandeau bikinis, and bra bikinis. When plus-size women understand how particular fabrics, colours, and styles can complement their body shape, they are able to purchase new bikinis with more confidence. Plus-size women can find bikinis for sale at various clothing stores, department stores, and specialty swimwear stores. They can also head online to find the right style of bikini to complement the figure. The online auction site eBay offers a wide range of options when it comes to bikinis for plus-size women.
The Options When it Comes to Bikinis For Plus-Size Women
There are a few options that are ideal for the plus-size woman when it comes to choosing a new bikini. When looking for a two-piece swimsuit for the summer season, full-figured women can choose from various styles of bikinis and tankinis as well as shortinis and skirtinis.
Bikinis
A bikini is a two-piece swimsuit that features a bra-like top covering the bust area and a matching piece, similar in shape to underwear, to cover the bottom. With the bikini, a woman's middle is left bare. For women who do not mind showing the tummy, a bikini can be a very flattering swimwear option. Bikinis range in how much coverage they offer. Some bikinis can be very minimal and cover very little, such as a string bikini, while others offer more coverage and support. Bikinis that offer greater support are ideal for the plus-size woman.
Tankinis
A tankini is a two-piece swimsuit that features a bikini bottom with a top that resembles a tank top. This type of bikini offers more coverage, as the wearer's middle is also covered. The tankini is a great option for those who prefer to keep their stomachs covered. Tankinis often feature built-in support for the bust, great for those with a D cup or more they want to cover up and keep in place. The tankini can also feature useful control panels or ruching to disguise a larger tummy. The tankini can be a flattering swimwear option for the fuller figured woman as it can help to lengthen the appearance of the body.
Shortinis and Skirtinis
Shortinis are a type of bikini bottom that resembles short shorts. They can be worn with any style of bikini top. They are great for covering up problem areas around the buttocks. Many women find a low cut leg to be more flattering and more comfortable to wear than a high cut leg. For women who are concerned about larger thighs, a skirtini may be more suitable. A skirtini is a ruffled bikini bottom that resembles a short skirt. The ruffles on a skirtini can be a good way to cover problem thigh areas.
Popular Styles of Bikinis for Plus-Size Women
When it comes to bikini styles, there is a wide selection to choose from, including the triangle style top, halter neck top, strapless, bandeau, and the bra top. For a more flattering bikini top style for the plus-size woman, try a halter neck, a bandeau, or a built-in bra bikini top.
Halter Neck Bikinis
The halter neck bikini is an ideal style of bikini for the plus-size woman. Thicker straps offer greater support for a larger bust, and the V-neck creates a more slimming illusion to a woman's body shape. A halter neck with thicker band that runs under the bust can add extra support when necessary. The halter neck is also a good option for the pear shaped woman who wants to create the illusion of a bigger bust. This helps to balance her body shape nicely.
Bandeau Bikinis
A bandeau bikini is a rectangular piece of material that covers the breast area. It is similar to a tube top. A bandeau bikini can be a great way to make a larger bust appear smaller. Bandeau bikinis can be strapless or feature straps. A woman who feels that a strapless bikini is not able to offer the necessary support can try a bandeau with straps.
Bra Bikinis
The woman with the hourglass figure may benefit from a padded bra cup bikini. As its name suggests, a bra bikini is styled very similar to a bra, with shoulder straps that go over the shoulders and clasp at the back. A bra bikini may also be built in to a tankini. Women considering this style of bikini should ensure it offers enough bust cup space, and thicker straps can add greater support.
Tips to Looking Great in a Bikini For Plus-Size Women
With the help of some useful tips, a plus-size woman can look and feel her best in her bikini. Finding the right bikini can be easy when one understands what fabrics, colours, and styles work better for the full-figured woman.
Fabrics
When it comes to swimwear fabrics, the plus-size woman should look for good quality Lycra that holds its shape well and offers the support needed. Many plus-size Lycra bikinis are designed with built-in control panels to create an attractive silhouette. A bikini that is well structured is able to provide all the support a plus-size woman needs, and in all the right places. Stretchy fabrics with the right padding can keep the bust uplifted and in place, control panels can ensure that tummies are smooth and thighs are well contoured.
Colours and Patterns
It is important that women understand the illusion different colours and patterns can create on a silhouette. Darker colours always have a slimming effect, and it is no different with swimwear. If a woman wants to brighten up her bikini with a bit of colour, she should go with darker shades on the bottom and lighter shades on the top part of her body.
When it comes to prints and patterns, the larger the print, the larger it makes one's body appear. The plus-size woman should choose block colours or, if she really wants a print patterned bikini, she should choose a small print.
Styles
When it comes to bikini bottoms, many plus-size women find string bikini bottoms very flattering, especially for those with larger bottoms and thighs. This minimal type of bikini bottom detracts the eye from the bottom and thigh area, creating the illusion of a slimmer figure.
The woman looking to cover up her tummy while still wearing a two-piece swimsuit can opt for a retro style with a high bikini bottom waistband. A halter neck or bandeau top with straps is a great option to pair with this style of retro bikini bottom. Another option to detract from a larger tummy is to try a ruffled bikini bottom.
Finding the Right Bikini For Plus-Size Women
A bikini needs to feel comfortable and secure to ensure the woman feels good wearing it. In order to find a comfortable bikini for the plus-size woman, it is important to ensure the right fit. A correctly fitted bikini complements her body, making her look and feel great in her new bikini. The following table provides bust, waist, and hip measurements for the various bikini sizes.
| | | | | |
| --- | --- | --- | --- | --- |
| Bikini Size | 12 | 14 | 16 | 18 |
| Bust | 91 cm | 96 cm | 101 cm | 108.5 cm |
| Waist | 73 cm | 78 cm | 83 cm | 90.5 cm |
| Hips | 98.5 cm | 103.5 cm | 108.5 cm | 116 cm |
A comfortably fitting bikini can go a long way in helping the plus-size woman look great throughout the summer. Buyers should remember that size measurements vary between different brands. If buying online at eBay, it is recommended that buyers determine the sizes and measurements and be aware of the seller's returns policy.
Finding Bikinis for Plus-Size Women on eBay
Buyers looking for bikinis for plus-size women can find a great resource in the online auction site, eBay. To begin the search for bikinis, buyers may simply type "women's bikinis" into the search bar on eBay's home page. After a basic search, buyers can choose to refine the search by using the available search categories and search by style, size, condition, price, brand, or colour. In order to search for a specific type of bikini, such as a size 16 halter neck bikini or a Marks and Spencer floral bikini, buyers may simply type the phrase into the search bar.
To make buying on eBay even more convenient, eBay offers an application for mobile devices. With this application, buyers can shop anywhere, anytime, with eBay at their fingertips. Buyers can stay updated on alerts and notifications to ensure they do not miss out on a great buy. The application is available for various devices including Apple iPhone, iPad, Android and Blackberry.
Conclusion
As the weather starts to warm up and the days get a little longer, it is time for a woman to begin thinking about swimwear for those days on the beach. For a plus-size woman, this can sometimes lead to that sinking feeling as she considers her bikini options. The good news is that, with a little forethought and research, a plus-size woman can look great in a bikini. Great options for bikini swimsuits are available for the plus-size woman, and they are designed to allow the wearer to look and feel her best. Bikinis, tankinis, shortinis, and skirtinis tend to be the more appropriate styles that suit the fuller body shape; those with halter necks or built-in bra support are ideal. When buyers understand what to look for when it comes to fabrics, colours, and styles, finding the right bikini that fits perfectly is relatively easy. With its vast range of listings for swimwear, eBay enables a woman to easily find any brand, style, and size of bikini at the right price from the comfort of her home.