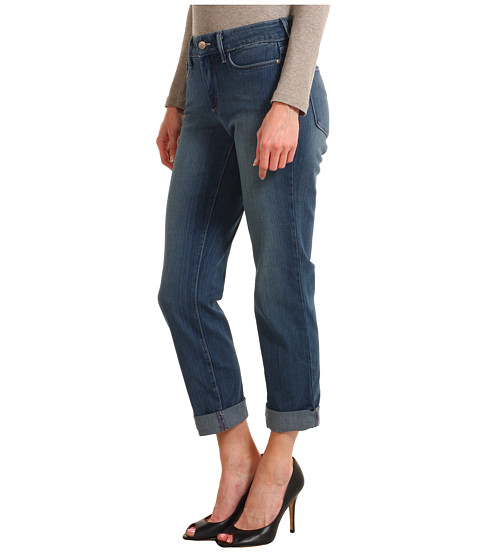 Boyfriend jeans are nearly the complete opposite of skinny jeans. Rather than being snug, they have a loose, relaxed fit from the waist to the hemline. They are purely for casual wear, but they can still be worn with high heels and other accessories. The jeans get their name from their intended purpose of looking like men's jeans that were borrowed and worn by the girlfriend. Although the trousers are supposed to look boyish, they are actually still designed to fit womens' hips and waist. The jeans are simply oversized to look as though they do not fit.
Boyfriend jeans have a certain sassy attitude to them that makes them popular and fun for women to wear. The going trend is to roll up the cuffs of the jeans to above the ankle, making their baggy nature even more noticeable. Some of the jeans even come with the cuffs sewn up for the ease of things. Not all of the jeans are baggy and boyish, though. Some of the trousers are referred to as boyfriend jeans simply because the trouser legs are a little wider than other jeans.
How and where to shop for boyfriend jeans depends on what women want. Some ladies actually prefer to purchase men's jeans over the ones specifically designed for them. There are a smaller number of women who are interested in the boyish look than those who want the other styles such as the skinny jeans. The larger shops are more likely to have a better selection of jeans; smaller shops will only focus on the most popular cuts. One way to eliminate the time invested in travelling and the frustration of trying to find a shop with the trousers is to simply go online. When shopping for boyfriend jeans, women should consider sizing as well as different styles available before making a final purchase.
Sizing Women's Boyfriend Jeans
The most important part of shopping for trousers is figuring out whether or not they fit. As mentioned earlier, how the boyfriend jeans fit will depend on what the woman wants. Those looking for the full boyish effect will have an easier time because the jeans are designed to fit loosely. The only issue they may run into is if they order a size too large and the jeans end up being too big to stay on. Women's trousers are designed to look boyish but still fit women, so their sizes will go along with the other trouser sizes for women. To figure out what sizes to look for, measure the waist, hips, and inside leg and then compare them with the following charts.
| | | | | | | | |
| --- | --- | --- | --- | --- | --- | --- | --- |
| UK SIZE | 6 | 8 | 10 | 12 | 14 | 16 | 18 |
| Hips (cm) | 60.5 | 63 | 68 | 73 | 78 | 83 | 90.5 |
| Hips (cm) | 23.75 | 27.75 | 26.75 | 28.75 | 30.75 | 32.75 | 35.75 |
| Waist (cm) | 86 | 88.5 | 93.5 | 98.5 | 103.5 | 108.5 | 116 |
| Waist (in) | 33.75 | 34.75 | 36.75 | 38.75 | 40.75 | 42.75 | 45.75 |
Those who are not going to roll up their cuffs will also need to pay attention to the length of the jeans. Manufacturers sell short, regular, and long trousers with the following size ranges. When measuring the inside leg length, remember that shoes like high heels will make the legs longer and therefore make the trousers too short. Women who specifically plan to wear their trousers with high heels can put the shoes on and then measure their inside leg.
| | | | |
| --- | --- | --- | --- |
| UK Size | Short | Regular | Long |
| Inside leg (cm) | 76 | 81 | 86 |
| Inside leg (in) | 30 | 32 | 34 |
Women who want actual men's jeans will have to go by the men's sizing systems. Use the chart below as a sizing reference for men's trousers.
| | | | | | | |
| --- | --- | --- | --- | --- | --- | --- |
| UK Size | XS | S | M | L | XL | 2XL |
| Inside leg (cm) | 70 | 74 | 79 | 81 | 84 | 85.5 |
| Inside leg (in) | 28 | 29 | 31 | 32 | 33 | 34 |
| Waist (cm) | 61 - 67 | 68 - 74 | 75 - 82 | 83 -89 | 90 - 97 | 98 - 104 |
| Waist (in) | 24 - 26 | 27 - 29 | 30 - 32 | 33 - 35 | 36 - 38 | 39 - 41 |
Since men's sizes run larger than women's, it is almost always easier to simply shop for boyish jeans that were specifically made for women. It is unlikely that there will be a men's size that will fit a woman very well. There is a fine line between the cute frumpy look and simply frumpy.
Women's Boyfriend Jean Washes
Not all jeans are the classic blue denim colour. Manufactures have a number of ways that they can fade alter colours to make them vary more and be unique. Not all jeans have to be the classic blue denim. Boyfriend jeans can come with any of the following washes.
| Jean Wash | Description |
| --- | --- |
| Acid | Acid washed jeans have been faded and bleached to the point where they have white splotches all over them. Some of them are also frayed |
| | More dye is used to make these jeans so dark that they are almost black. The benefit of darker jeans is that they have a slimming effect |
| Light | Minimal dye is used with the lighter blue jeans. These are more casual than the dark ones |
| Sandblasted | These jeans are blasted with sand to wear away parts of the trousers so that they appear faded in areas |
| | The jeans are literally washed with stones to wear away spots of denim to create holes or expose the denim fibres |
| | Tinted jeans are dipped into coloured dye such as red, yellow, or green |
| Vintage | Jeans in which a variety of methods were used to give them a retro look |
| Whiskered | Whiskers are small bleached lines that resemble crease lines in the trousers. Be careful with these because they can add the appearance of weight |
The different washes effect what they can be worn with. For example, acid washed jeans are less likely to look okay with high heels than the dark jeans. Regardless of the wash though, there are a few fashion tips to keep in mind when wearing boyfriend jeans.
How to Wear Boyfriend Jeans
For those who are rolling up the cuffs, try to keep the roll as small as possible. Bulgy cuffs that are too big look more sloppy than the trousers were intended to appear. Rolled-up cuffs also look best with high heels, ballet flats, or nice sandals. Avoid sneakers or any other overly casual shoes.
In order to balance out the frumpy boyish look, the feminine pieces of the outfit have to be carefully put together. For example, the top should be tighter to reveal curves and prevent the loose trousers from creating an illusion of weight. Jewellery, decorative scarves, cardigans, and hair accessories all look stylish and fashionable with the jeans. Belts will also draw the waistline back in to reveal the feminine figure.
Websites like eBay have all of the brands and styles in one location as well as the blouses, jewellery, and shoes to go with them. It is much easier to stay at home and get all the purchases taken care of at once than to go from shop to shop trying to find something satisfactory.
How to Purchase Women's Boyfriend Jeans on eBay
To start browsing through a huge selection of boyfriend jeans, go to the eBay homepage and type "boyfriend jeans" in the search bar. The eBay page will now load all of the women's boyfriend jeans for sale on the website. There will be thousands of listings so you will have to narrow them down to a more manageable number. First, select your trouser size. Then click on the brands you like, the colours you would consider, and enter in your price range. Now only the jeans within your search criteria will be shown, so you can look through them and find ones that you like much faster.
As you look at each pair, be sure to thoroughly read through the product description and look at all the pictures. Find out what the shipping costs are, what the seller's previous reviews are, and if the seller accepts returns in case you do not like them or they do not fit as well as you like.
Conclusion
Boyfriend jeans are being seen more and more on the streets as well as on the fashion runways. Not only are they a unique style, but they are also more comfortable to wear due to being loose. Another benefit that many people are not aware of is that the loose jeans actually have a slimming effect if they are worn correctly. They overly-loose look makes the woman wearing them look smaller. It may be a challenge finding ones that are just the right degree of bagginess, but this guide has helped make the process a little easier by showing women how to find their size, what jean washes they can choose between, how to wear the jeans in a flattering way, and how to purchase them without ever leaving their home.