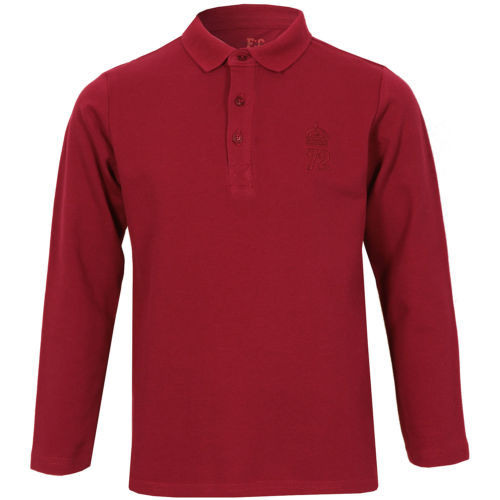 Polo shirts are known for their T-shape, short sleeves, and button-down collar. They are casual shirts that also have the ability to be somewhat dressed up. Polos are often seen in kids' sports as well as in some school uniforms. They can also be worn to dressier occasions like church, dinner with acquaintances, and business parties that parents have to attend. Polo shirts give children and adults a more affordable way to look professional and are often associated with the "preppy" look from the 1980s.
The most notable benefit of the polo shirts is their high level of comfort. Polos are fitted but not tight, they are lightweight, and they keep the sun off the lower neck and shoulders. Despite all their comfortable features, the shirts still have a dressy appearance unlike other casual attire.
Polo shirts are a clothing item that every parent should have in their boys' wardrobe. It is well known that children often do not like dressing up or looking nice, but polos give parents the ability to make their sons look presentable without any complaints. The following guide will help parents select polo shirts that fit their sons, choose between the different types of polos, save as much money as possible, and shop for them without taking time out of the busy day.
History of Polo Shirts
Polo shirts, also called tennis shirts, were created in the early 1900s by René Lacoste, a famous tennis player. Originally, tennis players would play the sport in long-sleeved, button-up shirts along with ties and trousers. These naturally restricted movement and often caused players to overheat. Lacoste decided to come up with a solution to the problem and invented a short-sleeved shirt with a button-up collar and a long tail that prevented the shirt from coming untucked during games. Since his nickname at the time was "the crocodile", Lacoste sewed a small alligator emblem over the chest on the left side.
When Lacoste retired in 1933, he teamed up with a friend in the clothing manufacturing business and began producing his new shirts. The tennis shirts took off and continued to become increasingly popular in sports and professional settings. It became a huge trend in the 1950s for children and college students in the United States to wear the shirts to school, which later led to them being worn as everyday attire.
Finding the Proper Polo Shirt Sizes
Polo shirts are one of those apparel items that have to fit just right. If they are too loose or tight, they lose all sense of style. The first step in the process is to determine the size of the boy. Measure their height, chest, and waist, then use the following chart to find their size.
| | | | | | | | | |
| --- | --- | --- | --- | --- | --- | --- | --- | --- |
| Size | Chest (cm) | Chest (in) | Height (cm) | Height (in) | Regular Waist (cm) | Regular Waist (in) | Slim Waist (cm) | Plus Waist (cm) |
| 3 | 55 | 21.6 | 98 | 38.5 | 53 | 20.8 | 47 | 58 |
| 4 | 57 | 22.4 | 104 | 40.9 | 54 | 21.2 | 49 | 59 |
| 5 | 59 | 23.2 | 110 | 43.3 | 55 | 21.6 | 50 | 60 |
| 6 | 61 | 24 | 116 | 45.6 | 57 | 22.4 | 52 | 62 |
| 7 | 63 | 24.8 | 122 | 48 | 58 | 23.2 | 53 | 63 |
| 8 | 67 | 26.3 | 128 | 50.3 | 60 | 24 | 55 | 65 |
| 9 | 70 | 27.5 | 134 | 52.7 | 62 | 24.4 | 57 | 67 |
| 10 | 73 | 28.7 | 140 | 55.1 | 64 | 25.1 | 59 | 69 |
| 11 | 76 | 29.9 | 146 | 57.4 | 66 | 25.9 | 61 | 71 |
| 12 | 79 | 31.1 | 152 | 59.8 | 68 | 26.7 | 63 | 73 |
| 13 | 82 | 32.2 | 158 | 62.2 | 70 | 27.5 | 65 | 75 |
| 14 | 86 | 33.8 | 164 | 64.5 | 72 | 28.3 | 67 | 77 |
| 15 | 89 | 35 | 170 | 66.9 | 74 | 29.1 | 69 | 79 |
| 16 | 92 | 36.2 | 174 | 68.5 | 76 | 29.9 | 71 | 81 |
Proper Polo Shirt Fit
When purchasing a boy's polo shirt, it is important to make sure it will fit properly. First, the shoulder seam should lie over the corner of the shoulder bone. The armholes should not cause any restriction, and one should be able to slide two fingers in between the collar and the neck when the top button is fastened. No more than 3 to 4 inches of fabric should be able to be pulled away from the torso. Lastly, sleeves should not be too tight or too loose, allowing for natural motion.
Types of Boys' Polo Shirts
As one of the largest categories of modern day apparel items, there are now several types of polo shirts to choose from beyond the original tennis shirts. Today, there are thousands of polo shirts available to consumers. They are broken down into these main types of polos.
| | | |
| --- | --- | --- |
| Type of Polo Shirt | Description | Best Use |
| Blended | Blended polo shirts take the best aspects of different materials and combine them together. By adding polyester and cotton together, shoppers can get comfortable, low-cost polos that do not shrink, wrinkle, or stain | Can be worn casually or tucked in to be dressy |
| | Cotton polo shirts are the most affordable. They are comfortable, easy to wear, and absorb moisture well. Their downfall is that they shrink, wrinkle, and stain easily | Usually only worn casually |
| Jersey Knit | Jersey knit polos are durable and stretchy. Their ability to breath and whisk moisture away from the body makes them highly comfortable to wear. Jersey shirts do not shrink or wrinkle, but they are more expensive to purchase | Can be worn for sports or dressy occasions depending on the patterns of the shirt |
| | Performance polos are lightweight, wrinkle resistant, stain resistant, and expensive. They are designed specifically to provide the maximum amount of comfort during sporting activities | Worn for sports or exercise |
| | Polyester is a synthetic material that is highly resistant to stains and shrinkage. They are comfortable to wear and moderately priced | Can be worn casually or as dressy attire |
Keep in mind when shopping that performance polo shirts and some synthetic shirts are designed to be tighter so they do not follow the same rules as other polos in regards to how they should fit.
How to Save Money on Boys' Polo Shirts
There is no denying that raising children can be expensive. They either outgrow or ruin their clothes during rough play and constantly require replacements. Since new clothing is not cheap, the cost of apparel throughout the years can add up quickly. However, there are ways in which parents can help protect their wallet. First off, look for lightly worn used clothing. Since the apparel is likely to get worn out or outgrown soon anyway, there is no harm in spending a little less on shirts that have been previously owned. Then, if the clothing is outgrown instead of ruined, sell it and put the money towards purchasing new clothes.
Where to Shop for Boys' Polo Shirts
Since polo shirts are common, they are not difficult to find at local shops. Most places will have only have one type of children's polo shirt, though. So in order to find a specific type, or multiple ones, parents usually have to go to a few stores. In order to find used polos, parents will need to visit second-hand shops often, because their inventory always changes and they may or may not have polos in stock.
Rather than spending all their time shopping, though, parents also have the option of finding everything in one place. eBay not only has every style of polo shirt available, they also sell used clothing items and allow parents to list and sell the shirts that their children have outgrown. This means that all the shopping and selling can be done without ever leaving the house.
How to Purchase Boys' Polo Shirts on eBay
To shop for boys' polo shirts on eBay, all you have to do is type what you are looking for into the search bar on any eBay page. Enter something like " boys' polo shirts", "Red Boys' Polo Shirts", or "Boys' Athletic Polo Shirts". After you have pulled up a list of shirts that you want to browse though, you can narrow down the listings shown by entering in your price range, whether you want new or used items, and the region that the apparel is being sold from. The location of the shirts usually only makes a difference in the shipping charges.
Now you can save the search that you customised so that you can easily pull up this list of polos again later. Even after customising the search, there will still be a lot of products to browse through. As you sort through them, add the ones you like to your watch list. This way, when you have found a good number of shirts you like you can go to your My eBay page to compare them in look, price, and shipping costs. Before ordering, verify that the seller has the correct size available and make sure that the seller has good reviews from their past clients.
Conclusion
Every boy needs a good variety of clothing and polo shirts are one of those items that cannot be left out. With their smart casual look, they can be worn for rough outdoor play or tucked in with belt to a school event or business picnic with the family. Parents are unlikely to hear complaints from their sons or their bank account because the shirts are so comfortable and affordable. By using the information provided in this guide, parents can determine their sons' shirt size, whether or not the polo fits correctly, what types of polo shirts they can look for, how to save money, and where to shop for and sell apparel without taking time away from their busy lifestyles.