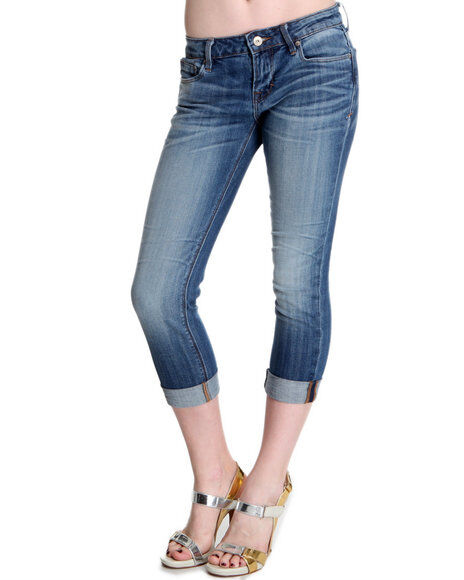 Capri jeans vary in length but are always shorter than regular trousers. They can reach to the knee, ankle, or mid calf. Not only are these modest trousers to wear during the warmer months, but they are also great transitional pants. During the spring and autumn months the weather is volatile and hard to predict . Since capri jeans cover most of the legs, they keep women in the perfect balance between warm and cool. In addition to this, they are highly fashionable because they are unique from shorts and regular trousers. Capri jeans are naturally casual, but with the right wash and colour they can be combined with other apparel and accessories to dress them up.
Capri jeans are popular worldwide and are known by many names such as crops, high-waters, and pedal pushers. Many women initially shy away from them because capri jeans are thought to only fit the ladies with the perfectly sculpted legs. This is not true though, and the trousers can look good on all legs, no matter how slim, tall, or short they are. In fact, capri trousers are flattering on far more body types than shorts are because they cover up more of the legs. Women can overcome their apprehension towards capri jeans by knowing how to find them in the right size, what types of capri jeans are available, how they flatter the body type, what washes they can select from, and where to shop for them.
History of Capri Trousers
Capri trousers were highly popular in the 1950s and 1960s and are now recognised worldwide. The European designer, Sonja de Lennart introduced them in 1948 from the Italian island of Capri. Because of their origin and popularity on the island the trousers became known as capris. Their fame spread from the island when several well-known actresses such as Audrey Hepburn and Grace Kelly wore them.
They fell slightly out of fashion from the 1970s through the 1990s but made a dramatic comeback in the 2000s when they appeared on fashion runways and sparked the public's interest in them again.
Finding the Appropriate Size of Capri Jeans
The struggle that women face when shopping for capri jeans is finding a good length. Not all legs are created equal and how long or short the legs are determines how the jeans will fit. For example, capris that are knee-length on one woman may be ankle length on another. This can be very frustrating, especially for shorter women. Rather than avoiding purchasing them altogether, simply find the right size and then look at the product description to see what their inside leg length is. Then take a measuring tape and see where they will fall to on the legs. To determine the accurate jeans size, measure the hips and waist, then compare the numbers in the chart below.
| | | | | | | | | | |
| --- | --- | --- | --- | --- | --- | --- | --- | --- | --- |
| Size | 1 - 2 | 3 - 4 | 5 - 6 | 7 - 8 | 9 - 10 | 11 - 12 | 13 - 14 | 16 - 16 | 17 - 18 |
| Hip (cm) | 91 | 93 | 96 | 99 | 101 | 104 | 106 | 109 | 111 |
| Hip (in) | 36 | 37 | 38 | 39 | 40 | 41 | 42 | 43 | 44 |
| Waist (cm) | 66 | 68 | 71 | 73 | 76 | 78 | 81 | 83 | 86 |
| Waist (in) | 26 | 27 | 28 | 29 | 30 | 31 | 32 | 33 | 34 |
The size of the capri jeans should be equal to the size of regular jeans. A quick and easy way that women can find their capri size is to pull out some of their regular jeans and see what the sizes of those are. The only difference between the capris and regular trousers should be the length of the legs.
Types of Capri Jeans
After figuring out sizing, women have to select the type of capri jeans to look for. They vary in style, shape, and how they flatter a figure. There are multiple body types including the hourglass, apple, pear, rectangle, and circle. Their names describe what they are. For example, those with the apple figure have upper bodies that are proportionately bigger than their lower body, and rectangular shaped women have fewer curves with an upper body, midsection, and lower body that are all the same width.
Use the following chart to learn about the different types of capri jeans and what figures they look best on.
| Capri Trouser Cut | Description | Pros | Cons |
| --- | --- | --- | --- |
| Ankle Length | Capri jeans that end at the ankles | Ankle length jeans look flattering on women with long legs by breaking up the appearance of height | These are difficult for shorter women to wear because they can make the legs look squat. Ankle length jeans can also appear awkward if they are not worn with high heels |
| Calf Length | Capri jeans that end halfway between the knees and ankles | Universally flattering on short and tall women. Can be worn with any shoes | These have the ability to make calves appear smaller or larger than they already are |
| | Capri jeans that are fitted at the waist and hips but then flare out after the knees | Usually very flattering on tall women with slender legs. These look great with high heels | Unfortunately, flared capri jeans do not flatter the majority of women because they add weight to the legs and make women look short |
| | Capri jeans that end just below the knees | Easily worn by most women. Looks great with any kind of shoes | Should be avoided by pear shaped women with larger thighs |
| | These jeans are made with a blend of denim and stretchy materials to make them tight and form fitting | Skinny capri jeans are often high fashion and can accent well shaped legs | Not ideal for women with slim legs or wide legs |
| | Capri jeans that are fitted at the waist and then continue in a straight line to the end of the legs | Popular for their ability to flatter all leg types. Easily dressed up or down | Not flattering on any legs when ankle length |
| Tapered | Rather than trouser legs that get wider as they go down, these become more narrow towards the end | Has a slimming effect that women enjoy. Showcases feminine features | Can add additional weight to wider thighs |
Which type of capri jeans to select is based entirely on personal preference. These are only general guidelines on how the capris look on various body types. The best way for women to figure out what flatters their body is to try on several different styles and see how they look.
Types of Jean Washes
Jeans are washed in different ways to give them different textures and colours. How the denim looks can change the entire look of the capris. For example, faded jeans with holes will take all professionalism out of the trousers.
Acid Wash: Bleached all over to be light blue with white patches
Dark Wash: Extra blue dye used to make the jeans darker than usual
Light Wash: Less blue dye used to create a more casual look
Sandblasted: Jeans that are blasted with sand particles to make them appear fade
Stone Washed: Washed with stones to wear away the outer layer of denim and expose the fibres of the materia
Tinted: Dyed with colours other than blue
Vintage: Faded and dyed in a way that makes the capri jeans look aged
Whiskered: Crease lines made with bleach around the parts of the jeans that would normally get creased after being worn for a long time
Where to Shop for Capri Jeans
Although jeans are among the most common types of trousers, capri jeans are not as commonly sold as regular jeans are. Shops that specialise in womens apparel are most likely to have them but the chance of having all the styles is slim. Each store is likely to only have one or two options to choose from. In order to find the largest selection of capri jeans, women have to turn to websites like eBay that have thousands of capri trousers in all styles and sizes. This is a much easier solution than spending all their time getting about town in an attempt to find capri jeans that flatter their legs. eBay also allows its customers to sell their used clothing that they don't need anymore. By selling old apparel, ladies can get more money to shop for new products.
How to Purchase Women's Capri Jeans on eBay
To browse through all the styles of capri jeans on eBay simply type what you want into the eBay search bar. To view more products, make the keyword general, like "Capri Jeans". If you are looking for something more specific, type something like "Red Capri Jeans", or "Slim Capri Jeans". If you want to do multiple searches, simply save each one by clicking Save Search. You can then access it later from your My eBay page.
Once you have pulled up a number of listings you can also narrow them down according to what you want. For example, you can enter in your price range, whether the capris are new or used, and the type of shipping. You can then sort the listings based on their price. This makes bargain shopping easy because you can stay within your price range and see the cheapest ones first.
Conclusion
Although capri trousers are available in many different materials, jeans are the most durable option to go with. They also go well with nearly any shirt and shoe combination. Capri trousers are as popular in town as on the runway because women love the ability to dress for the weather without fully exposing their legs. Ladies can be feminine, appropriate, fashionable, and comfortable in them, which means that the capri jeans offer the best of all worlds. All women need to know in order to find a flattering new pair capri jeans is how to get the right size, what types and styles they can choose from, what works best on their body, and where they can purchase jeans that they will be satisfied with.