The Chinese Lunar Calendar
This calendar is best known for its 12 year cycle with years named after the rat, ox, tiger, rabbit, dragon, snake, horse, sheep, monkey,
rooster
,
dog
, and
pig
.
Although China officially adopted the Gregorian calendar, which also known as the "standard", "western", "new" or "Yang" calendar, between 1912 and 1929.
According to legend, the Chinese calendar was invented over 2,600 years B.C, by the first ruler of China, Huang Di. Archaeological evidence of it has been found from the Shang dynasty in the second millennium B.C. It is also known as the agricultural, Yin (moon), or old calendar.
Although it is called a lunar calendar, it also incorporates elements appertaining to the sun or solar cycle.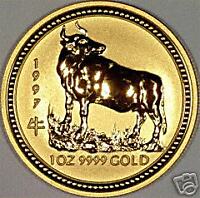 1996 Year of the Rat & 1997 Year of the Ox Gold Coins
Calculations and Dates
There are sets of "rules" for calculating the start of months and years in the Chinese calendar. These are fairly complicated, and we will not attempt to explain them here. It is worth noting though that a 13 month lunar calendar with each month containing 28 days, would make a 364 day year, so that an extra day needs to by added. Even in the Gregorian system, leap days need to be added every fourth year, with a few exceptions.
As may be expected, Chinese lunar years do not start or end at the same time as our Gregorian years, although there is some approximation in that they always start at some time in January of February.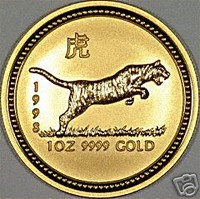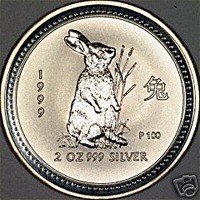 1998 Gold Year of the Tiger & 1999 Silver Year of the Rabbit Coins
Astrology and Astronomy
Scientists and astronomers probably cringe when anybody likens the two concepts. The Chinese calendar is based on early astronomy, in that it depends on observations of the moon, its phases, and its positions relative to stars and constellations. The main use for ancient calendar systems was probably to help farmers and herders to gauge the best or most auspicious time to plant seeds, harvest, and plan their other activities. This determination of auspicious and inauspicious times, together with myths and legends about the universe, has lead to the "art" of astrology which seems to have arisen in all ancient civilisations, and to have endured into the modern day. While many people undoubtedly scoff at the unscientific nature of astrology, it does have it roots in astronomy, and unless taken to extremes, it appears to provide harmless entertainment and diversion. It could be said to share this characteristic with religion!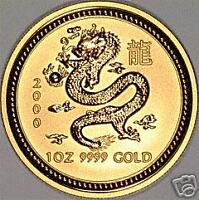 2000 Gold Year of the Dragon & 2001 Silver Year of the Snake Coin
Auspicious Symbols and Characteristics
There are many different myths and legends explaining why the twelve animal symbols came to represent the 12 years, and the attributes of each animal, all of which were chosen by the emperor or the gods because of their positive aspects. The twelve year cycle is part of a sixty year cycle, there being five elements of wood, fire, earth, metal and water, each having a corresponding stellar constellation.
Even though the Chinese lunar calendar is no longer in mainstream official use, it is still used to determine the dates of important social events, such as New Year's Day, and for weddings, funerals and other occasions.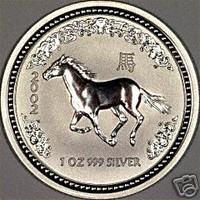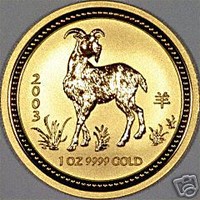 2002 Silver Year of the Horse & 2003 Gold Year of the Goat Coin
Japan, Korea, Tibet, Vietnam, Turkey, Mongolia, Persia (Iran)
All these countries, and others, have also used a calendar similar to or derived from the Chinese calendar, although some of the animals are different.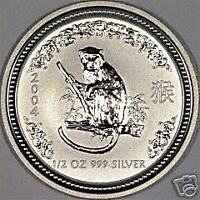 2004Silver Year of the Goat & 2005 Gold Year of the Rooster Coin
Coins
China, and a number of other countries issue coins featuring the animal symbols of the Chinese lunar calendar. These include collectors coins and bullion coins, including those produced by the Perth Mint in Western Australia.
We intend to create individual guides for all twelve symbols soon, including the
Year of the Pig 2007
Was This Guide Useful?
If you found this guide interesting, informative or useful, please spare few seconds of your time to vote for it by clicking on the "Yes" button below, thanks.

Other Guides
You may be interested in viewing our other guides:-

Mints & Mintmarks on Gold Sovereigns - All Seven Mints

Gold Sovereigns - Part 2 George IV, William & Victoria
CGT Capital Gains Tax Exemption on Gold Sovereigns Britannias UK Coins

How to Photograph Coins - Advice, hints, tips & more...
1780 Maria Theresa Silver Thaler Restrike Trade Coin

Krugerrand - One Ounce Investment Gold Coin

Buffalo - 9999 Fine Gold US Bullion Coin - 24 Karat Au

Pink Diamonds - One of Nature's Rarest Gemstones
Sniping - Is It Good Strategy or Tactics for Winning eBay Auctions?
£2 Two Pound Coins Queen with Necklace Rumour & Facts

Winning Auctions - Or Spending Money?
Definition of Investment - VAT Exempt (Tax Free) in UK & EU

Second Chance Offers on eBay - Should You Use Them?
Spellings - Is Good Spelling Important - A Few Howlers

Famous People (Celebrities) Who Collected Coins

Heads Upside Down on Coins - Medal & Coin Alignment

Identifying Coins, A Brief Guide to Help Identify Coins

BNTA - The British Numismatic Trade Association

Gold Coins Which Are Not Gold - Including German & € Euros

Postage Packing Shipping Insurance Charges - Fair or Excessive?
The Difference Between Proof and Uncirculated Coins
London Gold Fixing Price

Gold Bullion Bars For Investment

Author & Copyright Notice
This page was written by Lawrence Chard of Chard Coins, and is extracted from our "Gold Sovereigns" website. We hope you find this page useful and informative, please feel free to use the information we have provided, but please note we retain copyright on all contents including both textual content and images. Please do not copy our text or images without our prior written permission.