After first appearing in ancient times, mirrors evolved to serve as functional elements in most homes. Antique mirrors feature ornate designs that are appealing, but they often come with glass that does not offer a sharp reflection. Learning about the history of production techniques is a good way to find mirrors that are both functional and decorative. To assist with dating pieces, different woods and carvings appear in mirrors from specific eras.
Unclear Glass
All mirrors use glass as a base with a coating applied to provide the reflection. Although a French antique mirror from the end of the Ancient Regime may look stunning, it does not have the metal coating that makes a true reflection possible. At the beginning of the 20th century, mirrors started to feature silver as a coating. However, as silver was a precious commodity, many mirrors only had a thin coating. That means the wooden frame of an antique wall mirror might look pretty, but the glass could have dark lines beneath the surface. In the 1940s, mercury replaced silver, and then aluminium followed in the 1950s.
Ornate Mirror Designs in the 16th Century

Beautiful designs began with the Venetians, whose production techniques allowed mirrors to provide much sharper reflections than previous types. An antique Venetian mirror from this period is a rare find. Thanks to the artistry of the Venetians, wooden frames began to feature opulent carvings. As mirrors were a precious commodity, designers produced trendy frames. An antique overmantle mirror from the Renaissance period might look a little grotesque with gargoyles and monsters, for example. It is possible to search for an antique wooden mirror with the design period the collector enjoys the most.
Different Types of Wood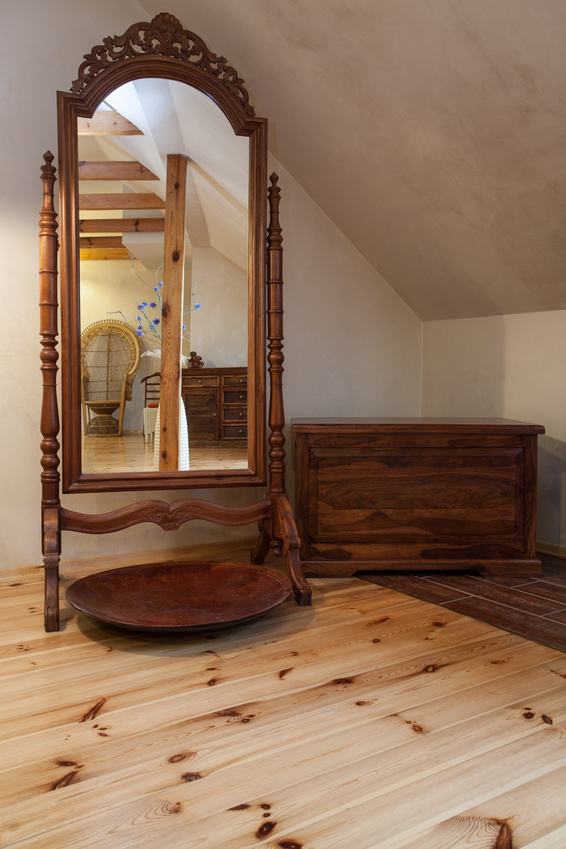 It is also possible to use wood as an indicator of a mirror's time period. An antique walnut mirror features deep, rich tones and often hails from the Renaissance time period. Around the start of the Georgian period, oak fell into favour. The pale and airy tones of an antique oak mirror from the latter half of the 17th century reflect the lighthearted nature of Georgian society. This trend did not last long, as a love for mahogany hit Europe in the mid-18th century. A Regency mirror is likely to feature the same airy tones popularised by Georgian mirrors, and this period also saw a gradual emergence of simplicity.
Caring for Antique Wood
Properly caring for the perfect mirror ensures its beauty lasts longer. Owners cannot use modern polishes on antique wood because the finishes are not the same. Beeswax polish is a good option when used sparingly. It needs to soak in overnight before buffing the next morning. Antique wooden mirrors need to be used and stored away from direct sunlight to avoid fading.