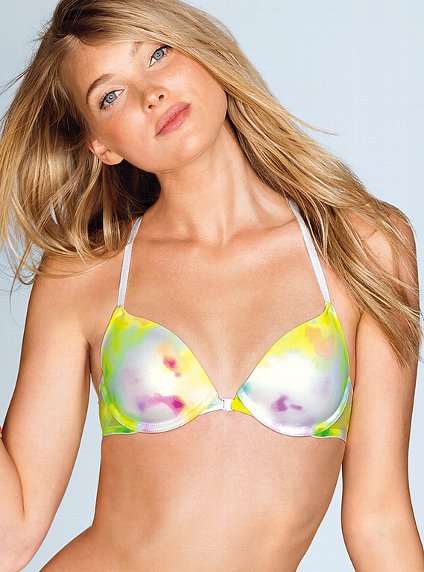 The bra as it is known today emerged in the beginning of the twentieth century. Corsets had been the norm in women's undergarments for centuries, but when they dropped below the bustline, women began to wear small sleeveless camisoles, called "brassieres", to support their breasts. The straps on the brassiere began to narrow, and when corsets declined during the World War One period, the modern-day bra came into its own. That said, researchers in Austria have found linen bras from the fifteenth century, as well as documentary evidence confirming that the bra has a longer history than previously thought.
Shaping the bust has always been an important part of women's fashion. Petite women, because of their smaller stature, have specific needs when it comes to bras. Whether they are small- or large-busted, they require bras that work with their frame, as well as lift and support their breasts for an elongated, waist-defining overall shape. In addition to knowing their proper size, there are other steps petite women can follow to find a comfortable, supportive, and flattering bra.
Specific Styling Concerns for Petite Women
In the clothing industry, petite women are defined as being under five feet and four inches tall (under 162.5 cm). Petite clothes are not simply shortened versions; their proportions are adjusted to fit petite measurements. When it comes to bras, this may not always be the case. It is particularly important for petite women to find one in the right size and shape for them. Special attention is required to ensure that the waistline is accentuated in small and full figures alike.
Bras with shorter or fully-adjustable straps are recommended for all petite women, because of their smaller torso size. This allows them to adjust the strap as the bra stretches, preventing it from falling off the shoulder. In addition, shorter underwires do not poke into the skin or underarm the way ones that are too long do. Balcony or balconette bras usually feature shorter underwires and may be a good option if this is a concern.
Bras for Smaller-Busted Petite Women
Petite women with smaller busts are well-suited by bras with structured cups. Although not a lot of support is necessary, the cup shaping helps define and highlight the figure's silhouette. Moulded underwired bras create separation, lift, and shape. Some lingerie lines are customised for petites. For example, they may feature cups that are closer together, which lift the breasts from the sides, as opposed to a fully padded cup that sits on top.
Underwire may be uncomfortable for some women, or simply undesirable for more casual, relaxed wear. In that case, soft-cup bras are a good choice.
A common mistake among small-busted women is that they purchase heavily padded bras that gap over the breasts and ride up in the back. Instead of enhancing the bust line, poorly fitting push-up bras create a ridge in the clothing along the edge of the cups.
Another type of bra smaller figures should avoid is the bandeau bra, since it offers no support or shaping.
Bras for Full-Figured Petite Women
The priority for full-figured petites is to find a bra that provides lift and support. It is especially important for them to obtain an accurate bra size measurement, although actually finding a bra may be a challenge, since some manufacturers may not make their size. Still, persistence pays off, since the right-sized bra can make a difference in defining the waistline and elongating the torso for a beautiful, curvy silhouette.
Demi-bras often have shorter underwires, which reduces the likelihood of them poking into the sides. Soft-cup bras can also be a good choice to avoid painful underwiring. Bras with seams generally offer more support to large busts.
Bras with full-cup coverage are usually too large on petite figures, and their fabric peeks out of most clothing necklines.
Taking Measurements for Bra Sizes
Stylists speculate that many women actually wear the wrong bra size. Bra sizes may change, too, with even slight weight gain or loss. For these reasons, it is recommended that women get professionally fitted for a bra at an intimate apparel shop or department store; they may find they need to go a size up or down.
Alternatively, women can take their own measurements at home with a cloth tape measure in a few simple steps. All measurements should be taken in inches, and women should be careful to make sure the tape measure is straight and flat across the measured area. No top should be worn during the process, but wearing a bra without padding is fine.
First, the band size is taken by measuring around the ribcage just under the bust. The tape should lie flat and smooth across the back and the front, without being either too loose or too tight. If the measurement is an odd number, for instance 31, the best band size is most likely the next number up, size 32, but it is advisable to also try on the next size down as well, to judge which is most comfortable. If the back measurement is an even number, this is usually the correct band size. Half-inches should be rounded down to ensure a snug fit.
The next step is to determine cup size, which is based on the difference between the circumference of the widest area of the bust and the measurement just under. After measuring across the bust, subtract the measurement around the ribcage from the full bust measurement. Cup size depends on how big the difference is. The following chart outlines cup sizes based on this formula.
Difference
Between

Bust and Back

less than one inch

1 inch

2 inches

3 inches

4 inches

5 inches

6 inches

7 inches

8 inches

Cup Size

AA

A

B

C

D

DD

E

F

G
These tips are only a guide, and even experts have varying opinions about how to size bras based on measurements. Every woman's body is different, so after being measured, she should try on several bras in that size to see whether it is right for her.
General Bra Care
When wearing a new bra, women should always start out by fastening the loosest hooks in the back. This slows the stretching process; attaching immediately to a tighter hook causes the bra to stretch out much more quickly.
To help bras keep their shape and elasticity, women should alternate between different bras and avoid wearing the same bra two days in a row. This allows a bra to regain its shape before being worn again. Therefore, it is a good idea to have a few bras that can be worn in rotation.
Experts recommend hand washing bras in cool water with gentle soap after every second wearing. If machine washing, use the gentle cycle, clasp the bra before putting it in the machine, and use a mesh lingerie bag if possible. Always line dry bras.
How to Buy Bras for Petite Women
When it comes to buying bras, both smaller- and fuller-busted petite women may have difficulty finding a bra in the right size for them. Although it can be a challenge, the benefits of a properly fitting bra make the persistence worthwhile: comfort, support, and a figure-flattering silhouette.
Some manufacturers specialise in petite sizes; not all of these, however, have sizes for full-figured petites. Bras are available at department stores, lingerie shops and through online retailers. Lingerie specialists tend to have a broad selection. Internet merchants may have many sizes from which to choose, but since the customer cannot try on the bra before purchasing, confirm that they offer refunds or merchandise exchange. Auction websites like eBay also have a wide selection of sizes and styles, and can be a good place to find a bargain.
Buying Bras on eBay
Once you know your correct bra size, you can find a wide selection of bra styles, sizes, and brands on eBay. To search for auction listings, go to eBay's home page and enter keywords such as "black underwired bra" into the search bar. The more specific the keywords, the more narrow are the search results. You can always further refine the search results by selecting size, colour, manufacturer, and other limiting factors.
Before bidding on a bra, read the product description carefully, checking for details like size, manufacturer, materials, quantity, and the seller's return policy. For items like bras, it is a good idea to look for sellers who offer a refund, since fit can vary depending on model and brand.
Also check the seller's positive feedback rating and comments left by other customers. A high rate of positive feedback is a good indication that the seller is reliable. Top-rated sellers have excellent track records of the highest in customer service.
Conclusion
Petite women are those whose height is under five feet and four inches, or 162.5 cm. Their smaller frames require particular attention when dressing for a figure-flattering style. A bra that fits properly helps ensure a defined waistline, and elongated, curvy silhouette.
Smaller-busted petites should look for structured bras that define their natural curves. For petites with full figures, it is especially important to find the right size, so that they receive the necessary support and lift. Both small- and full-busted petites benefit from bras with shorter underwire to avoid having it poke into their sides. If this is a problem, soft-cup bras with adequate support can be a more comfortable choice.
It is important to measure, or be measured, for the proper bra size, and to know how to care for a bra so that it lasts. Petite women might find that lingerie shops, Internet merchants, and online sites like eBay have a wider selection of sizes for them. Although it may require some effort, finding the right bra can make a difference in styling for petite women.